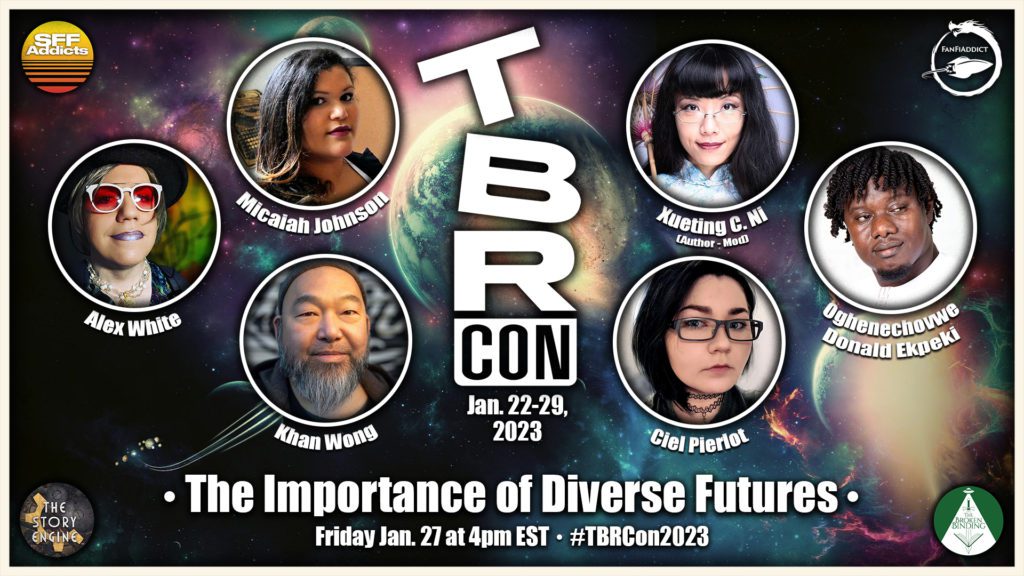 Every week, we are highlighting a panel from TBRCon2023, looking back on the amazing variety of panels that we had the honor of hosting.
This week, join moderator/author/editor Xueting C. Ni and authors Micaiah Johnson, Oghenechovwe Donald Ekpeki, Alex White, Khan Wong and Ciel Pierlot for a TBRCon2023 author panel on "The Importance of Diverse Futures."
To check out all of our TBRCon2023 content, click here.
---
ABOUT THE PANELISTS:
Xueting C. Ni is an author and editor. Her first book is From Kuan Yin to Chairman Mao, and her first anthology is Sinopticon: A Celebration of Chinese Science Fiction. Find Xueting on ⁠⁠⁠Twitter⁠⁠⁠, ⁠⁠⁠Amazon⁠⁠⁠ or ⁠⁠⁠her personal website⁠⁠⁠.
Micaiah Johnson is the author of The Space Between Worlds, her debut novel. Find Micaiah on ⁠⁠Twitter⁠, ⁠Amazon⁠⁠ or ⁠⁠her personal website⁠⁠.
Oghenechovwe Donald Ekpeki is an award-winning speculative fiction writer, editor and publisher from Nigeria. Find Oghenechovwe on ⁠Twitter⁠ or ⁠his personal website⁠.
Alex White is the author of August Kitko and the Mechas from Space, The Salvagers series and more. Find Alex on ⁠Amazon⁠⁠.
Khan Wong is a proud author of queer SFF. His debut novel is The Circus Infinite. Find Khan on ⁠Twitter⁠ or ⁠his personal website⁠.
Ciel Pierlot is the author of Bluebird, her debut novel. Find Ciel on ⁠Twitter⁠ or ⁠her personal website⁠.
---
The audio of this panel is available to stream and download on:
Anchor | Apple Podcasts | Spotify | Google Podcasts | Podcast Addict | Stitcher | Amazon Music | Overcast | RadioPublic | Pocket Casts | Breaker | Podbay
You can also watch the panel below via the FanFiAddict YouTube channel or stream the audio via Spotify.