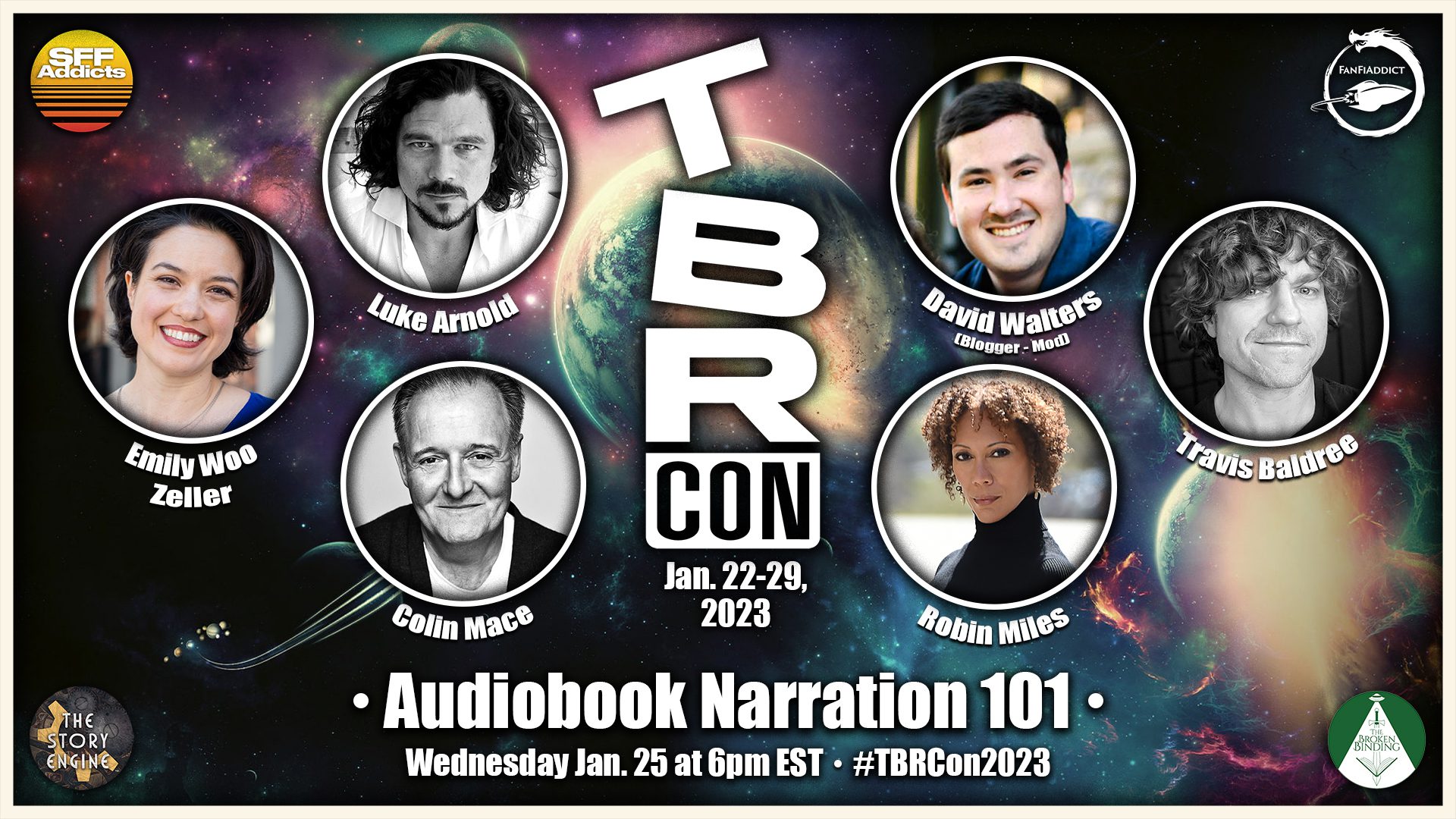 Every week, we are highlighting a panel from TBRCon2023, looking back on the amazing variety of panels that we had the honor of hosting.
This week, join moderator/blogger David Walters and audiobook narrators Travis Baldree, Colin Mace, Luke Arnold, Emily Woo Zeller and Robin Miles for a TBRCon2023 panel on "Audiobook Narration 101."
To check out all of our TBRCon2023 content, click here.
---
ABOUT THE PANELISTS:
David Walters is the founder of TBRCon and the FanFiAddict book blog. Find David on ⁠Twitter⁠ or ⁠FanFiAddict⁠.
Travis Baldree is the bestselling author of Legends & Lattes, as well as a professional audiobook narrator. Find Travis on ⁠⁠⁠Twitter⁠⁠⁠, ⁠⁠⁠Amazon⁠⁠⁠, ⁠⁠⁠Audible⁠⁠⁠ and ⁠⁠⁠his personal website⁠⁠⁠.
Colin Mace is a British theatre, film and TV actor that has appeared in Call the Midwife, Foyles War and the acclaimed ITV drama The Lost Honour. He has narrated for books such as The Shadow of the Gods, The Painted Man and more. Find Colin on ⁠Twitter⁠, ⁠Audible⁠ and ⁠IMDB⁠.
Luke Arnold is an actor and fantasy author of The Fetch Phillips Archives, including The Last Smile in Sunder City, Dead Man in a Ditch and One Foot in the Fade. Find Luke on ⁠⁠Twitter⁠⁠, Audible, ⁠⁠Amazon⁠⁠ and ⁠⁠his personal website⁠⁠.
Emily Woo Zeller Emily Woo Zeller is the voice of Panam Palmer in Cyberpunk 2077, and has done voice work/audiobook narration for The Last of Us Part II, Star Wars, This is How You Lose the Time War, Ninth Step Station and more. Find Emily on ⁠Twitter⁠, ⁠Audible⁠, ⁠IMDB⁠ and ⁠her personal website⁠.
Robin Miles is an American actor, casting director, audiobook narrator and audiobook director. She has acted in Broadway shows and on TV shows including Law & Order and Murder by Numbers. She has narrated for books such as The Fifth Season, Binti and more. Find Robin on ⁠Twitter⁠, ⁠Audible⁠ and ⁠IMDB⁠.
---
The audio of this panel is available to stream and download on:
Anchor | Apple Podcasts | Spotify | Google Podcasts | Podcast Addict | Amazon Music | Overcast | RadioPublic | Pocket Casts | Breaker | Podbay
You can also watch the panel below via the FanFiAddict YouTube channel or stream the audio via Spotify.