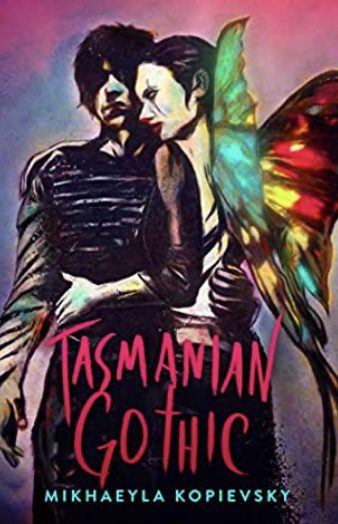 Rating: 8.5/10
Synopsis
A modern gothic thriller set in a decaying urban environment and lush mutant wilderness. Solari wasn't alive when the ozone layer split like a gutted fish above Tasmania and spilled radiation over the edge of the stratosphere, but she's living with the consequences — the mutations, the gangland war, and the border wall that divides the affluent North from the contaminated South. Orphaned and alone in the southern reaches, Solari survives the chaos the only way she knows how: cooking the wildly addictive snowrock for local crime lord, Worcsulakz, and avoiding the mutants that skulk in the lush, untamed wilderness of the Fringes. But, when her junkie ex-boyfriend puts Solari more firmly in Worcsulakz's debt, she runs — escaping the promise of violent retribution with a stolen van and a pair of giant wings cleaved from a mutant moth. Grafting the wings to her body disguises Solari as one of Tasmania's most reviled and hunted, but grants her refuge in the one place Worcsulakz won't look for her — a mutant enclave. There, Solari will form an unlikely alliance with another mutant and commence the dangerous journey through gangland strongholds and carnival towns to get to the Border Wall in the north. Hunted by Worcsulakz, the hidden terrors of the Fringes, the secrets in her family's past, and the deception at the core of her fragile alliance, Solari will need to confront them all or stay condemned to a life of loneliness and brutality.
Review
Tasmanian Gothic is brutal. It's Mad Max meets X-Men — a violent and gritty take on a future where mutants are abused amidst a post-apocalyptic gangland. But it's also a sweet tale of 'love conquers all,' and this juxtaposition works brilliantly. There's a kind of beauty in its bizarre blend of despair and hope — making it a grimdark, bittersweet surprise.
Solari cooks drugs for a crime lord, and like everyone else, she hates mutants. Things get complicated when her junkie-ex begins torturing her to give him a quick fix. To get rid of him, she'll end up owing the mob much more than she can ever repay, and in a desperate attempt to escape, she'll graft moth-wings to her back to pass as a mutant and make it to an enclave. There, she slowly falls in love with a half-reptilian man. Together, they try to navigate a way to freedom in a desperate attempt to escape prejudice against mutants, and in the process, they'll find each other.
There's a savage and unflinching sincerity contained in razor-sharp prose which adds a sort of poetry to the book. The sentences are lush and a pleasure to read, but their content can be graphic and will make you want to look away. But it's so gripping, you won't be able to stop reading. Solari's struggle pulls at you right from chapter one, and never lets go, and the book doesn't provide any filter to the torment she undergoes. You'll wince. You'll shake your head. And you'll come back for more.
A huge strength of the book is the immersive world — a Tasmania that's so easy to imagine, and could be the backdrop to any number of horror stories. The cities have an "I Am Legend" kind of emptiness, where hidden threats lurk in every shadow. The jungles feel like a horror version of that scene in Willy Wonka where they first enter the factory — they're alive with pure imagination. And the fringes are chilling in their scarcity and grotesque menace.
Then there's the mutants. In this bleak future, humans can develop any number of inventive mutations, and become the target of society's hatred. Anti-mutant feelings run deep and strong, and there's a prescient warning about prejudice that lands throughout this book. But as we see more of the mutants' world — as Solari's perspective shifts — the true nature of those feelings are explored in stark honesty.
Solari's story is a transformative one. As she goes from one helpless situation to the next, she changes, becoming more of a mutant, feeling more at home among the misfits and outcasts than the humans who despise them. It's apt that she has moth wings — her journey is like a cocoon. She emerges as a totally different person when she reaches the other side.
The book's elements fuse together to make it a serious read, despite how bizarre it is. There's a boldness about the way it's written which is admirable. And the relationship between Solari and Alcaeus (a mutant with patches of metal scales) is easy to root for right from the beginning. The story takes a while to get into their romance, but once it does, it really hits its stride.
Overall, Tasmanian Gothic is strangely hypnotising. It's a surprisingly grounded, realistic fantasy that'll make you want to break the barriers which separate society. It's an ode to empathy, and a timely one at that. And although it can be a challenging read at times, it's definitely worthwhile.