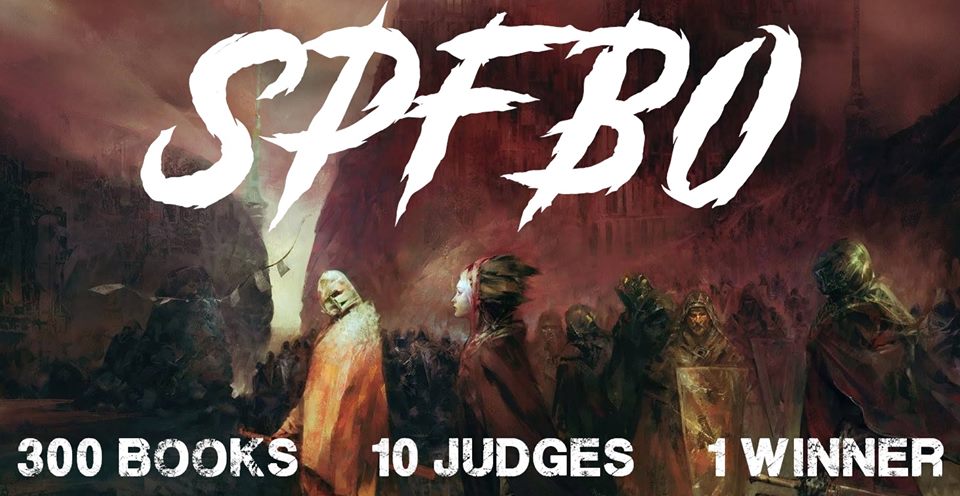 From Tyra Leann: I think all of the SPFBO finalists this year are incredible in their own rights, and it has been such a joy to read them. Here are some of the FanFiAddict team's thoughts on The Mortal Blade, the official synopsis, and our final rating.
Synopsis
A city ruled by Gods, a mortal champion, a misfit girl and a disobedient dragon…
Stolen from his home, Corthie Holdfast has arrived in the City of the Eternal Siege as a new Champion.
He must fight alongside the Blades, whose lives are dedicated to the defence of the City against the hordes of monstrous Greenhides; or die at the hands of the Gods who rule.
Maddie Jackdaw, a young Blade, faces her last chance. Thrown out of every unit defending the City, either she takes on a new role, or she will be sent to the Rats, a company of misfits given the perilous tasks beyond the Great Walls.
Her new role, if she takes it, will bring her face to face with her deepest fears, for beneath the walls, in a secret and hidden lair, lies a dragon, imprisoned and waiting…
Our Reviews & Ratings
Blaise: 7.0/10.0
Hamad: 7.0/10.0
The Mortal Blade starts in a very interesting way with a demigod changing her appearance and going for an assassination and it got my attention quite fast.
There are four characters and the chapters move between them subsequently. First we have Aila, the aforementioned demigod who happens to sympathize and help humans which is rare among these deities! She can create illusions and make people perceive her as she wants which is interesting. She was probably my favorite POV. Second is Corthie, a human champion who fights with the blades. He is a mortal but he seems to be more than that because he has powers that mortals are not supposed to have and is kind of immune to the demigods powers. Third is Maddie who is given a secret mission and I have to confess I hated her at first but she grows a lot through the story and finally we have Daniel who I had mixed feelings about. Initially the focus is how he is a part of nobility and how his mom tries to control his life but after that things take a different turn and his arc seems a bit distant from the rest of the story which made caring about him harder.
The story has an average pacing with middle-length chapters. I was interested in the story but I was waiting for something big with each chapter and I never got that. It seems like the whole book is trying to set the stage for something larger and then I checked the book page on GR and was surprised to see it is a part of an ambitious 12 books series. I thought it was a trilogy, which made things make more sense for me! I really want to know what happens with Aila and more about Corthie but I feel it takes dedication and some risk to finish a series this long. I don't think the length of the series is a con but I just wanted more from the first book!
Overall, I think this book is good. It has good writing and pacing. The world building is interesting too. I just wanted more from the story in terms of the storyline and characters. I am still interested in the characters and I want more answers but I don't know if a 12 series book is something I can commit to currently!
Ash: 6.5/10
The Mortal Blade has left me somewhat conflicted. There were moments when I was completely enamored. The story started out very intriguing and there were plot choices that have me really excited to see where the story goes.
The story begins with the introduction of each of the 4 POVs within their own chapter – with each POV giving us insight into the world. I loved the demigod, Aila's POV the best. Her chapters were always the most interesting and I loved her magical abilities. The other 3 POVs became very tropey and I struggled with some dialogue. I loved the gods and demigods but felt that the magical abilities went a little unexplained. The dragons were a big bonus. Overall, this was an enjoyable read and I will continue with the series.
Tyra: 6.5/10
I think the big strength of The Mortal Blade was the characters, each different POV shone in different ways. I especially liked Aila's POV. I am a huge fan of any situation where the gods and demigods actually are among and mingle with mortals. The long interpersonal histories and relationship dynamics between immortal beings were interesting to unravel. The setting was also incredible, it felt like a big sprawling epic fantasy but really the setting was within a single city, but the author really took the time to craft the differing personalities of different areas of town and it made it come alive.
I do feel like the dialogue was a weak point throughout though, and felt forced or tropey at times. Inversely, I think it was heavy on dialogue which moved the story forward quite quickly, which was nice. The characters kept me engaged and I will continue on in the series to figure out what unfolds.
The set up and story were exactly what I was expecting based on the synopsis, which is comforting at times to go into a read without big discrepancies between the pitch and the how the plot actually happens and you can just get lost in the story.
Jared: 5.0/10
The worldbuilding was interesting and the character dynamics were compelling, but they were held back by stilted dialogue and bloating. It felt as though the plot didn't progress for chapters at a time, and this book could have been condensed overall. There were some elements that kept me reading though including some morally grey POV characters.
Final Score (rounded): 6.5/10