The group of judges on the FFA team have collectively chosen the last five (5) books in their SPFBO 7 allotment to be taken out of consideration for the finals, as well as the final four (4) titles that will join The Iron Crown as semi-finalists. Below, you will find the last set of five (5) titles being cut from the 1st round of competition and the four (4) titles moving on.
FINAL 5 CUTS
How Do You Kill A God?
Anya longs to be a warrior like her grandmother, the legendary witch-warrior of the Shaanti, and is ready to defy her grandfather's last wishes and take the ink. With her village captured and best friend killed by the invading Kurah, Anya must defeat them before the rest of the Shaanti fall. But the Kurah have a secret weapon: an exiled Shaanti god in search of revenge.
Escaping to the Rift Forest, Anya must rely on her reluctant ally, Vedic, to find her way through the woods and free the goddess of her people. But what is Vedic keeping from her? How can Anya unite the forest and the Shaanti against their common foe? And with the fate of the world in her hands, just how far is she prepared to go to defeat her enemies?
Anya is about to discover that the line between hero and villain is a knife-edge.
Consensus:
A fun and enjoyable fantasy read. A bit slow in the beginning but engaging enough to keep the read flowing. Prose was good albeit a bit lacking in the dramatic and emotional content. It has good moments of writing, but marred by worldbuilding that could definitely be simplified.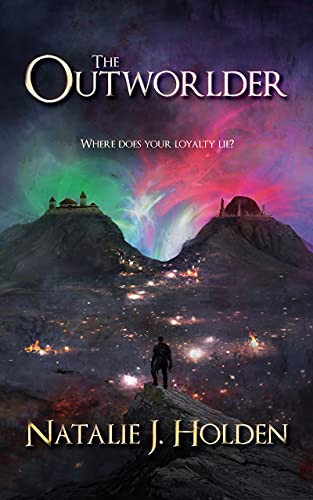 ---
When two worlds clash, one man must choose a side. When Aldeaith joined the army, he left everything behind. His world, his family, everyone who thought him a fool. The new routine gave him a sense of security, and fighting proved easier than talking to people. But the peace couldn't last forever.In the Empire spanning thousands of worlds, there are bound to be dissidents. Dealing with them is a part of Aldeaith's job and the most advanced magic known to man makes it easy.But no magic can help him when the rebels are people he grew up with. Now, he has to pick a side and prove his loyalty among mounting distrust.To come on top, he must learn to navigate something trickier than any battlefield: other people.The fate of the Empire depends on it.
Consensus:
Really interesting premise with a main character many found quite enjoyable. Prose was a bit too simplistic for our taste, though, which hindered this one from rising up the ranks.
Everyone has an alternate form. Lucky people never shift into it. For everyone else, there's the Magical Probation Department.
MPD Officer Angela Jones has spent her entire career helping shifters get back into their human forms and ensuring they can manage their magical powers.
Her methods are a little unconventional, but she's built a strong community of people who help each other. A far cry from her coworkers who would rather emulate the tough guy hero of "Shift Enforcers," protecting the world from shifters at any cost and grabbing all the glory along the way.
Angela has mostly resigned herself to never being promoted again. But a new source of magic downtown is causing havoc. She can't convince her boss to look into it…until a fire-breathing dragon appears.
Now Angela is being shut out of the case of a lifetime, and the city she protects is in danger of being destroyed.
When shift happens, Angela must step up…even if it means risking her own life to safeguard others.
Consensus:
Fun story with intriguing worldbuilding. The writing is a bit simple, but we really enjoyed the humor peppered into the read. Even those that aren't big into urban fantasy found a lot to like here. The story has mystery and intrigue that makes you want to read on. This one is well written and will be loved by urban fantasy enthusiasts.
If dreaming is a drug, then I'm a junkie.
For most people, sleeping is an obstacle; something to get out of the way so they can get back to their day. For others, it's an escape to nothing; a blissful break from the wears of life.
It's the opposite for me.
I live so that I can dream. I trudge through work so that I can go home and close my eyes, awakening in the real world—one where dreams really do come true. A place where I can fight a king instead of my ever-disappointed boss, where I'm a warrior instead of a glorified telemarketer. A place where I matter.
Tigers instead of taxes. Monsters instead of men with too much power.
Reality is just the word we came up with to accept a boring life; a birthing place for grander ideas we so desperately wish could come true.
I choose to live in a world where they do.
Consensus:
Starts off classic fantasy and quickly takes an intriguing turn. Fun for those looking for something a bit different, but was a little too simplistic for some of our judges. It definitely has a lot of good action which helps propel the pace throughout.
Bloody Scarlet, the skull collector of the Crimson Forest, is just a cautionary tale to keep children from wandering in and getting lost — isn't she? Well something's out there.
In a world dominated by a cruel Inquisition that sees demons and witches everywhere it turns, Keely just wants to make a dishonest living convincing the obscenely wealthy to part with their excess riches through guile and trickery.
When the Inquisition shows up to destroy her life anyway, Keely goes on the offensive rather than scurry back into the shadows. To set it up for a fall she lures the Inquisition into an invented race to find a heretical book of prophecy that may never have existed.
When Keely builds her lies on existing rumors, though, and points the hunt in the direction of the Crimson forest, a new player introduces herself to the high stakes con game as a deadly wild card.
Whether or not the woman in red is the real Bloody Scarlet, the closer Keely gets to the dark, twisted heart of the forest the more quickly things spiral out of control.
Consensus:
It is always interesting seeing fairytales told in new and ingenious ways, and this one is no different. A very polished story but one we wanted a more emotional connection to. It certainly defied the expectations of what we thought it was going to be when we first saw the title. This was a favorite among several that didn't make it to the finals and is recommended for those who like classic fairy tales with a modern epic fantasy twist.
FINAL 4 IN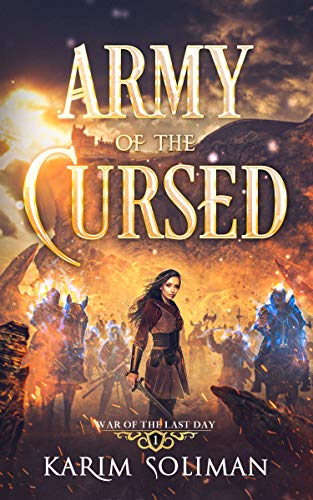 Everybody knew the Cursed were coming.
Nobody knew how to defeat them.
The Goranians thought they were ready to face demons in battle. But when the foretold War of the Last Day begins, one fact becomes clear: the doom of Gorania is just a matter of time. Now its fate rests in the hands of a hapless trio.
By joining the mages' guild, Leila cedes her title as the Crown Princess of Murase. But as she struggles with her lack of talent, the Army of the Cursed approaches her country. Leila will have to decide if she is ready to protect her loved ones, or she should abandon them and run for her life.
Nardine, the Crown Princess of Bermania, hears a rumor that her long-gone father was so close to finding a weapon against the immortal demons. While she investigates what has happened to his unfinished work, a rebellion threatens to tear apart her kingdom.
Far in the harsh northern lands of Skandivia, Halgrim starts a perilous journey to claim a birthright he has been denied because of a lie. If his journey goes according to plan, nothing will stand between him and his ultimate prize. Nothing, except the Army of the Cursed.
Can the three unite and put aside their differences before it is too late? The entire human race is already on the brink of extinction.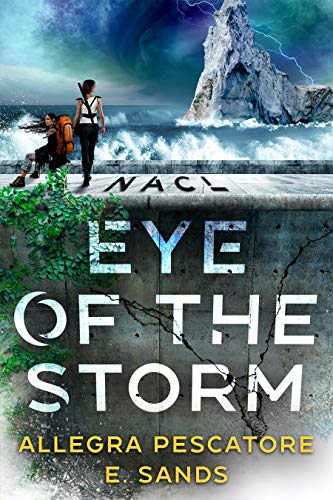 Lani should never have trusted any plan that started with the words, "So, I have an idea, but first you need a drink."
When a crazy Precog handed Lani the coordinates to a stretch of ocean just off the Salt Spire, she should have thrown them overboard. Going there would be a horrible idea. Lani, though, was a pro at making bad decisions.
A not-so-chance encounter with escaped salt slave Adavera launches them on a path to forsake all that they know and dare to take on the cruel Corporation that controls every grain of salt on their planet. With the help of old friends, new friends, and people they are pretty sure might be enemies, Adavera and Lani travel outside the protective reef that keeps the worst of the Storms off the Islands and venture into a world of piracy, astonishing powers, and unexpected love.
The odds might be against them, but with a little planning and a lot of brass, this team of misfits intends to do the impossible. They have very little in common, except for two things:
They all want to blow the Crystal Corporation into oblivion…
And are willing to sacrifice anything to see it done.
How do you kill an Immortal?
Huon is weak. A surgecaller who escaped into the wilds, his only goal was to survive.
Now he is Oathbound, forced to fight in an arena, forced to become stronger than he'd thought possible.
As he realises he can become strong, the need for revenge fills his heart, and a new goal forms in his mind.
But his goal is impossible: kill the dragon rider, the Immortal of Fire.
To succeed, he'll have to do more than just survive—he'll have to advance beyond anything the realm has ever seen.
In the spirit of progression fantasies like Cradle and Mage Errant, enter a realm with magical beasts, where surgecallers can cultivate essence to strengthen their weapons, enhance their bodies and wield elemental magic.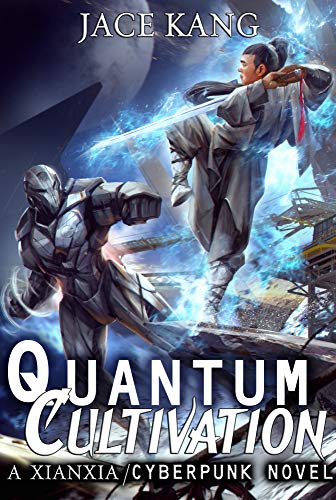 Like all Purebred with their menial jobs, Ken ekes out a living sweeping the floors of Kyoto Peacekeeping Central. His kind serve as a benchmark for XHumans to measure how far they've progressed, and a reminder of what homo sapiens once was.
His life changes when eight-hundred-year-old Ryu crosses over from the World of Rivers and Lakes, looking for a lost temple; and Aya, a beautiful hacker whose Sensory Interface perceives the EtherCloud as Feudal Japan, learns that XHumans aren't as perfect as they thought.
They've edited out the genes which allow for Cultivation.
That will give Ken a chance to surpass them. And maybe use mythical martial skills to save the world from an oppressive government, spirit beasts, and alien invaders.
A Cultivation system based on Daoist Five Elements and Eight Trigram Theories, written by an Acupuncturist/Wing Chun Sifu.