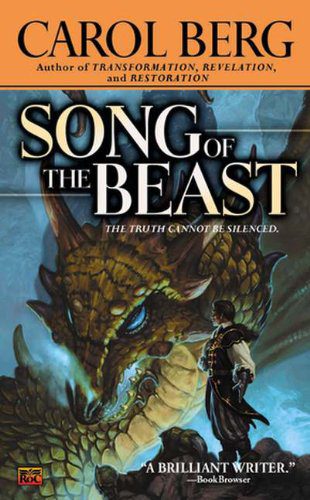 Rating: 8/10
Synopsis
Brutal imprisonment has broken Aidan McAllister. Once the most famous musician of his generation, celebrated as a man beloved of the gods, his voice is now silent, his hands ruined, his music that offered beauty and hope to war-torn Elyria destroyed. Even the god who nurtured his talent since boyhood has abandoned him. But no one ever told him his crime. To discover the truth, he must risk his hard-bought freedom to unlock the mind of his god and the heart of his enemy.
Review
Sometimes the task of finding a new series to read can be a daunting one. With authors today publishing series topping four or five books, it can make a fan of the genre feel left behind. That was when a dear friend of mine told me about Carol Berg's standalone Epic Fantasy novel Song of the Beast and how it can be a great introduction to her work. Not only is Carol Berg a great writer but Song of the Beast will hit you from all angles and in some cases shatter you. Berg keeps her story very close to the chest until the big revelation. Let this be a jumping off point for reading Carol Berg's other works, which I am sure to do very soon.
The story is told in first person POV and following the story of Aidan McAllister. Aidan has been imprisoned in a dark cell for the past seventeen years. Yes, you heard that correctly! Seventeen brutal years of pain and torture, his hands are broken and misshapen while Aidan's voice is so raspy that he can barley speak. The worst thing about this is no one told Aidan what he was imprisoned for as he withers away in a forgotten cell. Now at the age of thirty eight, Aidan is suddenly released from prison and he has to piece together what is to come next. Before Aidan's solitude, he was one of the most famous musicians to have ever come through Elyria and he was even touched by the god. Aidan also has the gift on learning languages very quickly, but he may have learned one that is forbidden. The language of the Dragon's. Dragons and their riders protect the kingdom of Elyria from invasion but the Dragon's do not posses free will. The rider and dragon are bonded using a bloodstone and the fear is that Aidan will use his language gifts to free the Dragon's from their bondage. Aidan's journey is one of mystery, pain, betrayals, and sacrifices that will not be gentle to the kindest soul.
What I liked most about Song of the Beast was the emotional depth Berg dives into not only with Aidan but the other characters as well. While the plot is always moving forward, there is always that sense of dread lingering in the background and that is a testament to the world Carol Berg has created. The writing style can be a tad on the dense side but keep in mind that this is a standalone novel that type of detail was necessary for the story to work. The ending leaves you in a solid place with enough wiggle room for more entries into this world should the author choose too.
I quickly want to touch on one aspect of the novel that is both unusual and a little bit of a deterrent for me and that is how the book was structured. For the first half of the book we get first person POV chapters from Aidan and they are done very well. Then at the halfway point we switch to another character, I won't say who for the sake of spoilers, for the next quarter of the book and we don't return to Aidan until the last several chapters. The choice to switch POV's was a good one and necessary for the story but it threw me off and took a few chapters for me to get back into rhythm. Definitely not a deal breaker but just keep this in mind.
For my first experience reading the works of Carol Berg, this was an enjoyable one. Although very grim at times there is always a ray of hope on the horizon. Carol Berg is an author who should be more known in the fantasy circles as hopefully this review will get the ball rolling.
Cheers!