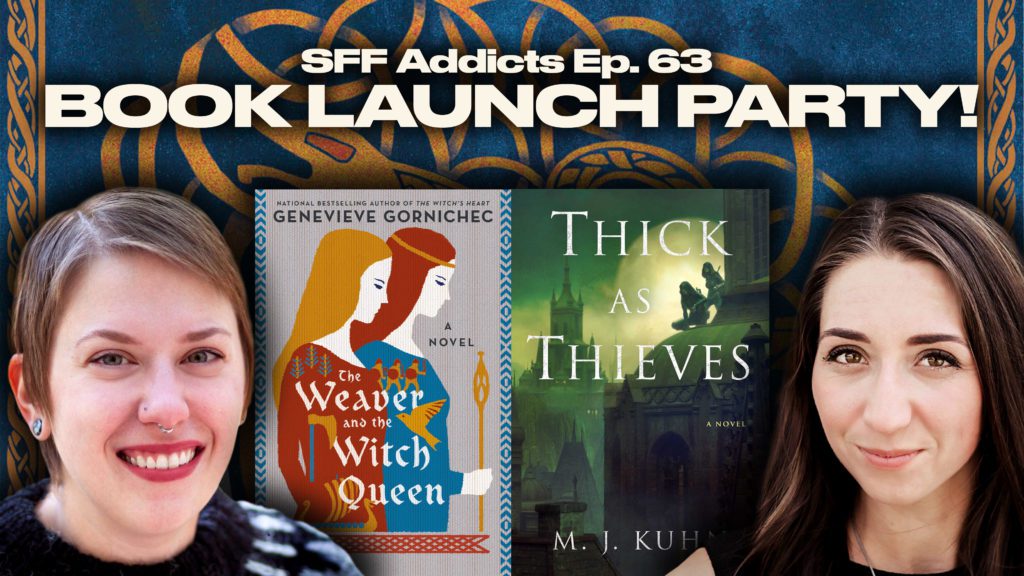 Episode 63 of SFF Addicts has arrived!
Join host Adrian M. Gibson for a special book launch episode, celebrating the publications of Genevieve Gornichec's The Weaver and the Witch Queen and M.J. Kuhn's Thick as Thieves! During this raucous episode, M.J. and Genevieve talk about their new books, big inspirations, comparing debut experiences vs. second books, reviews, community, dream projects and more. Plus, PARTY GAMES!
NOTE: This is part one of a two-part chat with Genevieve. Stayed tuned next week for her mini-masterclass on Norse Mythology & Culture.
---
Genevive Gornichec is the author of The Witch's Heart and The Weaver and the Witch Queen. ⁠The Weaver and the Witch Queen⁠ is available now via Ace Books/Titan Books.
Find Genevieve on ⁠⁠Twitter⁠⁠, ⁠⁠Amazon⁠⁠ and ⁠⁠her personal website⁠⁠.⁠
---
Episode 63 is available to stream and download on:
Anchor | Apple Podcasts | Spotify | Google Podcasts | Podcast Addict | Stitcher | Amazon Music | Overcast | RadioPublic | Pocket Casts | Breaker | Podbay
You can also watch the episode below via the FanFiAddict YouTube channel or stream the audio via Spotify, and the full episode archive for the show is available here. Check out the SFF Addicts Twitter or Instagram accounts for more frequent updates.