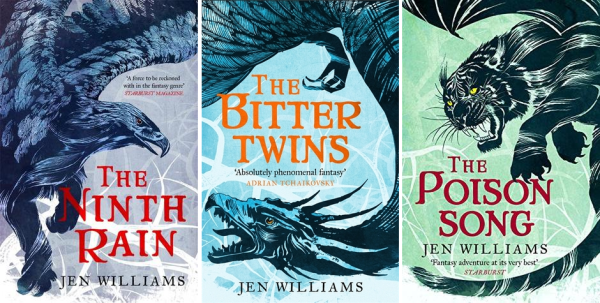 Rating: 10/10
Synopsis
The great city of Ebora once glittered with gold. Now its streets are stalked by wolves. Tormalin the Oathless has no taste for sitting around waiting to die while the realm of his storied ancestors falls to pieces – talk about a guilt trip. Better to be amongst the living, where there are taverns full of women and wine.
When eccentric explorer, Lady Vincenza 'Vintage' de Grazon, offers him employment, he sees an easy way out. Even when they are joined by a fugitive witch with a tendency to set things on fire, the prospect of facing down monsters and retrieving ancient artefacts is preferable to the abomination he left behind.
But not everyone is willing to let the Eboran empire collapse, and the adventurers are quickly drawn into a tangled conspiracy of magic and war. For the Jure'lia are coming, and the Ninth Rain must fall…
Review
The Winnowing Flame trilogy is one I got recommended to me a lot, and I was told that as a fantasy fan I HAD to read it. After finishing it this month I too will now be recommending this series to everyone who enjoys fantasy, and honestly, even those who don't because it's not your typical fantasy story.
Let me try and explain the story to you. The series starts with The Ninth Rain. A middle-aged, wealthy, female archaeologist and her pseudo-elf/vampiric body guard, investigate 'behemoth remains' from historic wars with the ancient race, the Jure'lia or 'the worm people'. They then meet a witch recently escaped from prison who has the power to summon green fire in the palms of her hands. Oh, and there is a magical tree who is dying, which is sort of the cause of a whole lot of mess.
Sounds wacky? I know, but that doesn't even encompass everything that this trilogy contains. It's got a lot going on, and Jen Williams has this wonderful way of taking all of these different elements, which I wasn't sure what to make of at first, and making them entirely her own. And the result is wonderful.
The story is told from multiple POV's with intersecting plot lines that slowly join together. The writing style is very tight, so while the story is bringing in all these grand concepts and the stakes keep rising to slowly encompass the whole of Sarn, things remain focused on the characters we get to know and love. The dialogue is wonderfully written too which I just have to shout out about. It all builds into something that is cleverly written and crafted, entertaining as hell and filled with so much heart.
The world building is one of the things that grabbed me right off the bat. The world of Sarn, its history and its inhabitants, is so unique. I read a lot of fantasy and what Jen Williams has created here is like nothing I've read before. It's got everything, and it's all so well realised, easy to picture and while there is a lot going on, it never once feels convoluted or hard to follow. We have got a vivid landscape that's both rich with life and history. I loved learning about the Eborans and their sad history. We have got lore and backstory of the past that has huge impacts on the present. There is an underlying darkness such as parasite spirits, the wild touched creatures, that nobody quite understands. The trilogy expands to different regions of the world that are all explored in detail, and different beliefs too including extremists who imprison women who are born with the power to wield 'winnow fire'. What's not to love?
As the series goes on the world building is expanded with each book in so many interesting ways. I can't say much without spoiling it. However, I will say that I loved how this trilogy really explores the world from the antagonists POV as well as the heroes, and how history and lore play such a huge part in the present day events.
One of the big aspects that really struck me in this trilogy was the way it changes things up, and does things you might not expect. I'm not just talking plot twists (though there are plenty of those and I was shook!). Firstly, the world is a bleak post-apocalyptic place, with epic stakes that just keep rising with each book. It's part fantasy, part sci-fi, part grimdark, Yet there is always this warmth, lightness and humour to be found around every corner. It's the perfect balance. This book is honestly very funny at so many points. Another aspect I adore about this trilogy is how it shows diversity. The LGBTQ+ rep in this book is so wonderful. There is room for everyone in this story. The characters themselves are also different to the normal archetypes, such as Tor, who is this muscle-y, tough warrior, while also being a bit on the prissy side. Vintage is also a really fun and unique character, and I just love the representation of a wide range of female POV's in this book.
Speaking of characters… Vintage, Tor and Noon are the main trio we follow and they all stole me heart from book one, and never let go. (Vintage probably slightly more than the other two but who doesn't love a charismatic, quirky, bad ass middle age woman?) The side characters too, while in book one they didn't hold my attention quite as much, really grow into their own in the later books. In books two and three, the author introduces animal companions as well, and these were another favourite aspect of mine. Again, trying to keep the mystery and magic alive by avoiding spoilers but know that these companions are on a whole other level. If you like well written antagonists, then this is another point to keep in mind. These bad guys as very well written, and the author really takes the time to get into their perspective, somehow making the everything hurt so much more as each book goes on.
Overall, this story deserves all the stars and all the praise. An adventure that has action, twists, laugh out loud moments, a unique world to explore, and just a sensational story from start to finish. I'm a fan for life. Go check this trilogy out.