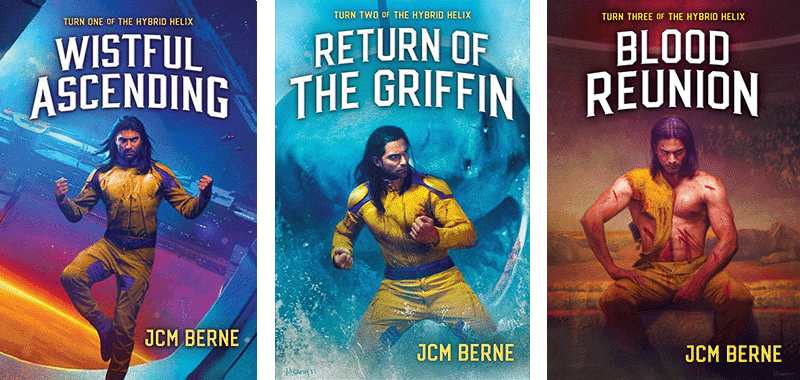 Rating: 9/10
Synopsis
The mixed-species children of the il'Drach have awesome, civilization-ending Powers. The il'Drach have built a cruel Empire spanning half a galaxy behind them.
Half-human Rohan, exhausted by a decade fighting for that Empire as a weapon of mass destruction, has paid a secret and terrible price for his freedom. Now retired, he strives to live a quiet life towing starships for the space station Wistful; his most pressing problems are finding the perfect cup of coffee and talking to a beguiling shuttle tech without tripping over his own tongue.
When a nearby, long-dormant wormhole is opened by a shipful of angry refugees, the many eyes of the Empire focus uncomfortably on Wistful. As scientists, spies, and assassins converge, Rohan finds that reverting to the monster the Empire created is the surest way to protect his friends. And, if he's not careful, the surest way to lose them.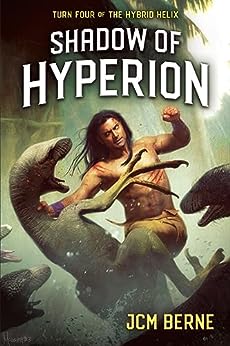 Book 4, Shadow of Hyperion, is due to be published on September 12th, 2023.
I received an eARC of book 4 in return for an honest and voluntary review.
Review
I'm a huge fan of this self-published superhero fantasy, so rather than review book 4 in isolation, I thought it would be a good opportunity to do a series (so far) review.
The Hybrid Helix Series is superhero space opera fantasy. It's action-packed, entertaining, witty, and with wonderful slice-of-life moments that give it an episodic feel that works so well.
The series is a melding of genres – sci-fi, fantasy, space opera, and superhero – perfectly mixing action, humour, and mystery. Ultimately, it is supremely character driven in the style that makes the superhero genre so enduringly popular.
Rohan was only half human, and that wasn't the half that mattered in this fight.
So, who is Rohan and why is he my new favourite superhero? It's quite simple really; Rohan is flawed. He's half human hybrid with anger issues. But deep down, he's a really nice guy, trying to live a quiet life after years of fighting for an empire that used him as a weapon of mass destruction. We get to see Rohan develop over the series, as we delve into his personal, family, and professional relationships, both from his past and present. It's where those two meet that has the greatest impact, particularly where there is a link to his friend and mentor, Hyperion.
We get glimpses of this relationship through Hyperion's former side-kicks, Ben and Marion Stone, who are regular characters in the series. But it's in book 4 where we get to dive deeper into the his relationship with Hyperion. This is where book 4 stands out for me, with the metaphysical aspect of the story and the personal story arc between Rohan and Hyperion, it really adds another dimension to the character's back story.
This leads me to one of the many highlights of the series overall: Rohan's relationships with his friends, colleagues, lovers, and enemies. The dialogue in the series is naturally witty, zipping along like a well written and delivered film script.
The cast of recurring and passing characters are very strong too. And they need to be in order to play off Rohan. Characters come in all shapes and sizes too, and not all are humanoid.
Let's begin with Wistful, the ancient sentient space station that serves as the new home and employer for Rohan in book 1, Wistful Ascending. Wistful is a wonderful character – despite being inanimate, Wistful has a huge influence on events in books 1, 3 and 4. She – yes, even space stations identify with gender – seems to have a soft spot for Rohan, akin to that of a patient parent who speaks to their teenage son with a layer of subtle sarcasm that is just laugh at loud at times.
The other stand out characters are Wei Li, the empathic security chief – her interactions with Rohan never cease to be entertaining, and I'm always eager for their next meeting. Then we have the Ursans – space bears – Ang and Ursula in particular are a glorious addition to the cast of characters. Their way of speaking, their culture, and their appearance, are just brilliantly brought to life by the author.
All of these characters and so many more, from other powered beings on Earth to sentient space ships, add so much diversity and depth to the universe. With each new book in the series, we learn more about the characters and their history.
Every person is born, takes a breath, grows old, then dies. Everyone. What makes heroes different from everybody else is what they do in between those two things.
Each book in the series offers a self-contained story that can stand alone in their own right. However, there are overarching plot lines that connect the books – you can see these unfolding as the series develops. For example, in book 4, we briefly revisit Earth and some characters we first met in book 2 (which primarily takes place on the planet). Also, a storyline from book 3 is further developed. Overall, the plotting and storytelling is very well constructed. And with fun and sometimes outright ridiculous moments to break up the intense action, the author has found a formula that works so well.
It's clear to me that the author is a huge SFF geek at heart, as he hides so many references and quotes from pop culture and other SFF series in his story – it's so much fun spotting them. The chapter headers are also a lot of fun, with many referencing famous SFF works – see chapter 42 in Shadow of Hyperion, which is a personal favourite.
I wish, even for a minute, that I had even half as much confidence in myself as other people seem to have in me.
I've seen these books and series compared to Guardians of the Galaxy, Red Dwarf and Invincible, and I can certainly agree that the best bits of all of those are present. The sentient space station and ships are akin to Holly in Red Dwarf. The banter and humour could easily be from the best that the MCU has to offer. And the action is pure comic book stuff at its best, like Invincible!
This series is a pleasure to read – it's pure escapism. And with a heart and wit that is perfectly balanced – covering themes like identity, acceptance, found friendship and redemption of characters – it has so much to offer from so many angles.
Rohan will delight fans of the superhero genre, and appeal to fans of fantasy and sci-fi alike – being one of the most endearing protagonists I've read, with his continued development over the series so far, his self-doubt, awkward relationship moments, and inappropriately timed jokes, he is someone I'd want to grab a beer with and know he'd have my back in tight spot.
I recommend you pick up this series and try something truly different.