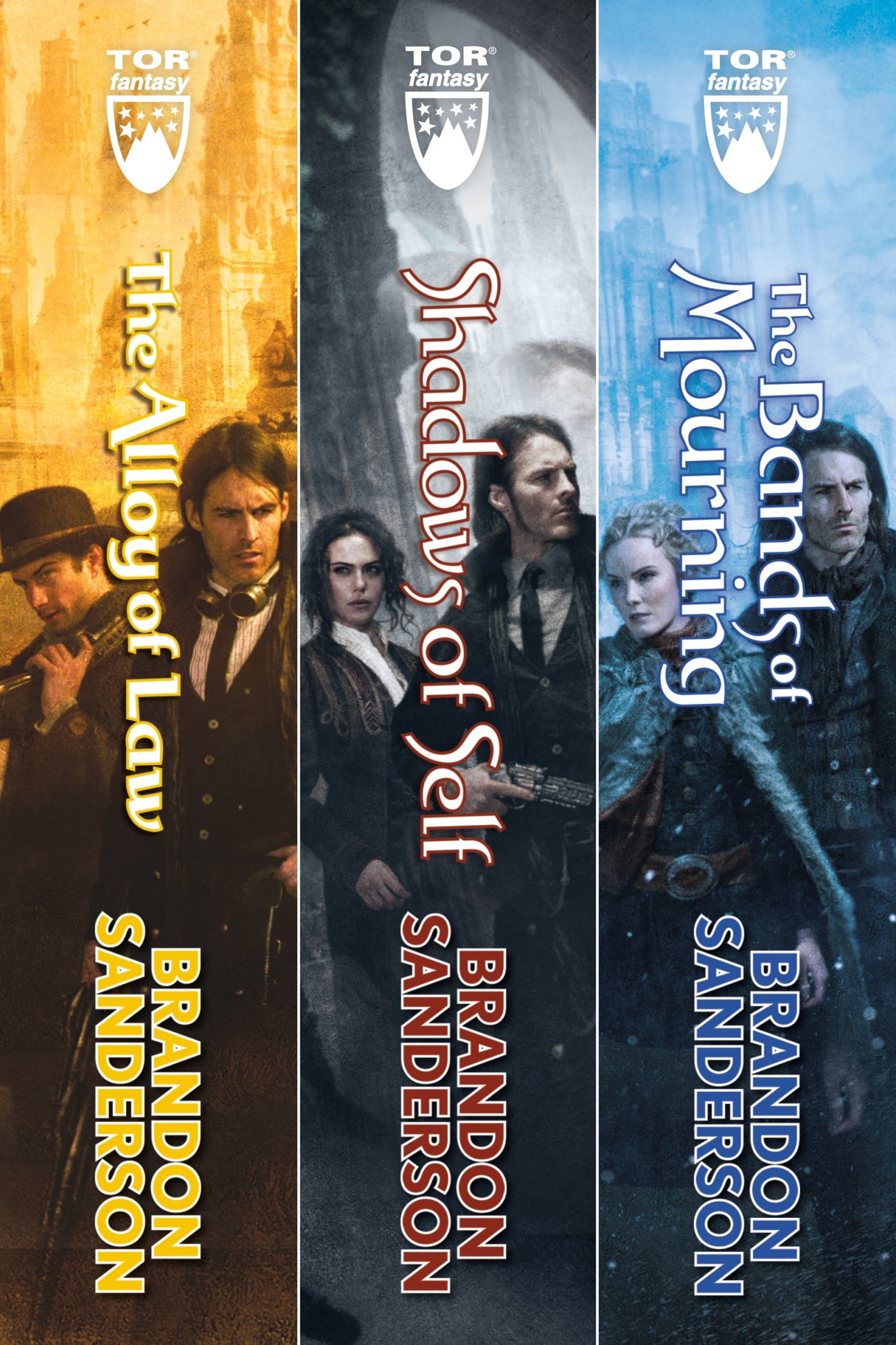 Rating: 10/10
Synopsis
Three hundred years after the events of the Mistborn trilogy, Scadrial is now on the verge of modernity, with railroads to supplement the canals, electric lighting in the streets and the homes of the wealthy, and the first steel-framed skyscrapers racing for the clouds.
Kelsier, Vin, Elend, Sazed, Spook, and the rest are now part of history―or religion. Yet even as science and technology are reaching new heights, the old magics of Allomancy and Feruchemy continue to play a role in this reborn world. Out in the frontier lands known as the Roughs, they are crucial tools for the brave men and women attempting to establish order and justice.
One such is Waxillium Ladrian, a rare Twinborn, who can Push on metals with his Allomancy and use Feruchemy to become lighter or heavier at will. After twenty years in the Roughs, Wax has been forced by family tragedy to return to the metropolis of Elendel. Now he must reluctantly put away his guns and assume the duties and dignity incumbent upon the head of a noble house. Or so he thinks, until he learns the hard way that the mansions and elegant tree-lined streets of the city can be even more dangerous than the dusty plains of the Roughs.
Review
"𝚂𝚑𝚎 𝚊𝚜𝚜𝚞𝚖𝚎𝚜," 𝚆𝚊𝚡 𝚜𝚊𝚒𝚍, "𝚝𝚑𝚊𝚝 𝚘𝚞𝚛 𝚍𝚎𝚝𝚎𝚌𝚝𝚒𝚟𝚎 𝚜𝚝𝚢𝚕𝚎 𝚒𝚜𝚗'𝚝 𝚗𝚘𝚛𝚖𝚊𝚕𝚕𝚢 𝚝𝚑𝚎 𝚙𝚞𝚗𝚌𝚑𝚢-𝚙𝚞𝚗𝚌𝚑𝚢, 𝚜𝚝𝚊𝚋𝚋𝚢-𝚜𝚝𝚊𝚋𝚋𝚢 𝚝𝚢𝚙𝚎."
"𝚃𝚘 𝚋𝚎 𝚏𝚊𝚒𝚛," 𝚜𝚊𝚒𝚍 𝚆𝚊𝚢𝚗𝚎, "𝚒𝚝'𝚜 𝚞𝚜𝚞𝚊𝚕𝚕𝚢 𝚊 𝚖𝚘𝚛𝚎 𝚜𝚑𝚘𝚘𝚝𝚢-𝚜𝚑𝚘𝚘𝚝𝚢, 𝚠𝚑𝚊𝚌𝚔𝚢-𝚠𝚑𝚊𝚌𝚔𝚢 𝚝𝚢𝚙𝚎."
The Mistborn Series consists of 6 books currently published. There is a 7th book scheduled for release at the end of this year. Mistborn is split into two separate arcs known as Era 1 (books 1-3) and Era 2 (books 4 onwards).
This review covers the Era 2 books currently released: #1 The Alloy of Law, #2 Shadows of Self and #3 The Bands of Mourning. There is another Era 2 book due for release at the end of this year.
Everyone who knows me is aware of how much of a Sanderson fan I am. However, I was truly nervous about starting Era 2. I tend to dislike spin offs or continuations of something popular. I'm a girl who believes that it's better to leave people wanting more. However, I was abso-freakin'-lutely blown away by this.
Firstly, I'll say I would recommend reading the previous Mistborn books before hitting these ones. You could read these, but for full context and to get the intended experience I think it's best to go in with all the information.
These books are set 300 years after the end of The Hero of Ages, but in the same world. The premise of Era 2 stands really strong on it's own. A coin-shot gunslinger with a dark past, and a time wielding con-artist? Yes please! Throw in some Allomancy, Feruchemy and some wild-west, steampunk, detective vibes and Rust and Ruin, you have something pretty damn intriguing.
The characters we meet are all up there with my fantasy favourites. Wax is our main MC who left the rich life of the city to work as lawman in the Roughs. Wayne is his partner in crime (ahem.. I mean law) and is much more than the comic-relief he may seem at first. (Can I please keep him??) Following these two on their exploits is my new happy place. The other characters are all great too, and have strong developmental arcs throughout these three books.
True to his style these books showcase Sanderson's great world building and story telling. The world of Scadrial is similar to what we know from previous books but it has also evolved so much. That's a hard balance to get right and I don't think I've read many continuation series' that pull this off quite as well as this series does. The depth of world building we see in some of his other series is a bit absent here in the first book, but I felt that was because the books are intended to build on what readers already know. Hence, my recommendation to read Era 1 first. As you get to books 2 and 3 that's when things delve deeper.
However, what really stands out to me and deserves to be mentioned is how much this series shows Sanderson's sense of humour. It's not something people mention a lot about him as a writer but it's something he does really well. These books are truly hilarious in many scenes, and have such as sense of a general good time about them that it's impossible not to have fun while reading this. These books are much more of a lighter tone than the previous Mistborn trilogy.
That's not to say Era 2 is all one big joke. There are plenty of moments that tugged on my heart strings. When favourite characters make appearances from the first books for instance and the storyline in Shadows of Self especially. As it gets towards the end of book 3 that's when things really start connecting to the wider Cosmere, and things really start to get real. The ending of Bands of Mourning! Holy cow!
I can't wait for next instalment; The Lost Metal, due for release in November.
This isn't just a spin off, it's clear Sanderson planned this all out early on. Why on earth did I have doubts? I am recommending this to anyone who enjoyed Mistborn, or even those who didn't enjoy it so much as it really has quite a different feel and you may even enjoy this more. Also, if you haven't read Mistborn yet at all, what are you waiting for?