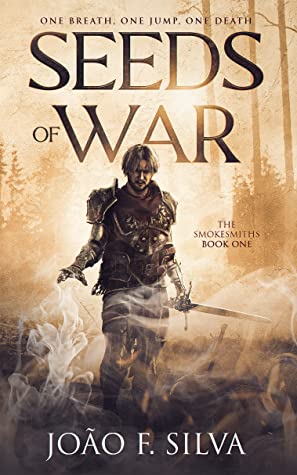 Rating: 8.5/10
Synopsis
"He ran like the monster he was. And the smoke followed."
GIMLORE is a single mother and war veteran turned crime boss set on protecting her family and her town.
ORBERESIS is a petty thief pretending to be God to protect a terrible secret.
REDNOW is the world's most feared mercenary, but his best days are behind him and there's one job left to do.
In a world of dangerous monsters and devastating smoke magic, the seeds of war are being planted. Allies must be treasured and enemies defeated.
The Smokesmiths is a gritty epic fantasy series with a harsh world of smoke magic, alien creatures and ancient secrets where characters do their best to come out on top. Peace will not last.
Review
Seeds of War is the debut novel and first book in The Smokesmiths series by João F. Silva.
I remember seeing Seeds of War pop up on my social media feed and the premise really caught my eye. Not long after, I was contacted by the author and offered an ARC. I had to jump on that opportunity! This obviously doesn't influence my review in any way.
Seeds of War is set in a gritty, merciless, post-war world, where dangerous beings, Smokesmiths and greedy monarchs vie for power. There is a definite theme of survival, power struggle and political upheaval, which for me are themes that always stand out. Silva explored these really well and found the perfect balance between a strong character cast, excellent world-building and high stakes action with a unique magic system, that outshines many other fantasy magical systems.
The world building is excellent in this, with a huge world and many hints at huge historical events that shaped the current world. The idea of Smokesmiths was something that captured me instantly, as it was a unique diversion from the usual magic used in many fantasy books. In this case, Smokesmiths burn and inhale herbs and gain temporary abilities which give them huge advantage in battle, while also having long term negative side effects to their health. There's some definite themes of addiction and characters dealing with the side effects of the smoke. I think this alone makes the book worth reading and in my mind made it stand out. Alongside this, it also provided some pretty badass fight scenes that had me fully gripped.
The Seeds of War follows three main, and quite compelling, POV, through Grimlore a mother turned crime lord, Orberesis a thief, pretender and a guy who has a serious god complex and lastly Rednow the worlds most feared mercenary. These characters caught my attention the most, through how diverse and unique they were. Rednow was easily my favourite, due to his unique Smokesmith ability and leadership of the most feared and undefeated mercenary unit. Yet even within this he wanted to make the world a better place and played a father figure to his mercenary unit. Orberesis, while not being my favourite character, was actually the most interesting to read. His character progression of thievery, to pretender god and even believing his own lies made for some extremely fun reading. I found that while his intentions were far from pure, that having such an evil and broken character really upped the action and intrigue in the book. Lastly, there is one side character, Solvi, that was really enjoyable to read about, and I think that she will have a lot in store for her in the coming sequels. From this, I hope it's clear that Seeds of War is a character driven story, so if that's something you look for, then you're in the right place!
I enjoyed the writing in this, as it was easy to get into and was the right mix between a good amount of world-building, action and dialogue. It also clearly set the pace, which was definitely a strong suit of Seeds of War.
So, if you're on the lookout for a new debut fantasy series, with a very unique and unconventional magic system with real consequences, set in a gritty world on the brink of war, with ancient beings lurking, then look no further!