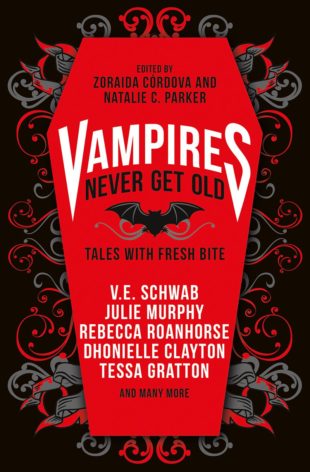 Rating: 5/10
Synopsis:
Eleven fresh vampire stories from young adult fiction's leading voices!

In this delicious new collection, you'll find stories about lurking vampires of social media, rebellious vampires hungry for more than just blood, eager vampires coming out―and going out for their first kill―and other bold, breathtaking, dangerous, dreamy, eerie, iconic, powerful creatures of the night.

Welcome to the evolution of the vampire―and a revolution on the page.

Vampires Never Get Old includes stories by authors both bestselling and acclaimed, including Samira Ahmed, Dhonielle Clayton, Zoraida Córdova and Natalie C. Parker, Tessa Gratton, Heidi Heilig, Julie Murphy, Mark Oshiro, Rebecca Roanhorse, Laura Ruby, Victoria "V. E." Schwab, and Kayla Whaley.
Review:
I received a copy of this book in exchange for an honest review.
I debated for a little while the best way to review this book, it felt too general to just do a summary so I'm doing a bunch of mini reviews for the stories we get within this anthology. Overall, I enjoyed this, there are some stand-out stories and a few that have already faded from memory. I feel that this is the case with most anthologies and with the exception of V. E. Schwab the authors are all new to me! Don't ask me how but that's just how my reading has worked out.
These aren't your generic Twilight style vampires, these are the darker, more mysterious ones that you probably don't actually want to meet. Of course, they centre around young adults, but thankfully we've left the romantic plots (mostly) behind and we're into 'be afraid' territory.
I also feel the need to mention something that I found a little odd. At the end of each story the editors added their own little paragraph. Which in some sense picks apart the story to unearth the themes within, and then they tend to pose a question that asks you as a reader what you would choose. I both liked these and wasn't entirely sure why they were there. I liked that they gave some background as to the history of vampire legends, and the themes they carry. However, it also felt a little too fourth-wall-breaking in them talking to the reader. That is probably just me though!
Seven Nights for Dying by Tessa Gratton
This is a strong start to the anthology. We dive straight in with the teenage girl wants to become a vampire because handsome man has asked her/taken an interest. Sounds generic but somehow Tessa Gratton makes it her own. This deals with the death of a parent and the grief it leaves you with. Over the course of seven nights and seven drinks she gets to decide if she wants to become a vampire. This is a story filled with LGBTQ characters and is very sex positive!
The Boys from Blood River by Rebecca Roanhorse
This was a stand out story for me, it's atmospheric and haunting. If you sing the song you'll summon the boys, and then you'll end up with a choice to make. Trust me these are the vampires you do not want to be involved with! They're pretty morally grey and inevitably you find yourself wondering what choice our main character should make. It leaves you wondering what might happen in the future to our characters. The atmosphere and the legends contained within make it one of our darker stories.
Senior Year Sucks by Julie Murphy
Here we have a young vampire slaying cheerleader whose family is in charge of protecting the town from vampires. This one is a lot less scary vampires but about how vampires and humans might co-exist in the world. It's arguably one of the less formed stories coming in at less than 20 pages, but I liked the premise behind it.
The Boy and the Bell by Heidi Helig
You know how there was a time when coffins could have a hole and a little bell that the person could ring if they'd been buried alive? What if that person turned out to be a vampire? Here we follow a trans grave robber who digs up one of these people who was 'buried alive'. Set in a graveyard this has instant creep factor and I loved the idea behind it. Because what's more creepy than a bell ringing in a graveyard in the dead of night?
A Guidebook for the Newly Sired Desi Vampire by Samira Ahmed
Here we thrust vampirism into the modern day. You newly awaken as a fresh vampire and installed in your phone is an app that will tell you everything you need to know. With a couple of images to remind you that this story is in app form, the idea behind this one means theres some great world building going on. Some great comedic writing here and one of the best stories in the anthology.
In Kind by Kayla Whaley
Wow, this one deals with some dark material. Starting off with a newspaper story about a man who has 'mercy killed' his disabled daughter, she then gets sired by a vampire and deals with the fall out of the death she almost experienced. Her disability is not cured by vampirism so she uses a wheelchair throughout the story. This one is dark because of the themes it deals with.
Vampires Never Say Die by Zoraida Cordova and Natalie C. Parker
Vampires are known for their manipulation right? Here a vampire joins Instagram and somehow finds a way around the whole 'vampires can't be photographed' thing. She meets a young girl and befriends her. This girl then throws a party for the friend she has never met but invites all of the vampires friends. This story is creepy because of the manipulation that is happening, and the idea that this girl has zero idea what she has gotten herself into.
Bestiary by Laura Ruby
Oh, I wish this one could have been longer. There was so much to explore and unpack that just couldn't be done in the short story it was given. There's a water shortage, a vampire who can talk to animals and a party being thrown by the man behind the water issues. I feel like it needed to focus on just one of these elements a little more because we kinda got everything glossed over instead. Huge potential and just a few more pages needed!
Mirrors, Windows, and Selfies by Mark Oshiro
This one felt like the opening to a full length book. I wanted more, I wanted answers and I was wrapped up in the story. Presented in a form of tumblr posts (including likes and comments) we discover the story of a young vampire who is being hidden away from the world. His parents hide things from him and like any young person he wants answers. We don't necessarily get any answers but the way this one is written means that you'll get caught up in the story.
The House of Black Sapphires by Dhonielle Clayton
Sadly this is one of the stories that fell a little flat for me. It felt like it was trying to explore something that just didn't click for me. There's this conflict between the vampires and the shadow barons but you don't know why and it seems like they all flaunt the rules anyway.
First Kill by V. E. Schwab
I'm a big fan of V. E. Schwab's writing and her story is one of the reasons I wanted to read this book. Of course it's sapphic, it's mysterious and Schwab is a master at writing forbidden romances. This short story leaves you wanting more as it ends on a bit of a cliff hanger, but the story within and the relationships were developed well enough that I really didn't mind.
This is worth picking up if you're a fan of vampires, and don't mind something that is darker than Twilight but not true horror. With tonnes of rep and some great stories it'll be worth your time.