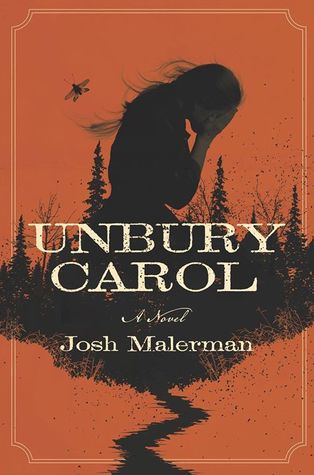 Genre: Horror
Publisher: Del Rey
Hardcover: 384 pages
Audiobook: 10 hours and 49 minutes
4/5 Stars
First off, thanks to the publisher and author for an advanced reading copy of Unbury Carol in exchange for an honest review.
Hell's Heaven this was an interesting read and I'll pigshit you not, these two (2) phrases are used quite a bit throughout. Think of it not really as a horror novel, but more of a weird western with some 'true grit'. A novel where the girl on the cover isn't really the emphasis of the story, but it is the cast of characters surrounding her condition and their motivations that shine through the oil and smoke.
Carol Evers has an interesting condition. Think of her as sleeping beauty with the ability to wake up after a few days without the need of a kiss from a handsome prince.  While she is in this comatose state, the world around her continues on at its normal pace, and all she feels is the constant sensation of falling…falling…falling. Unlucky for her, only a couple of people know about her condition; one of them has just died and another is out of state and out of mind, mostly. Lucky for her husband, Dwight, Carol has just gone under and the only person in town that knows she is still alive is him. What awaits him is a promised land of riches. What awaits Carol is six feet of dirt and only hours of oxygen.
Malerman is the author of one of my favorite novels, Bird Box, which just so happened to be one of my Top Reads of 2017 and is being made into a film on Netflix. It releases on December 21st, 2018 and stars Sandra Bullock, Sarah Paulson, and John Malkovich, among others. To be honest, Bird Box put Malerman on my 'must-read' list for all future releases because it was just THAT GOOD, so I was happy to get a copy of Unbury Carol for review. Though it is vastly different, being in a western setting vs that of a post-apocalyptic, we do get another strong female character as our main protagonist and the writer does a fine job of instantly connecting her with the reader.
What really drives the interest in the novel is the character development of our villains and "prince charming", if you will. Seeing all of the events unfold from these different vantage points adds so much dramatic tension and excitement to the novel, but also to the world in which Carol is rarely ever apart of throughout the story. Also, I really enjoyed the development of 'The Trail' which does give us a little bit of world-building along our journey. To be honest, my favorite part out of everything was the main villain, Smoke. His character arc has to be one of the finest I've seen in a while and his tunes will forever live in the back of my mind.
Overall, if you are a fan of Malerman, you'll more than likely pick up a copy of Unbury Carol; but I urge those of you who like your fiction a little on the weird or western side of things to give it a shot. The author truly knows how to create interesting worlds and characters and I for one cannot wait to see what's next.
-Review by David