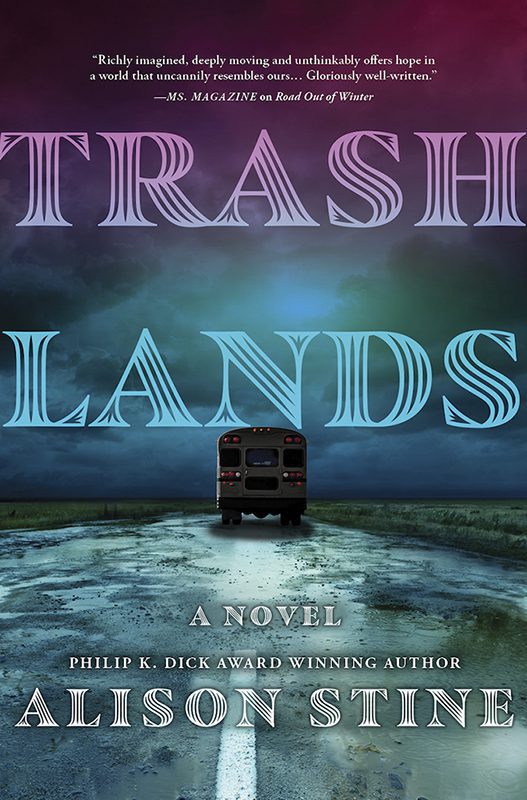 Rating: 9.0/10
Synopsis
From the author of Road Out of Winter, winner of the 2021 Philip K. Dick Award, a resonant, visionary novel about the power of art and the sacrifices we are willing to make for the ones we love

A few generations from now, the coastlines of the continent have been redrawn by floods and tides. Global powers have agreed to not produce any new plastics, and what is left has become valuable: garbage is currency.
In the region-wide junkyard that Appalachia has become, Coral is a "plucker," pulling plastic from the rivers and woods. She's stuck in Trashlands, a dump named for the strip club at its edge, where the local women dance for an endless loop of strangers and the club's violent owner rules as unofficial mayor.
Amid the polluted landscape, Coral works desperately to save up enough to rescue her child from the recycling factories, where he is forced to work. In her stolen free hours, she does something that seems impossible in this place: Coral makes art.
When a reporter from a struggling city on the coast arrives in Trashlands, Coral is presented with an opportunity to change her life. But is it possible to choose a future for herself?
Told in shifting perspectives, Trashlands is a beautifully drawn and wildly imaginative tale of a parent's journey, a story of community and humanity in a changed world.
---
Review
Trash is king, and humans its servants, in the dystopian near-future wasteland of Scrappalachia.
There is something strangely beautiful about trash: the mystery of what something once was or could become, the hidden treasures buried beneath the rubbish, and the stories that can be told in heaps of refuse. There is also power in trash: how it accumulates and consumes, how it travels and transforms landscapes, how it often outlives those who discard it. But, there is also value in it, and in Trashlands, author Alison Stine's second novel, the value of trash stands at the forefront of her thought-provoking dystopian vision of the future. When garbage—plastics especially—become more valuable than a human life, what does it even mean to be human?
And that's how I ended up immersed in the world of Scrappalachia, a region-wide garbage junkyard of the American future, where the Appalachian region has become the dumping ground for the East Coast. The quantities of trash that humans have produced is seemingly endless, polluting and overflowing, to the point where governments banned the production of new plastics. That's how a place like Scrappalachia becomes valuable: plastic is the new currency of the world. It's collected, sifted, sorted, with traveling bands of pluckers migrating to different places to make ends meet finding and selling valuable plastics. This is a world of survival, but also community, and Stine had me hooked within the first few chapters.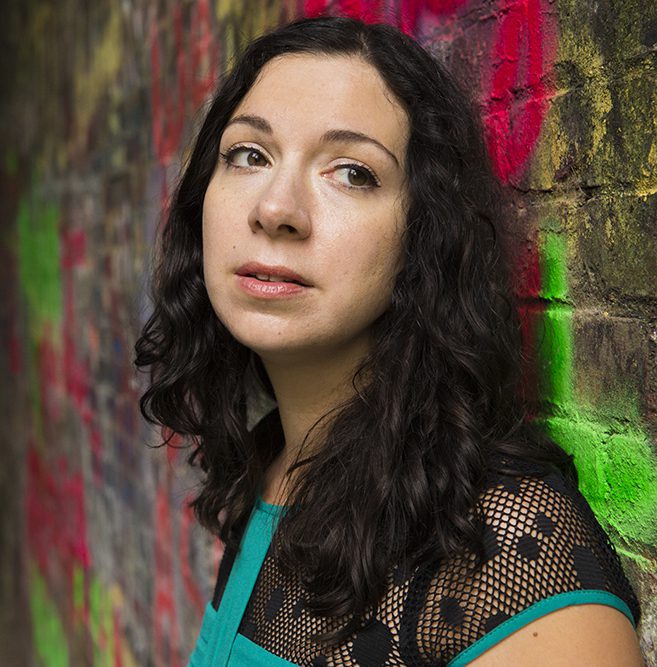 A lot of my enjoyment and investment in this book came from the characters and their relationships. This is a fascinating, intimate look at a community living within the junkyards, with a grimy strip club called Trashlands serving as a hub for the surrounding area. Like a tidepool, tucked in amongst a rocky coast, the Trashland community is a microcosm of humanity's future: Coral, the protagonist, is a plucker whose son was taken from her, and she spends her free time making art from unique pieces of trash; Trillium is a tattoo artist and Coral's romantic partner; Mr. Fall is Coral's adoptive father and a teacher for the junkyard children; Foxglove is a stripper at Trashlands with a troubling past and a body covered in tattoos; Miami is an investigative journalist come from one of the big cities to report on the junkyard communities, albeit with an ulterior motive; Summer, a hairdresser and Mr. Fall's partner; Shanghai, Coral's son and a child slave at a plastic processing plant; Rattlesnake Master, the morally decrepit owner of the Trashlands strip club; and Tahiti, the bouncer of Trashlands with a heart of gold.
All of the characters in the book are interesting in one way or another, but Coral is the heart and soul, her bright red shock of hair and honest personality a sort of candle flame for disparate individuals to get drawn towards. I was immediately invested in her story and how it unfolds, as it's so painful but also brimming with hope. Her search for her son is relentless, but she's also flawed, sometimes too stubborn to ask for help from those who love her. Trillium was another captivating character, curious and withdrawn as many tattoo artists are. And, as a former tattoo artist myself, Stine wrote his DIY stick-and-poke approach to tattooing incredibly well, including details about making inks and needles and approaches to designs. Although, I did find myself cringing at the thought of how freakin' unhygienic getting a tattoo on a bus in the middle of a junkyard in a dystopian future would be.
All that aside, Trashlands is a character story, and the characters were so believable that I found myself empathizing with them constantly. They live in a bleak future, yes, but community still means so much and the relationships between each of them feels realistic and tugged at so many of my emotions. I felt disgust at how Rattlesnake Master runs his strip club and treats his employees; I felt sadness for Miami and the loneliness of this city man searching for memories in trash; I felt love, between Coral and Trillium, Mr. Fall and Summer, Foxglove and Tahiti; and I felt hope, over and over again, through characters who are working towards a better future—however that may look in a literal dump.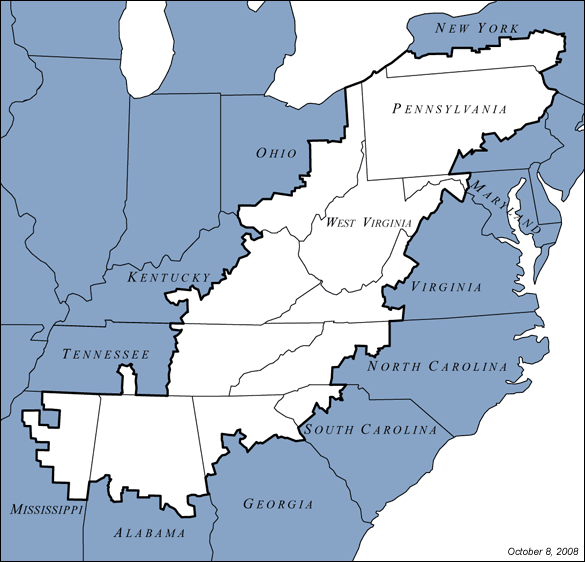 That fairly bleak setting was also something I loved about the book. Stine brought this junkyard to life, a place flowing with trash but also teeming with life. Next to rusted husks of cars were makeshift shanty homes, a busted satellite dish served as a drying rack for clothes, and all of the junkyard children gathered around Mr. Fall as he taught them everything he could in his best replication of a classroom. Trashlands itself too was a beacon, one of depravity, calling in lonely, drunken men from the surrounding regions, but also of bright flashing lights, the constant thump of a bass line, and inside a group of people making the best of a shitty situation.
Stine's writing style and pacing also help to convey the energy and atmosphere of the junkyard, as well as the inner workings and relationships of the characters. She has a style akin to Hemingway's "Iceberg Theory," in which subtext is more often implied through interactions and things not said. I loved that. It's something she used in her previous book, Road Out of Winter, but here it's clear that she has further honed this approach. Things are told only when they need to be, and mysteries about characters and their histories, thoughts and desires are drip-fed in a way that is ultimately satisfying. I felt like I wanted to know more than was being told, but not in a bad way—rather it ramped up my curiosity, and also spurred my imagination to conjure my own theories, ideas and scenarios. This approach feeds the pacing too, which, while not always perfect, had a good balance between different points-of-view, offered multiple perspectives on shared scenes and provided interesting revelations through slow, well-timed context.
Now, into what didn't work—for me at least—and I can't say there was a ton I didn't like. On the topic of pacing, there were some chapters that focused on a particular character for too long, or a string of chapters that had me aching to get back to someone else's narrative. There were also a few characters that I wanted to know more about, in terms of backstory and motivations and wants (Trillium and Foxglove in particular), whose story lines felt a bit underdeveloped. Then there's the ending, which I both liked and didn't. The ending itself was satisfying, and I enjoy how Stine isn't afraid to leave things open-ended, but the lead-up to that ending felt rushed. As Coral and Shanghai's respective worlds collide, it felt good, despite them being a broken mother and child and knowing how their journeys unfolded. But I wish things had a little more breathing room to really hit that ending home.
Few gripes aside, Trashlands was a stellar outing for Alison Stine. Her debut novel Road Out of Winter was a great read, but Trashlands built upon that groundwork and ran with it in mesmerizing ways. In the desolate environs of a junkyard, Stine has evoked raw, honest humanity, the connective tissue of community, love, heartbreak, perseverance and the notion that optimism can exist in a place such as this. Fittingly, Coral's garbage art acts as the perfect metaphor: in a world of trash, where plastic is more valuable than a human life, there will always be the hope that one can do more and be more.
Thank you to the publisher MIRA Books for sending me an eARC in exchange for an honest review. Click here to find out more about Alison and her work.