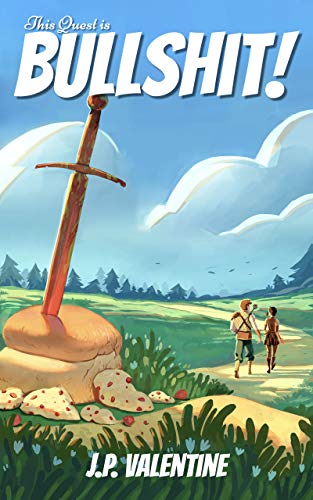 Rating: 7/10
Synopsis:
Life Quest assigned: Head to the next town over and pick up a loaf of bread.

At first glance, the absurd life quest seemed almost fitting for a Level 1 Messenger Girl, but Evelia Greene could hardly hide her disappointment. She'd never count herself among the number of brave adventurers defending Leshk from terrifying monsters. She'd never explore lost ruins and uncover ancient magics. She'd never earn a speeding ticket for running at superhuman speeds in a human-speeds zone.

Okay, maybe that last one wasn't quite as disappointing.

But when bakers go on strike, goblins attack, and bakeries spontaneously combust as Eve enters town, bit by bit this bullshit quest might just earn its Legendary difficulty and the sweet, sweet exp that comes with it. Things just might get a bit silly along the way.
Review:
This review covers all 4 books in this (broken) trilogy:
#1 – This Quest is Bullshit (also released as This Quest is Broken)
#2 – This Class is Bonkers
#3 – This Guild is Batty
#4 – This Plot is Bananas
Hard to not pick up this book after seeing that title and when I was tagged in twitter by that dastardly David (@BookMeanderings), it was instinctual that I picked this up immediately. And boy, glad I did. This was a breath of fresh air fun read that put me in a smiling good mood! I wanted to try out Book 1 but ended up reading all 4 books (yes, it's a broken trilogy) back to back over a course of 3 days. Time well spent!
The book starts off with our loveable MC, Eve standing in a queue to get her life quests from these mysterious questing stones. With dreams and imagination running rampant, she's dropped down to earth harshly, when her quest is the fetch a loaf of bread from the next town. She's disheartened….until she see that the quest difficulty is graded as Legendary, (while her friends quest to slay a dragon is merely Epic in difficulty)… And so starts the adventure! Bakery fires and bakers on holiday thwart her mission all the while she and her friends has to fight off monsters just so they can reach the next town to try their luck for the bread. Not to mention, she gets constantly interrupted by pesky side quests. Making things worse is that then Quest System itself seems to be making up milestones on the way without any plan, you know things are going to turn to chaos. And when they realize they have to save the world to get that damn loaf, you know you are in for a legendary read!
This is a books that doesn't take itself seriously. It's quirky, nonsensical and totally fun to read. Every single trope of adventuring and quest has been subverted and poked fun at replete with campy bad (good kind of bad) puns. But then it has a charm of it's own that kept me reading with a smile. The MC and her group are charming, loveable and have a chemistry that just make you root for them. Their adventures are lot of fun to read even when I realized that the actual plot kicked off seriously only in Book 4 but that doesn't take away anything from the previous books.
It's just so easy to binge read that I recommend everyone to do it.