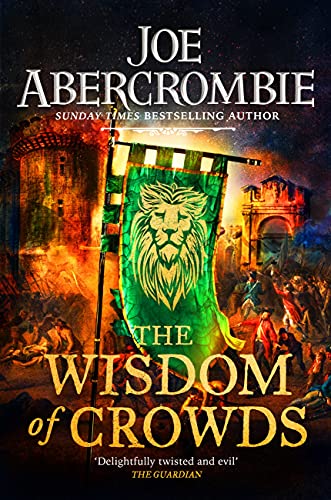 Rating: 10/10
Synopsis
Chaos. Fury. Destruction.
The Great Change is upon us…
Some say that to change the world you must first burn it down. Now that belief will be tested in the crucible of revolution: the Breakers and Burners have seized the levers of power, the smoke of riots has replaced the smog of industry, and all must submit to the wisdom of crowds.
With nothing left to lose, Citizen Brock is determined to become a new hero for the new age, while Citizeness Savine must turn her talents from profit to survival before she can claw her way to redemption. Orso will find that when the world is turned upside down, no one is lower than a monarch. And in the bloody North, Rikke and her fragile Protectorate are running out of allies… while Black Calder gathers his forces and plots his vengeance.
The banks have fallen, the sun of the Union has been torn down, and in the darkness behind the scenes, the threads of the Weaver's ruthless plan are slowly being drawn together…
Review
The Wisdom of Crowds is an epic and thrilling end to one of my favourite trilogies of all time. I'd been eagerly awaiting the conclusion to The Age of Madness and of course was not disappointed…not that I was worried.
There's really something that can be said for the world Abercrombie has created. Rarely does an author capture my attention to this level from beginning to end, and wow what an end it was! Wisdom of Crowds picks up shortly after the events of The Trouble with Peace. Orso is picking up the pieces of his broken empire and Leo is picking up the pieces of his tremendous defeat, while coming to terms with his broken body. Savine on the other hand is struggling with her pregnancy and PTSD from the war. The only character who seems to have come out on top is Rikke, who is now sitting on Skarlings Chair, trying to figure out how to unite The North. In the shadows emerges a new character, Judge, who is hell bent on murdering anyone who crosses her path and doesn't conform to her ideology. Yep, there's a lot happening here and I was definitely scratching my head as to how Abercrombie would conclude such an epic tale. As usual he did not fail and the story was filled with the usual morally grey choices, danger around every corner and character driven grimdark fantasy.
If there's one thing I can say about Abercrombie that's that he can write characters. Every single one of his characters feel three, nay, eight dimensional. One moment you'll find yourself hating them, then making a 360 and suddenly loving them and rooting for them while at times even wishing them dead. I managed to be constantly surprised by their decisions and developments. I guarantee you'll pick a favourite and then have a new favourite by the next chapter – yes Rikke I'm looking at you – but please don't look back at me…
The writing throughout the entire trilogy was unsurprisingly consistently of very high quality, while managing to also move the pace of the story at a fast and enjoyable speed. As usual, Abercrombie's cynical, snarky, yet light-hearted witticism jumps out throughout the entire story, grasping even me who rarely finds books funny. Character communication felt natural and quippy enough to have me giggling at quite a few moments *cough* Orso *cough*.
At the end of the day, if you've read some of Abercrombie's books you'll most likely find yourself reading this. For fans of Abercrombie you'll most definitely have already read it, and for those that haven't read any Abercrombie – read his bloody books – but start with The Blade Itself, and don't stop until you've finished this book.