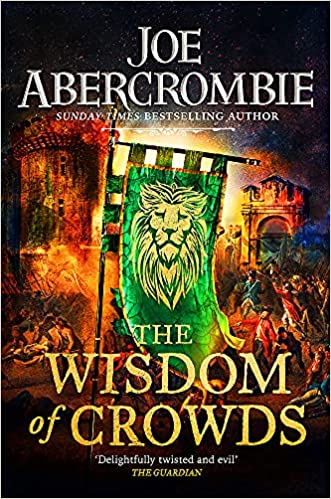 Rating: 10/10
Synopsis
CHAOS. FURY. DESTRUCTION.
THE GREAT CHANGE IS UPON US . . .
'Dazzlingly gruesome and gripping' Daily Mail
Some say that to change the world you must first burn it down. Now that belief will be tested in the crucible of revolution: the Breakers and Burners have seized the levers of power, the smoke of riots has replaced the smog of industry, and all must submit to the wisdom of crowds.
With nothing left to lose, Citizen Brock is determined to become a new hero for the new age, while Citizeness Savine must turn her talents from profit to survival before she can claw her way to redemption. Orso will find that when the world is turned upside down, no one is lower than a monarch. And in the bloody North, Rikke and her fragile Protectorate are running out of allies . . . while Black Calder gathers his forces and plots his vengeance.
The banks have fallen, the sun of the Union has been torn down, and in the darkness behind the scenes, the threads of the Weaver's ruthless plan are slowly being drawn together . . .
Capping off the AGE OF MADNESS trilogy, THE WISDOM OF CROWDS brings the series which is revolutionising fantasy to its stunning conclusion . . .
Review
The Wisdom of Crowds is a thrilling end to a wonderful, yet tragic series of fantasy novels that I have enjoyed from the very start. With a great encompassing cast of characters, political turmoil and intrigue, and great action sequences, this novel clearly delivered in this department. Yet, there were some nit-picks that I had, and I had a strong emotional response to Orso, who I felt was really the main character of this entire book. A good man like him that's swallowed up by the world and by people being evil. I understand that Joe's world doesn't differentiate between good and bad, but sometimes I wish people like Orso would just have a break. It wasn't Broad, it wasn't Rikke, it wasn't even Savine or Brock. None of them appealed to me. The actions and choices that they made, sometimes made me think they always went for the harder option than anything else. This novel is very exciting from the get-go, and there's a ton of good historical references you'll find within this novel.
And you should never trust the public at all when it comes to revolution. The so-called Great Change was a public campaign disguised as an agenda to take power from King Orso, and after that, the political house of cards that kept the Union together stumbles downwards on an endless spiral. People from all walks of life being accused of things they never did, only to be thrown at the top of a tall tower. And I seriously wondered, for what? For what has revolution ever achieved? Bloodshed? Chaos? Love? Turmoil? For a short period of time, people are purged during these brief moments and they'll be loyal supporters of that rebellion too. It's a waste of time, a waste of everything to be honest. Yet new leaders emerge and Napoleon was a prime example of this. It's no wonder he became the Emperor of Europe and kept Europe under his control. Do you see what I mean when this novel is chock to the brim with historical references? There's a lot and I love it. This book is a realistic depiction of what happens when you lead the public, seeing as they are dim-witted fools, to help you overthrow a legitimate ruler.
I don't wish to spoil much of the story, but in a nutshell here's a quick summary. Orso has to deal with so many ups and downs, so much humiliation and slander, that the man has more loyal servants than Savine or Brock could ever have. The thing I liked about Orso, was that he was funny, heck he even took the revolution with more humour than other monarchs would. I feel an emptiness inside of me when I write this. I think Orso needed something. Something that would cement his legacy and his mark. And I despise Lady Savine for exactly that reason. Bear in mind, Orso saved Savine many times. Keep that as a hint. And I hated Rikke as well, since betrayal is so common to her mindset, she'll end up one day being betrayed by the very people she will come to love. Judge is an insane character and the worst of them. Rikke basically just consolidates her power in the North and is wary of Black Calder. That's the summary out of the way. But you know what I liked the most? Brock learning to evolve out of his stupidity. Brock becoming so clever, so intelligent, that he learnt it from his wife, Savine. And Lady Savine, realising that being a mother and clever at the same time is dangerous in politics. She's becoming more human as she begins to realise: most of the political slandering and torture that she brought upon workers, upon others is pointless. Now that she's a mother, she must defend her children. And the worst part being that Orso is her brother, now no longer her lover.
Never have I had such a seething, loathed, hatred for what Lady Savine and Lord Brock did to Orso, and what they did to ignore his pleas. I do hope, that one day, a descendent of Orso's line, perhaps from the North, or someone that understood the King, will come back and exact revenge. I've never felt this strongly to a character who I liked and that was Orso. A right man, born in a very very bad time. In my opinion, Lord Brock should be disposed of, since he has no shame in removing people, burning them or torturing them. And Savine should regret for the rest of her life when it comes to Orso. Even if she must bury it deep within her heart. There were also great characters within this novel, great little humorous scenes, and there's too much political intrigue to count. But I have to say this, Orso was the funniest character I've ever read in this novel.
I do hope to see a future trilogy focusing on this world again as we return to Lady Savine's son, King Harod ruling the Union one day. And I do hope they'll suffer for the paint they did to a good man. If there are historical monarchs that I can compare to King Orso, I think it would be Emperor Maximilian the I of Mexico and King Pedro II of Brazil. I think you'll find many apt comparisons with these two monarchs when contrasting them with Orso. Karma is, as they say, karma. That is my most desired wish. And this is the quality of Joe's writing at the end of the day. He's produced three stunning fantastic novels, and The Wisdom of Crowds doesn't disappoint in the character department. I loved every second of it, and I'm still sad when writing this. But I want to return to this world again in the future, and damn, this is absolutely worth it.