The Thirteenth Hour (The Cruel Gods #1) by Trudie Skies

Disclaimer: I am reviewing for Before We Go Blog on their SPFBO 8 team, and this book is in our pile, however this review does not reflect the opinions of BWG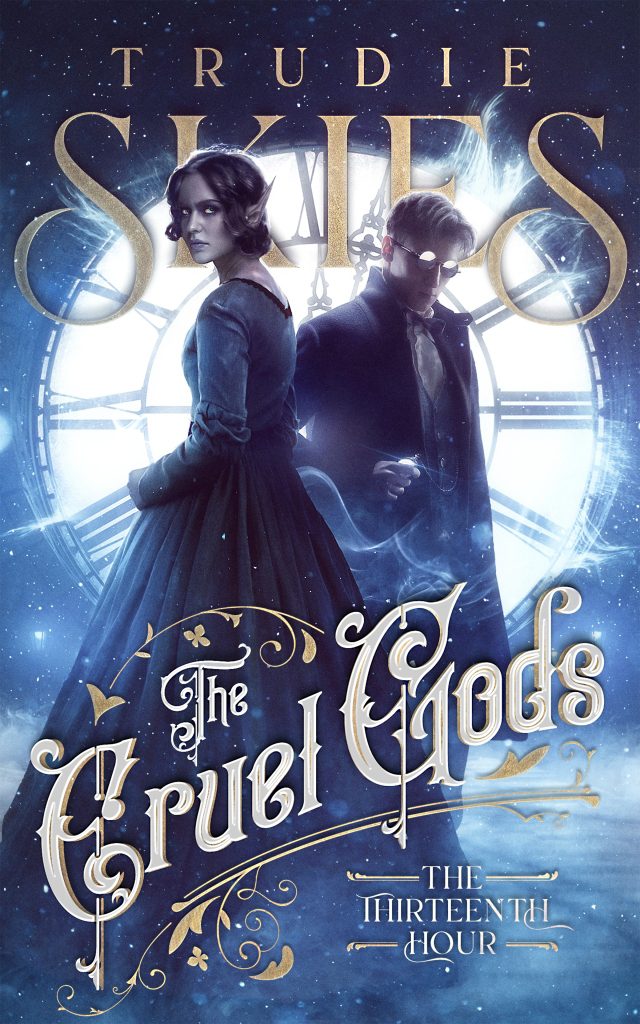 Rating: 9/10
Synopsis
When the saints fail, the sinners step up.
Cruel gods rule the steam-powered city of Chime, demanding worship and tribute from their mortal subjects. Kayl lost her faith in them long ago, and now seeks to protect vulnerable and downtrodden mortals from their gods' whims. But when Kayl discovers powers that she didn't know she had—and destroys a mortal's soul by accident—she becomes Chime's most wanted.
Quen's job was to pursue sinners, until the visions started. Haunted by foreboding images of his beloved city's destruction, Quen hunts soul-sucking creatures made of aether who prey on its citizens—and Kayl is his number one target.
To ensure Chime's future, Kayl and Quen must discover the truth of Kayl's divine abilities before the gods take matters into their own hands.
For a city that bows to cruel gods, it'll take godless heathens to save it.
Review
The Thirteenth Hour is the story of Chime, a great city central to each of the domains. At the center of the city you'll find a clock with a door to each of the domains. Which domain, you ask? To that, traveler, I'd ask you, what time is it?
Trudie Skies has crafted a stunning world with cobbled streets and gas lamps lining the streets. Chime is wonderfully whimsical and the setting was by far the highlight for me. There are twelve gods, each with their own domain to rule over. Chime is a godless city with no god ruling over it. It's a safe space for those who need to flee from their gods for one reason or another. It's also home to sinners abound. Each realm's god has a unique personality, some are more cruel than others, and their personality is built up through the way their citizens view them rather than having them directly on page. In each of the twelve domains, there lives a unique race. In Chime, all of the races live together in peace. I love the classic fantasy tropes but Trudie's creativity gets to really shine through with the creation of twelve brand new races.
Aside from the incredible world-building there are two main POVs: Kayl and Quen. They're an unlikely duo, Kayl is a sinner and part of a movement of the faithless, Quen is an officer sent to hunt Kayl down. They end up chasing down the mystery of Kayl's origins and getting sufficiently tangled in greater machinations along the way. The movement peaked and lulled throughout the story and the overall pacing was balanced really well. 
There's an associated novella/world-building compendium The Traveler's Handbook to Chime and Beyond. I've flicked through it and I'll definitely be using it to dive back into Chime before the sequel. Speaking of sequels, The Children of Chaos releases on October 13th and can be preordered here.
I'd also be remiss to write a review of this book and not mention the narrator of the audiobook, RJ Bayley does an incredible job and if you enjoy audiobooks, I'd highly recommend trying this one out.
In summary, everything about The Thirteenth Hour was stunning and I'm anxiously awaiting the publication of book two.