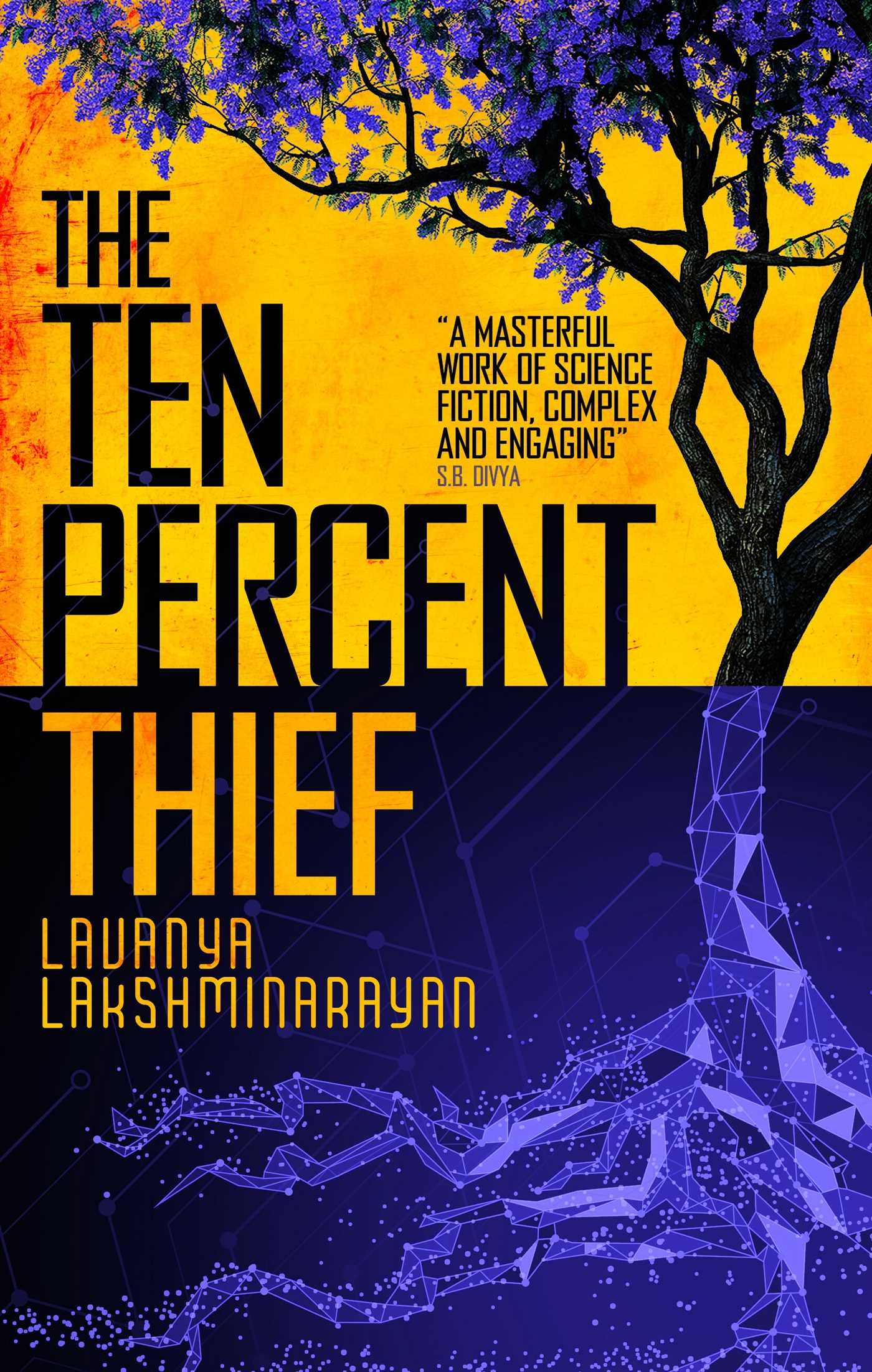 Rating: 8.5/10
Synopsis
Apex City, built on a virtual caste system, where its denizens' lives are run by the Bell Curve. Match your opinions, behaviour and productivity to the Curve and you could scale the virtual elite of the Twenty Percent. But if your productivity falls away from the Bell Curve you risk deportation to the Analog world, free of electricity, running water, human rights …
As Apex City's technology takes further strides towards total control of its citizens, the "Ten Percent Thief" steals a single jacaranda seed from the virtual elite and plants it in Analog soil. Revolution soon sprouts.
Review disclaimer
A big thank you to the team at Rebellion for sending an arc of this title. My opinions in this review remain my own (I exist outside of the Bell Curve).
Review
Rebellion's lead title for spring 2023 is giving a new platform to a title previously published title in South Asia (as Analog/Virtual). Lavanya Lakshminarayan is a welcome new voice in Science Fiction and I'm happy that the Solaris imprint are championing her debut novel.
You can tell that I liked the book and I like a lot of books, it's true, but this one I liked a lot. Although there were several scenes and new technologies included in TTPT that made for grim reading, the author's flippant style delivered throughout the story.
Lakshminarayan has adeptly created a virtual caste system in Apex City and spun it into a Silicon Valley-style dystopia. For citizens of Apex City life is a technological marvel until they bottom out on the life-deciding Bell Curve and are deported to Analog territory.
It's a tough society to succeed in but what hits home so hard about this novel is how hauntingly plausible it all is. We're really in the middle of a situation where social media is dictating how we behave and what's expected of us. Jobs and company culture craft us into perfectly productive employees. Better hit your targets or next thing you know you're ejected from society and languishing in the boondocks with no tech and nowhere to go. We're already in Apex City ourselves.
The Ten Percent Thief
The story takes the form of a series of vignettes that show us several windows into life in the virtual city. We're shown people on the bubble of deportation and those who are gunning for the apex of the Curve. Life really isn't peachy for either extreme, nor is it for the analogs outside of the city who are scarcely even recognised as human by the people of Apex City. While some may find it hard not having a central character to gel with, I did not find this to affect my immersion into Lakshminarayan's world.
I don't do spoilers in my reviews but there are notably uncomfortable scenes from a vivid Sci Fi dystopia that are well worth experiencing. Particularly chilling is the A.I., "Op.He.Li.aA", which quite literally sculpts and scrapes people into compliance with the right images and even opinions you need to climb the societal ladder. It's creepy and disturbing in equal measures – all the more so due to Lakshminarayan's prose.
The overdependence on technology of Apex City is so unsettling because it seems to be just around the corner from the present day. There were times I didn't want to find out what happened in a scene because I knew it would be as bleak as an episode of Black Mirror. And that's why the book became so compelling for me.
Productivity is Power
TTPT ticks a lot of boxes early on in 2023 for me. I'm a sucker for neon dystopias and I felt at home in Apex City. The novel has a clear and unsubtle message, but it gets its points across in a captivating way. Lakshminarayan's narrative style is playful and crushing in equal measure. This makes for a strong debut and a whole new sense of unease about our overreliance on technology.