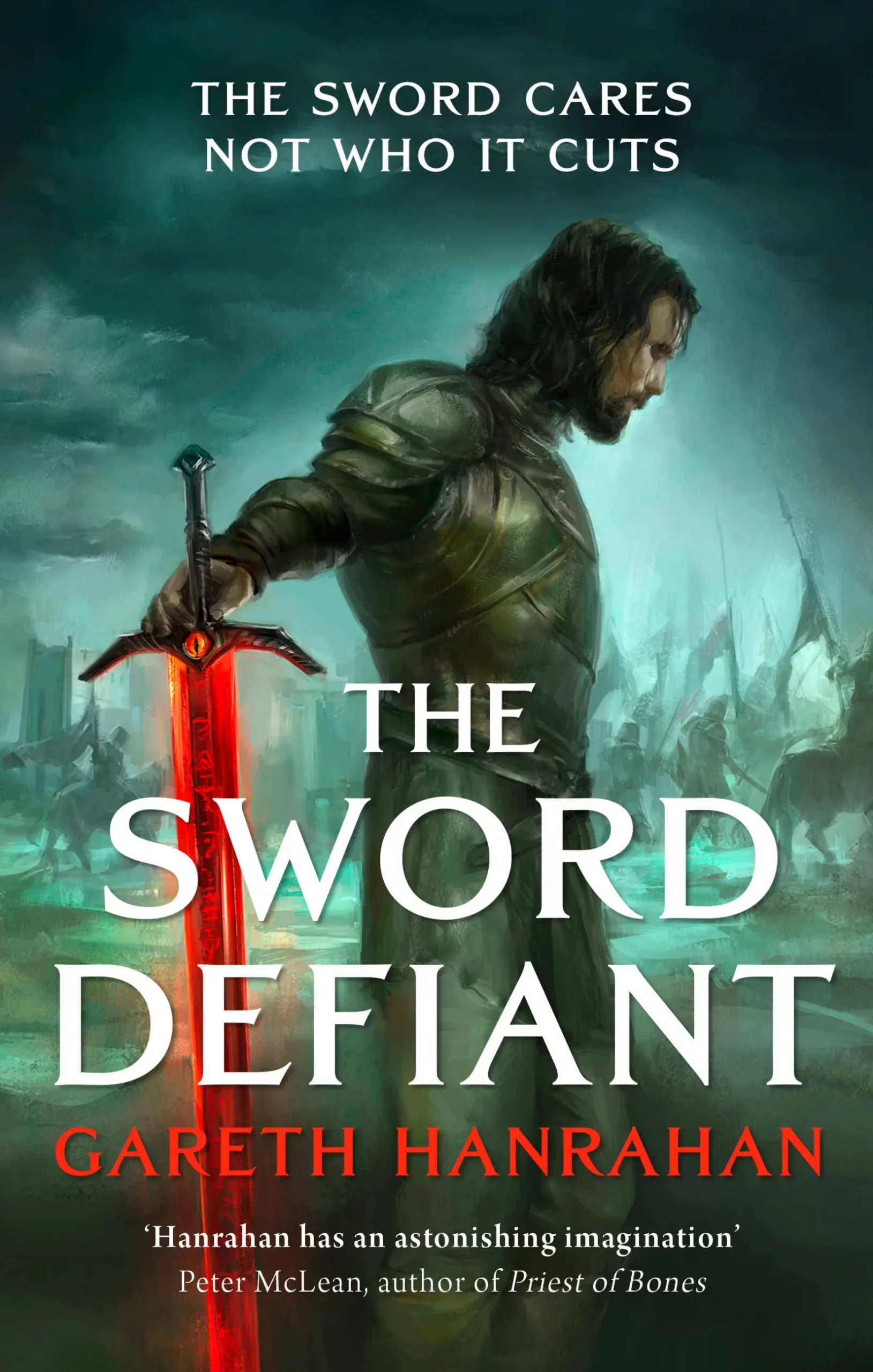 Rating: 8.0/10
Synopsis
Set in a world of dark myth and dangerous prophecy, this thrilling fantasy launches an epic tale of daring warriors, living weapons, and bloodthirsty vengeance.​

"The Sword Defiant is a treat for all fantasy fans . . . . It's an absolute blast." ― Justin Lee Anderson, author of The Lost War

Many years ago, Sir Aelfric and his nine companions saved the world, seizing the Dark Lord's cursed weapons, along with his dread city of Necrad. That was the easy part.

Now, when Aelfric – keeper of the cursed sword Spellbreaker – learns of a new and terrifying threat, he seeks the nine heroes once again. But they are wandering adventurers no longer. Yesterday's eager heroes are today's weary leaders – and some have turned to the darkness, becoming monsters themselves.

If there's one thing Aelfric knows, it's slaying monsters. Even if they used to be his friends.

"In the tradition of Tolkien and Eddings, with a richly detailed narrative, well-drawn characters, epic battles, and political and religious intrigues, Hanrahan's outstanding first outing in the Lands of the Firstborn series will thrill fantasy readers—who will anxiously await the next book." ― Booklist (starred review)

"This novel has the potential to become a fan-favorite among those who appreciate vast and eloquent epic fantasy. Readers will enjoy the unique twists, absorbing intrigue, and endearing characters." ― Library Journal

"I will buy any novel that Gareth Hanrahan ever writes." ― The Fantasy Inn
Review
This is a very solid first entry into a new fantasy series by author Gareth Hanrahan. I thoroughly enjoyed the quest this book set me on! The story kind of reminded me of "Lord of the Rings" meets "Dungeons & Dragons". It is fairly traditional fantasy story in the sense of the set up like Lord of the Rings. You have a fellowship, elves, dwarves, the hero knight, orcs, evil beings, etc. However, the twist I loved that this book explored was what happened after our fellowship of heroes defeated evil 20 years ago. It was not just "they lived happily ever after". This book starts to explore that question and it really intrigued me.
First off, the world building is fantastic. From your mundane farmlands to the whimsical land of the elves, to the dark city of Necrad engulfed by "necromiasma". I found it all very intriguing and felt like I was transported to this fantasy world. I cannot wait to explore more of this land in future books.
I would say that this story is more character based than plot based. There is absolutely a plot, but the characters are fantastic. That is what makes this book so good to me. You start to learn about this fellowship that defeated evil years ago. They are all very different, have different personalities, have different backgrounds but were a tight knit group of friends in the triumph. They formed friendships and bonds after going through all that adversity together. However, when a new threat seems to arise years later, things are not the same. One may think to just get the band back together and run it back! Problem solved. No, life is more complicated than that. That is what really worked for me. It was my main takeaway from this book. Over the years, life experiences happen, people change, grow further apart, and perspectives shift. Our main character, Alf, is learning this throughout the novel. It is a struggle he is constantly facing, something he is having a hard time coming to terms with. The character felt so real. I could feel his internal struggle, his sense of feeling lost and conflicted. It was very well done.
Overall, I recommend "The Sword Defiant". It is a promising start to a new fantasy series, and I can't wait to see where it goes from here! The world building is great, but I am very intrigued to see the journey all of these characters take. The themes of aging friendships and family will keep me coming back for more! Oh and yeah there is a talking sword, Spellbreaker, and it's awesome!