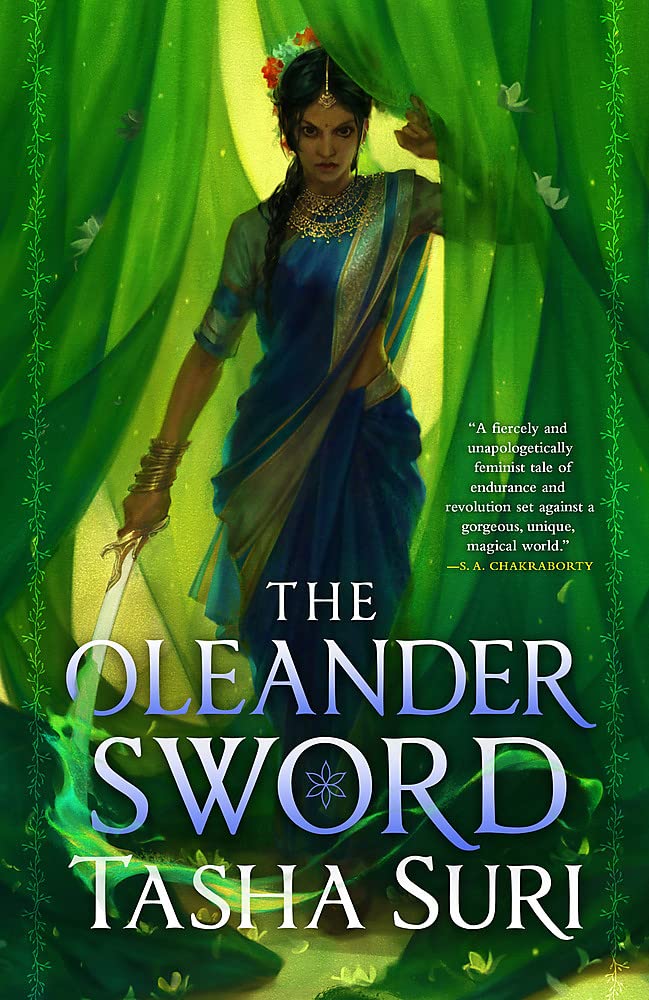 Rating: 10/10
Synopsis:
The Jasmine Throne has been hailed as a series opener that will 'undoubtedly reshape the landscape of epic fantasy for years to come' (Booklist, starred). Now, award-winning author Tasha Suri's provocative and powerful Burning Kingdoms trilogy continues with The Oleander Sword.
The prophecy of the nameless god – the words that declared Malini the rightful empress of Parijatdvipa – has proven a blessing and curse. She is determined to claim the throne that fate offered her. But even with the strength of the rage in her heart and the army of loyal men by her side, deposing her brother is going to be a brutal and bloody fight.
The power of the deathless waters flows through Priya's blood. Thrice born priestess, Elder of Ahiranya, Priya's dream is to see her country rid of the rot that plagues it: both Parijatdvipa's poisonous rule, and the blooming sickness that is slowly spreading through all living things. But she doesn't yet understand the truth of the magic she carries.
Their chosen paths once pulled them apart. But Malini and Priya's souls remain as entwined as their destinies. And they soon realize that coming together is the only way to save their kingdom from those who would rather see it burn – even if it will cost them.
Praise for the Burning Kingdoms trilogy:'Will undoubtedly reshape the landscape of epic fantasy for years to come' Booklist (starred review)
'Lush and stunning…this sapphic fantasy will rip your heart out' BuzzFeed News
'Raises the bar for what epic fantasy should be' Chloe Gong, author of These Violent Delights
'This cutthroat and sapphic novel will grip you until the very end' Vulture (Best of the Year)
'It left me breathless' Andrea Stewart, author of The Bone Shard Daughter
'I loved it' Alix E. Harrow, Hugo award-winning author of The Once and Future Witches
'Suri's incandescent feminist masterpiece hits like a steel fist inside a velvet glove' Shelley Parker-Chan, author of She Who Became the Sun
Review
At the moment of writing this review, I feel sadness and my emotion is overwhelming me. This is such a well-written novel, that it's a truly worthy sequel to the Jasmine Throne. It is the culmination of old debts and new triumphs, and endless obstacles combined with character arcs that I truly felt for in the end. How does one even begin to summarise this story? It would be impossible to do so. But it is the fall of one misguided Emperor named Chandra, who was mistreated, abused, and outcast from his family. That doesn't excuse the failings that he committed. He was evil in the sense that what he saw as good, was not good to others. Yet his misguided faith led him to a path of ruin. It is the rise of an Empress, Malini, who must sacrifice her love every so often just to be united with Priya, only to have that taken from her time and time and again thanks to the politics of Parijatdivpa. Then there is Priya, now an Elder of her place, Hirana. Despite all that, the Yaksa is coming to reclaim this world in their own image, and their vision is more horrific. Yet there is a deeper plot that hasn't been told.
This may be the fall of one empire. This may be the fall of many lords, princes, and women. This is a setup, like the Two Towers, for what is to come in book 3. I feel that there is more that we haven't seen, and it feels that in the end, no one is perfect. Everyone wants ambition, power, anything in this mortal world that makes them happy. But at what point does happiness come at the cost of your own greed? The politics of Parijativpa is a messy place. Even as Malini attempts to cement her power, the higher lords and princes don't agree with her simply because she is a female. It is mostly stupid to think that because many of these sons were raised by their mothers. To see the view that females were oppressed throughout history makes me think what were our ancestors thinking? And this is ironic because the Ancient Hindu Religion venerated female Goddesses and celebrated Warrior Queens and even today we still do with Rani Laxmi Bai, Sita, Savitri, and many such figures.
This entire book is a tragedy of its own making, and I have never felt this strongly about the characters I've grown to relate to. The entire relationship between Malini and Chandra could have been solved, and there would have been no need for this violence, no need for any of this. Yet no one came to stop it. Yet Prince Aditya, who is one of the wisest characters in both novels, could see. He didn't see people as black and white, he saw what was in them. A noble soul like him deserves more in life. This is how strongly I've resonated with the characters in this novel. Superbly written prose, that made me emotional at its very last moments. This is truly a novel worth reading. 10/10 from me.