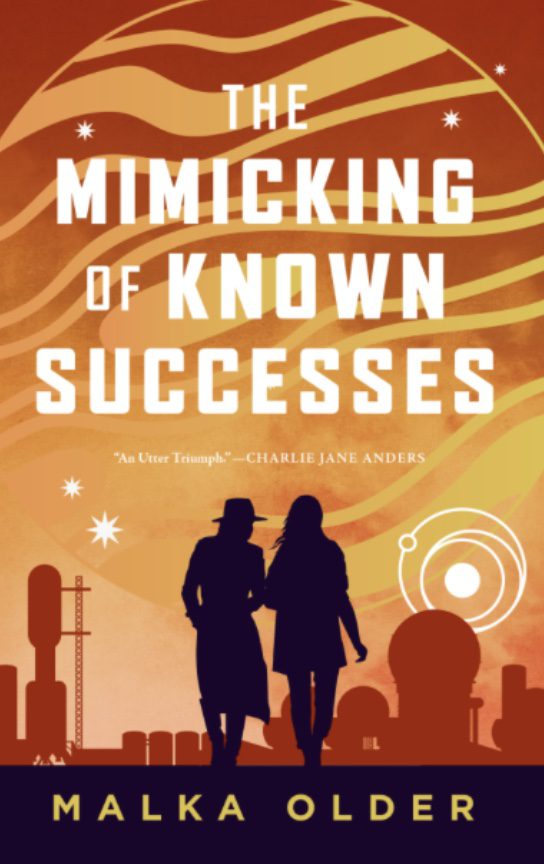 Rating: 9/10
Synopsis
On a remote, gas-wreathed outpost of a human colony on Jupiter, a man goes missing. The enigmatic Investigator Mossa follows his trail to Valdegeld, home to the colony's erudite university — and Mossa's former girlfriend, a scholar of Earth's pre-collapse ecosystems.
Pleiti has dedicated her research and her career to aiding the larger effort toward a possible return to Earth. When Mossa unexpectedly arrives and requests Pleiti's assistance in her latest investigation, the two of them embark on a twisting path in which the future of life on Earth is at stake — and perhaps, their futures, together.
Review
A theory I've long held is that if you put the words "in space" after anything, it instantly becomes cooler. Try it. You'll see that it works. But if you don't believe me, then you can add The Mimicking of Known Successes to the list of evidence that supports this theory. This excellent novella is Malka Older's take on "Sherlock Holmes in space," and it's the coolest, most refreshing adaptation of a Holmesian mystery I've come across in absolutely ages.
The setting: Jupiter. The mystery: It's up to Investigator Mossa to solve the disappearance of a man who seemingly jumped to his death from one of the many platforms which cover the planet.
Mossa makes a noble Sherlock. Cerebral, detached, focussed. She steps into the role of 'deductive genius' admirably. But it's Pleiti, the Doctor Watson of this tale, who really shines.
Pleiti is vulnerable, relatable, capable, and always ready with a pot of tea just when it's needed. She's an academic, stagnating in the perpetual fog of Jupiter as she tries to determine the best ways to revive a dead Earth. She also happens to be Investigator Mossa's ex. Their reuniting after years apart adds an extra dimension to the whole case, and the two of them together are every bit as dynamic as the classic pairing of Holmes and Watson.
In fact, 'classic' feels like the most appropriate word for this novella. It's written in a style that could happily sit alongside a collection from Sir Arthur Conan Doyle. Intricate sentences laced with exquisite phrasing capture the charm and invention of the golden era. However, it doesn't revert backwards in its scope or relevance, and it doesn't shy away from issues we're facing as a society right now. It's cutting edge, and life on Jupiter has rarely been painted so clearly. The story succeeds as a rejuvenation of classic sensibilities that feel authentic, but also modern, in all the right ways. It's familiar, comforting, and addictive to read. You'll be hard-pressed not to devour it in one sitting.
As far as mysteries go, it's a satisfying one. It easily rivals any detective book out there. The solution is concealed so cleverly that it'll keep you guessing right up until the climax, but then seems obvious once revealed. It boasts plenty of those "of course" moments which almost make you picture Malka Older adjusting her deer stalker and saying "elementary, my dear reader" as she was writing it.
The pacing of the story feels natural, with no twists or character moments coming over as forced. It lingers on the world-building just enough to provide a staggering picture of Jupiter, but not so long that the story drags. The dialogue is snappy and fun. There's a playfulness about the whole atmosphere of the book that's joyful to read. Every page put a smile on my face, and it felt like a tonic to the dread and drudgery that so often accompanies a good mystery these days.
The novella is the perfect length for this likeable, finely balanced tale, which even manages to sneak in enough speculative elements to keep you thinking about it long after the final page. This isn't a reinvention of Sherlock Holmes. Nor is it an homage. It's a story with its own unique flavour, made from ingredients that you know you like. If Holmes and Watson style mysteries are a known success, then this is not a mimicking. It's a revitalisation. And it's absolutely glorious.
Oh, and it also happens to be in space. How cool is that!
---
The Mimicking of Known Successes will be released on March 7, 2023.
Published by Tordotcom.