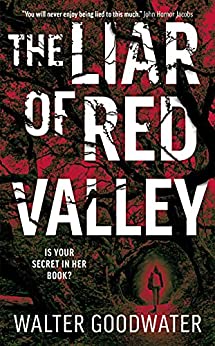 Rating: 9.0/10
Synopsis
Lead title for Fall 2021 – a fresh, rich, American Gothic "yarn" with a highly relatable female lead.
Don't trust the Liar.
Don't go in the River.
Do not cross the King.
In Red Valley, California, you follow the rules if you want to stay alive. But even that isn't enough to protect Sadie now that she's unexpectedly become the Liar: the keeper and maker of Red Valley's many secrets.
In a town like this, friendships are hard-won and bad blood lasts generations, and when not everyone in town is exactly human, it isn't a safe place to make enemies.
And though the Liar has power—power to remake the world, with just a little blood—what Sadie really needs is answers: Why is the town's sheriff after her? What does the King want from her? And what is the real purpose of the Liar of Red Valley?
Review
Thank you to Rebellion for sending me a copy in exchange for an honest review.

Wow. Just wow. I had heard good things about The Liar of Red Valley, but to actually read it for myself was something else. I sat down thinking I'd just start it and then it was many hours later and I'd read the vast majority of the book.

The front of the ARC reads:
Do not trust the liar.
Do not go in the river.
Do not cross the King.

Now if that isn't a shoutline to grab your attention, I don't know what is! The Liar of Red Valley is a phenomenal fantasy that is so secure in its story and its worldbuilding. While we only ever really get to see Red Valley, and we're aware that it is in California, the world outside of Red Valley is a mystery. If monsters and magic exist in Red Valley, do they exist in the wider world? I do not know the answer to this but that isn't a bad thing. Red Valley seems to confidently exist in its own bubble of magic and madness. Goodwater's worldbuilding is incredibly strong and he mixes the real world with the fantasy world seamlessly.

The Liar of Red Valley took me on a journey that I didn't expect. It has twists and turns and reveals that in all honestly I didn't expect. I was so swept up in the story that I found it almost impossible to put down. Goodwater draws you in with the mystery of the Liar and spits you out at the end with a completely different view to what you started with. This book is filled with mysteries and Goodwater unpicks them one by one.

Sadie makes for a great central character. She is unexpectedly thrown into the role of the Liar with no training or idea of what is happening, and as the reader you get to discover things at the same pace she does. She is part of the town, yet somehow completely apart from them all. She is the outsider in this story. Her fearlessness and absolute certainty in the world around her really compliments the hard work Goodwater has put into crafting Red Valley.

This is a horror, thriller and fantasy all rolled into one. In just 350 pages it will draw you in and keep you there until it is done.