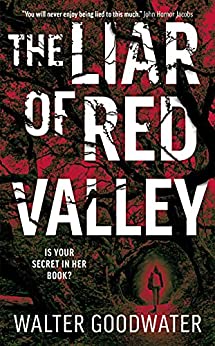 Rating: 8/10
Synopsis:
Don't trust the Liar.
Don't go in the River.
Do not cross the King.
In Red Valley, California, you follow the rules if you want to stay alive. But even that isn't enough to protect Sadie now that she's unexpectedly become the Liar: the keeper and maker of Red Valley's many secrets. In a town like this, friendships are hard-won and bad blood lasts generations, and when not everyone in town is exactly human, it isn't a safe place to make enemies. And though the Liar has power – power to remake the world, with just a little blood – what Sadie really needs is answers: why is the town's sheriff after her? What does the King want from her? And what is the real purpose of the Liar of Red Valley?
Review:

What a fun book! The Liar of Red Valley is wildly imaginative. I found this novel to be so original, which is hard to say in this day and age. The world that Goodwater created is so fresh, even though it takes place in California. Red Valley is a little town filled with magic while being surrounded by ordinary areas.
I loved the different forms of magical beings, especially the Laughing Boys. The system of Lying was so simple but effective. I was in awe of the way our author seemlessly incorporated new ideas and blended them with the world as we know it. I found myself sucked in and immersed in Red Valley immediately.
Sadie is a strong lead and we get to watch her find herself. We are treated to quite the twist and I was so pleased with how Goodwater pulled this off. I love that we never know quite who to trust around her. Is the Sheriff evil? Is the King? I went back and forth on how I wanted her to work with.
This is read as a stand-alone but I could definitely see myself following Sadie onto more adventures. It was so easy to devour and I find it quite refreshing to not have to commit to a whole series, as much as I love them. Well done, Walter Goodwater! Thanks so much to Rebellion for this review copy.