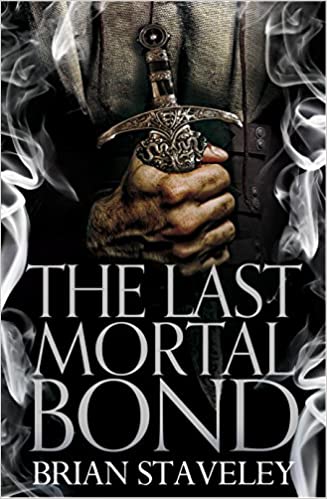 Rating: 9/10
Synopsis
Emperor Sanlitun is dead and his empire lies in ruins: The powerful Csestriim, since time immemorial the deadliest enemies of humans, have returned to Annur. Mages, hitherto living only in secret, are coming out into the open to practise their dark arts, and the Old Gods, capricious and treacherous, walk the earth once more. As their world threatens to descend into chaos, Kaden, Adare and Valyn, the three heirs of Sanlitun, try to save their father's throne and their followers …
Review
Brian Staveley has already created a big mess of misunderstandings in the first two books, which he paired with conflicting motivations and with supposed friends who later become enemies, or vice versa. These tangled threads had to be untangled in this book, and that didn't seem so easy, because the characters keep doing what they want to do, and not what they are supposed to do. And yet, with these stubborn characters, the author has managed to create a truly grandiose ending that untangles many threads but still leaves some questions unanswered. In this way, the reader can continue to engage with the story even when the book has long since ended.
"The mind is a flame. Blow it out, or it will blind you."
Each character had to continue their hard journey to make their own way, but also to advance the others. In the process, the characters grow beyond themselves. Adare goes overboard, not afraid to lie and manipulate others to please her people, becoming more and more ruthless but still retaining some heart. She must overcome her pride and find a way to compromise to please her people. Meanwhile, Valyn has very different problems. The former fighter who did everything for his gang has become a different person – if you can call him human at all. His dark feelings, awakened by the betrayal, give Valyn a depth I wouldn't have guessed before. And Kaden is trying to figure out what's right and what's wrong, having to deal with feelings he hasn't really felt in years, and facing sad truths. And in doing so, Triste in particular is always the reason why he has to face this sad fate. But most of all, Gwenna was able to grow here, who, along with Kaden, was my absolute favourite character. Gwenna grows so much beyond herself, but still maintains her sometimes vulgar manner. The inner conflict that she doesn't externalize makes her seem even more real. You notice how Gwenna slowly becomes a leader who fights for the survival of the Kettral.
"Live now. The future is a dream."
The book also made me doubt myself or even humanity at many moments. As is so often the case, fantasy stories also depict our world, only disguised in a maddening way. Through Kaden's story and thoughts, I have often had to ask myself what feelings mean to us as humans and what effects our subjective perceptions can have. In this way, Kaden's suffering also became my own.
"Pain is suffering because we want to be free of it, and pleasure is suffering because we fear to lose it. Fools search for freedom, but there is no freedom. There is only the embrace."
I was really gripped by the finale, at no point did you know where it was going. The beauty is really that only gradually everything is revealed, you never really know who is good, who is evil, what does it mean to be good or evil here at all and what the hell is now actually the goal at the end. The end left me sad, on the one hand because it has no happy ending and on the other hand I had to leave this incredibly exciting world.
If you like long thick tomes that immerse you in a whole new world filled with fascinating and characterful people, you MUST read this series. I hope to lose myself in this world again soon.
"It was strange the way that people venerated truth. Everyone seemed to strive for it, as though it were some unalloyed good, a perfect gem of glittering rectitude. Women and men might disagree about its definition, but priests and prostitutes, mothers and monks all mouthed the word with respect, even reverence. No one seemed to realize how stooped the truth could be, how twisted and how ugly."