The Justice of Kings, the first in a new epic fantasy trilogy, follows the tale of Sir Konrad Vonvalt, an Emperor's Justice – a detective, judge and executioner all in one. As he unravels a web of secrets and lies, Vonvalt discovers a plot that might destroy his order once and for all – and bring down the entire Empire.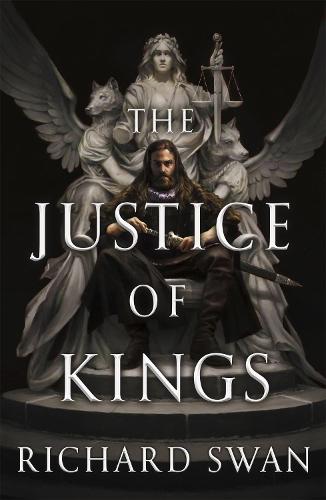 Rating: 9/10
As an Emperor's Justice, Sir Konrad Vonvalt always has the last word. His duty is to uphold the law of the empire using whatever tools he has at his disposal: whether it's his blade, the arcane secrets passed down from Justice to Justice, or his wealth of knowledge of the laws of the empire. But usually his reputation as one of the most revered—and hated—Justices is enough to get most any job done.
When Vonvalt investigates the murder of a noblewoman, he finds his authority being challenged like never before. As the simple case becomes more complex and convoluted, he begins to pull at the threads that unravel a conspiracy that could see an end to all Justices, and a beginning to lawless chaos across the empire.
Review
Thank you to Orbit and Nazia for giving me access to this wonderful novel!
The Justice of Kings is a fantastic, Elden-Ring style novel full of complexities, dark politics, and inspired by historical events. It's a very good approach to taking inspiration from the politics of the Holy Roman Empire, and for me, the novel is good in many areas. Characters feel distinct from each other, thereby having their own agendas. I especially loved Vonvalt's characterisation that was done by the narrator, who is a hot-headed young woman that wants to prove that she can do much more than law-keeping bureaucracy.
That being said, I would have wanted a glossary and a world map. It would have helped to reference some of the many numerous regions and sometimes the worldbuilding did go beyond and above. In parts, it helped to explain certain scenarios of prejudice, of corrupt characters, of corrupt clans hating the very idea of Vonvalt being the agent, or let's say, part of the Emperor's Voice. In other parts, sometimes it did refer to places that could have been mentioned in later parts of the story. Parts of the narrative explaining the backstory of Vonvalt could have been more in the climax rather than being so upfront. Foreshadowing would have been a better choice for some parts of the narrative. You can clearly see wherever Vonvalt goes, along with Helena and his companion, they clearly see the effects of war and corruption and while he upholds the Emperor's Law, he begins to realise that being loyal to an empire that never considered him as a rightful citizen of their regime, despite the fact that he professed loyalty and killed his own countrymen for the Empire, it gave me very much Star Wars Vibes.
It is a slow-burn novel for me, as it took quite some time for me to get engrossed due to the various political factions that exist within this sprawling. It felt more like Matthew Ward's Legacy trilogy in a sense, and I think the novel was packing a lot of content that could have been expanded further. There is a very deep story here that is set for multiple sequels of that I am confident. The writing is very good, and the characters are the strongest aspect of this novel. The Dark-Souls and Elden Ring style influences are present, along with the historical fantasy links. This is quite a good novel, and I would want a glossary and a world map. This novel has amazing writing, deep political intrigue and dark fantasy. Worth reading for sure.
Justice is coming, after all.
And it will involve the fall of empires and the rise of heroes and villains. That's what this novel is about.