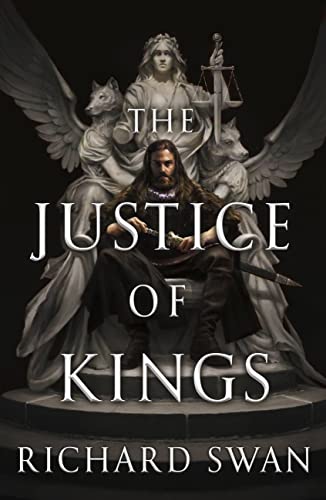 Rating: 8/10
Synopsis
As an Emperor's Justice, Sir Konrad Vonvalt always has the last word. His duty is to uphold the law of the empire using whatever tools he has at his disposal: whether it's his blade, the arcane secrets passed down from Justice to Justice, or his wealth of knowledge of the laws of the empire. But usually his reputation as one of the most revered—and hated—Justices is enough to get most any job done.
When Vonvalt investigates the murder of a noblewoman, he finds his authority being challenged like never before. As the simple case becomes more complex and convoluted, he begins to pull at the threads that unravel a conspiracy that could see an end to all Justices, and a beginning to lawless chaos across the empire.
Review
Thanks to the publisher for an advance reading copy for review consideration in exchange for an honest review, this had no bearing on my thoughts or feelings.
"All may be judged by the law, so all may uphold it"
This book had a bit of a slow start in my opinion, which isn't a bad thing, it actually really allows for the story to sink in and settle into a rhythm before the action starts. My favorite thing about this book is the POV choice that the author made. By telling it from a 'secondary' character rather than from the POV of Justice Vonvalt, I think a lot of world-building happens in a more natural way. Helena is the POV character throughout the book and she is that Justice's clerk, so she's by his side as the story progresses but not necessarily central all of the time. This also creates a great situation for setting up a limiting omniscient or even just a narrator who is outside looking in on the story and doesn't always have all of the historical context or knowledge that the Justice does. I do wish that there was a bit more commitment to the modality of story-telling, there is a narration detail that isn't clear until about 20% in that I think could've been told earlier without sacrificing anything. I won't go into that too much because I don't want to spoil anything though.
The plot also unfolds in layers as we progress. I fully thought this was going to be a story about a traveling man of the law who goes about to small towns and hears petty complaints, and was partially correct. What this story ultimately is, is so much more and I had to remind myself that this is still only the beginning of what is sure to be an incredible trilogy, so there is a certain amount of set-up that is occurring in a first book to a trilogy. The main plot surrounds one integral case that they're solving but then slowly things from earlier in the book winds its way in and then the closer we get to the end the bigger the narrative gets.
"If a man seeks to change the world, he should first understand it."
In short, this was an incredible start to a new trilogy from Swan and I can't wait for more from this world. I think the story is only going to grow from here and I'm excited to see where it goes.