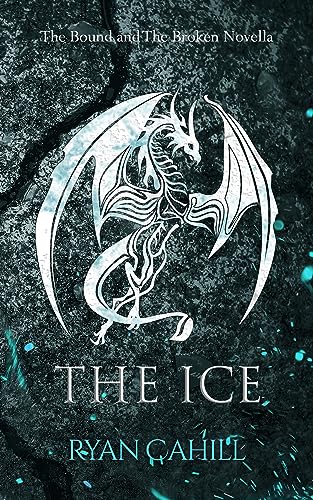 Rating: 9/10
Synopsis
In Epheria, you are the predators. Here, you are the prey.
Almost four hundred years have passed since the fall of The Order. Four hundred years since the empire rose. Four hundred years since the last dragon egg hatched.
In the icy wasteland of Valacia, Aeson Virandr searches for the one thing that could turn the tide of war: hope.
But there is a reason no soul has ever returned from Valacia.
Hope comes at a cost, one that can only be paid in blood.
Review
I'll be honest, I was never a novella fan, not sure why really. Somehow, Cahill has made me a fan of them with his awesome track record of high quality, action-packed novellas. The Fall has definitely been my favourite so far, however, I can safely say that The Ice follows as a close second. It also covers a story, that since meeting Aeson, I have been eagerly waiting on. Expectations were high and I'd say more than met.
I'd imagine by this point you're well invested in the world of The Bound and the Broken and have been wondering "how the hell did Aeson find a new dragon egg after The Fall, AND how the hell did he pull that crazy move off?" Well I can say you won't be disappointed with The Ice. There's a reason Valacia is mentioned in whispers and avoided at all costs, but when the cost is Epheria itself, Aeson will sacrifice everything to protect it. Not even the eerie warning "In Epheria you are the predators, here you are the prey," ward him off. I'd say that's a pretty clear sign of things to come in this book. In answer, the action starts with an icey bang and becomes brutal and visceral quite quickly, throwing some of our favourite characters into some pretty dark and questionable moments.
Aeson was always an interesting character, but for me never rose above some of the others. After The Ice, I'd definitely say I'm much more connected with his character and understand a lot of his decision making. There's a lot more delving into his character and background with focus on the loss of his dragon and wife, showing a much more human character than has been seen previously. What also stood out is the focus on his relationship with his sons, which was really heart-warming to read about. Suffice to to say, Aeson makes for a well-rounded and highly interesting character.
If you're already a fan of Cahill, then there's no doubt whether you should read it or not and if you're still new to Cahill, then get your book-buying-self to a bookstore and buy Of Blood and Fire…or The Fall depending on your reading order.