Rating: ★★★★☆-
Synopsis
Merciless. Murderer. Monster. He has been called many names in his time.
Built for war and nothing else, he has witnessed every shade of violence humans know, and he has wrought his own masterpieces with their colours. He cared once, perhaps, but far too long ago. He is bound to his task, dead to the chaos he wreaks for his masters.
Now, he has a new master to serve and a new war to endure. In the far reaches of the Realm, Hartlund tears itself in two over coin and crown. This time he will fight for a boy king and a general bent on victory.
Beneath it all he longs for change. For something to surprise him. For an end to this cycle of warfare.
Review
The Heart of Stone is one that I have had on my TBR for what seems like ages. Though I had heard many a great things about it from several reviewers I put full faith in, it never really seemed to rise to the top of my TBR pile. I picked it up, in all honesty, because that cover is GAWJUS, but also because there aren't that many novels about friggin' golems. Thank you, Ben, for rectifying that.
But, really. The main reason I am here, reviewing this title, is because I am a part of The Write Reads' Ultimate Blog Tour, which features four (4) of Ben's titles being reviewed across several blogs over the course of a week's time; like, over 100+ blogs are doing this thang. KRAAAAAAAAZY!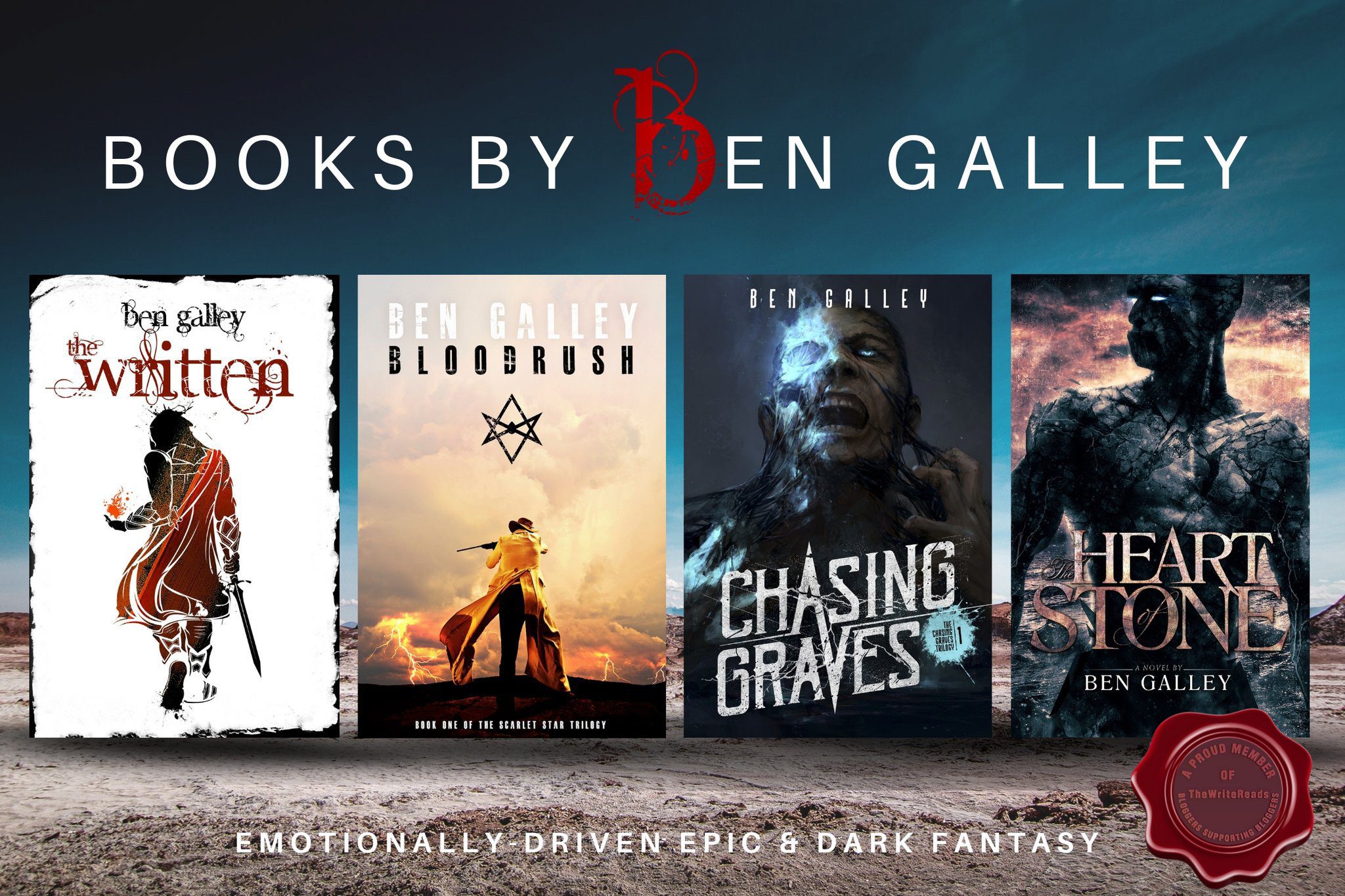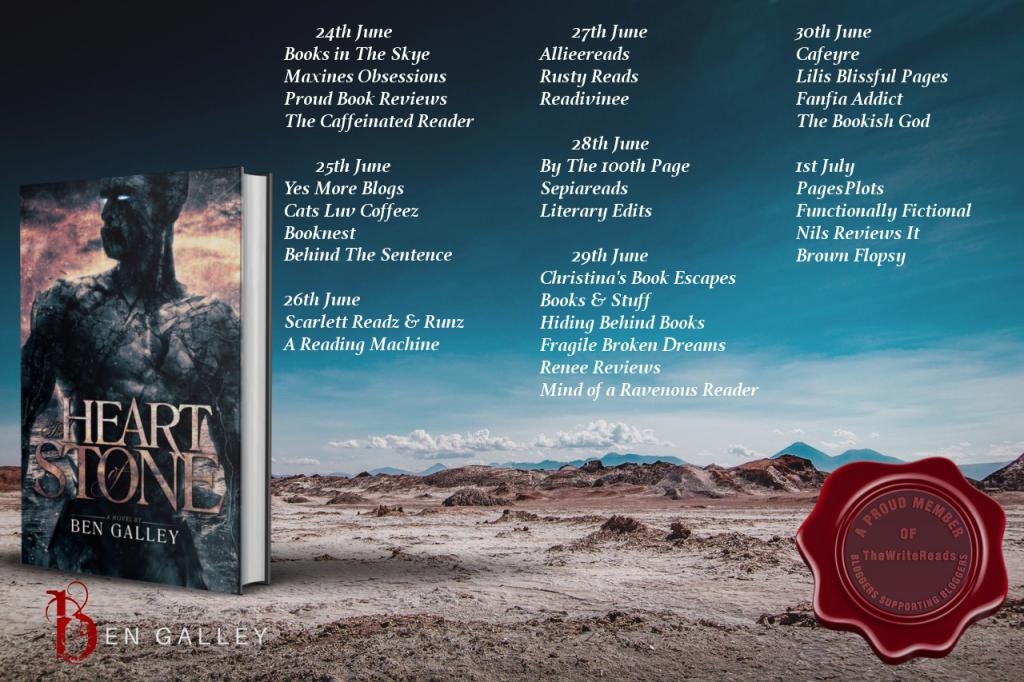 People don't like the reflection of what I am to them. I may be different, all stone and dust instead of skin and blood. But they still see themselves. Copied. Faked in stone. They see their Architect's work in something that isn't flesh, and they can't help but be offended by it, scared by it. Fear breeds hate.
The Heart of Stone is a stand-alone, grimdarkish fantasy novel about a Windcut Stone Golem named Task who was created simply to cause destruction and be the end-all for the wars ongoing and yet to come. While most golems we are accustomed to having no inherent thought processes, other than the inability to disobey their masters, Task is a step above, what with the ability to speak and express emotion. The only thing really holding him back is the magical hold his masters have and have had on him.
Being a 400+ year old golem has to have its obvious drawbacks: dry skin, the inability to make love, constantly being told what to do and having to obey; but the one thing that truly stands out is that Task has been a part of so many damn wars and its outright sick of what he has been created for. The countless lives he has taken at the behest of his masters, only to live with the blood and gore caked upon his stone flesh. Galley does a top-notch job making the reader give 2 sh*ts about Task, even though he is essentially a killing machine. You will become enamored with his story; especially the parts where you get a glimpse into his mind, his internal turmoil, and the motivations he has to break his chains.
The author also does a bang-up job with his vivid world-building, intense and gritty fight scenes, and secondary characters that truly add to the full experience. The only real nit-picky thing I have to throw out is the ending. It felt a bit letdownish as I was expecting a huge climactic war and bloodshead, but all things must end the way the author sees fit.
Galley is an author I need to continue keeping on my radar, though I say that about SO MANY FREAKING AUTHORS, IT IS HARD TO KEEP TRACK. Reading The Heart of Stone makes me miss the old days of SPFBO with Booknest, but life has a way of seemingly bringing you back into the fold when you least expect it. Thanks again to TheWriteReads for the opportunity. and to the author for writing such a fantastic story.
About the Author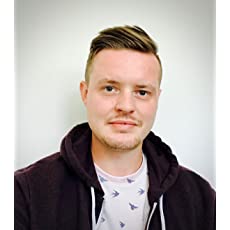 Ben Galley is an author of dark and epic fantasy books who currently hails from Victoria, Canada. Since publishing his debut The Written in 2010, Ben has released a range of award-winning fantasy novels, including the weird western Bloodrush and the epic standalone The Heart of Stone. He is also the author of the brand new Chasing Graves Trilogy.
When he isn't conjuring up strange new stories or arguing the finer points of magic and dragons, Ben works as a self-publishing consultant, helping fellow authors from around the world to publish their books.
Ben enjoys exploring the Canadian wilds and sipping Scotch single malts, and will forever and always play a dark elf in The Elder Scrolls. One day he hopes to live in an epic treehouse in the mountains.
Ben can be found on Twitter or vlogging on YouTube, or loitering on Facebook and Instagram. You can also get a free eBook copy of his epic fantasy The Written at www.bengalley.com.