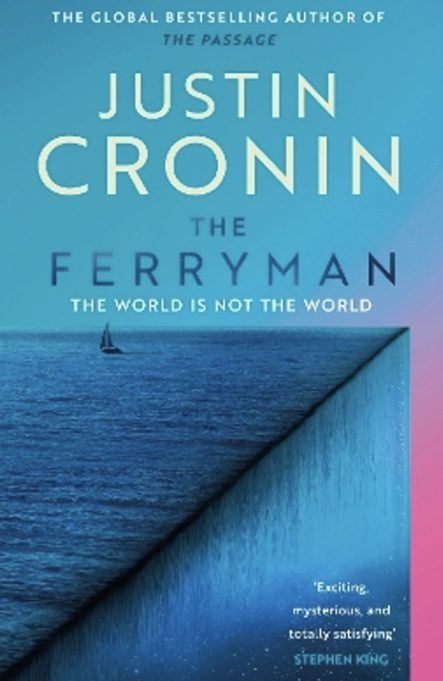 Rating: 10/10
Synopsis
The archipelago of Prospera lies in the middle of a vast ocean. Created by a mythic genius known only as The Designer, Prospera exists in splendid isolation, forgetful of whichever untold horrors inspired its creation. 
Citizens of the main island enjoy fulfilling and privileged lives, attended to by the obliging support staff who live on a neighbouring island, The Annex.
There, something is stirring. People are beginning to question their place in the social order — and there is talk of an underground resistance, who call themselves The Arrivalists.
Meanwhile, life for the Prosperans is perfection — and when it's not, their bodies are sent to the smallest of the three islands: a mysterious facility named The Nursery, to have their memories wiped and to restart life afresh.
Proctor Bennett is a Ferryman, who shepherds the soon-to-be retired across into the unknown. But Proctor has a secret: he has been dreaming. Something that The Designer's system has made impossible. And in these strange dreams — of the stars and the sea — he feels someone is trying to tell him something . . .
When he's summoned to take his own father onboard the ferry to be rebooted — he is given a cryptic message
"THE WORLD IS NOT THE WORLD . . ."
These simple words unravel something that Proctor has long suspected: that things are no what they seem. And soon his fate is tangled with a cause much bigger than he realised, and one that could change the fate of humanity itself . . .
Review
I wasn't ready for The Ferryman. And I mean that as a compliment. It went far beyond my expectations, and took me on a journey to the kinds of places I couldn't have dreamed of.
I won't give spoilers in this review. But I feel it's important to state at the outset that this book had me weeping. I became emotionally invested in it to such a degree that I felt as if I were living the pages, which came as a bit of a surprise.
You see, The Ferryman starts out with the kind of setup that intrigues you, probes you, entices you to ask questions so that you think, "Here's a cerebral work of fiction. This is going to have twists and turns. Let me see if I can guess them." And you're half right. There are twists and turns, some of them predictable, others less so. But then . . . Wallop! You reach a point in the book where all of the layers and foreshadowing suddenly solidify into a perfect shape. And the shape of this story reached inside of me in ways so profound and moving that I couldn't stem the tears.
But it's not all sadness and upset. There's a catharsis about this story which is truly remarkable. Exhilaration builds as the story unfolds, and the adrenaline will have you so tense that your spouse will ask you to stop shaking the bed and turn the light off, and you'll have to tell them, "Sorry, love. Just one more chapter and then I'm done." Which, of course, is a total lie. Because you'll surrender yourself to this book and you won't be able to help it. That's how good it is.
You might have to be patient with it to get to that point. But trust me. Stick with this story. What lies ahead is most definitely worth waiting for.
In terms of style, I loved how the author played with first person and third person. The majority of the narrative is told in first person. But shifts in perspective are necessary, valid, and clear. Switching between the POVs isn't confusing. And that takes a real skill. Instead of it being a distraction, it actually adds an air of mystery to the first half of the book.
The characters are easy to empathise with. There's a pull about them which is difficult to analyse, but the protagonist — Ferryman Proctor Bennett — is honest and laid totally bare as the layers of his personality are peeled back deftly and precisely. It's hard not to connect with him on some level, whether that's his disillusionment, his detachment, his disappointments, his yearning for something more and yet his total loss at where to even start searching. There's a poetry about him which is always lurking in the background.
The world of the story is vivid and easy to imagine. The paradise of Prospera is an engineered one, split into different classes. You have the elite, who enjoy finery and luxury around them, and then you have the workers who toil to provide it. There's a growing discontent that builds through the book and the sense of a revolution feels inevitable. As if the entire world is willing people to wake up to what's happening. And the way this unfolds is so apt and so relevant, that it's truly a marvel to behold.
A beautiful metaphor exists in the book. Pappi is a blind painter in The Annex, where the lower-class of Prospera gathers. Pappi paints vivid and incredible images. But in the star-swept skies he paints, faces are hidden. They're there, beneath the brushstrokes. And that's what this book is. Under the writing, the story, the world, and the characters — there is something more. Something waiting for you to see it. Something hopeful, and something meaningful, and something that will touch you when you recognise it. This book has a face at its core, and that face will be different for each reader, but when you see it, you'll be moved.
I can't fully express the magnitude of how this story affected me. All I can say is that you don't read this book, you experience it. If you're looking for an emotive, pulse-pounding, thought-provoking, personal, heart-wrenching, gloriously realised and utterly perfect piece of speculative fiction, then you've been looking for The Ferryman.
This is a story which will stay with me forever. I do suggest that you approach it with a word of caution though, because however much you might feel ready for it, you may just find that you're unprepared for the journey that awaits you inside these pages. And there's no higher praise I can give than that.