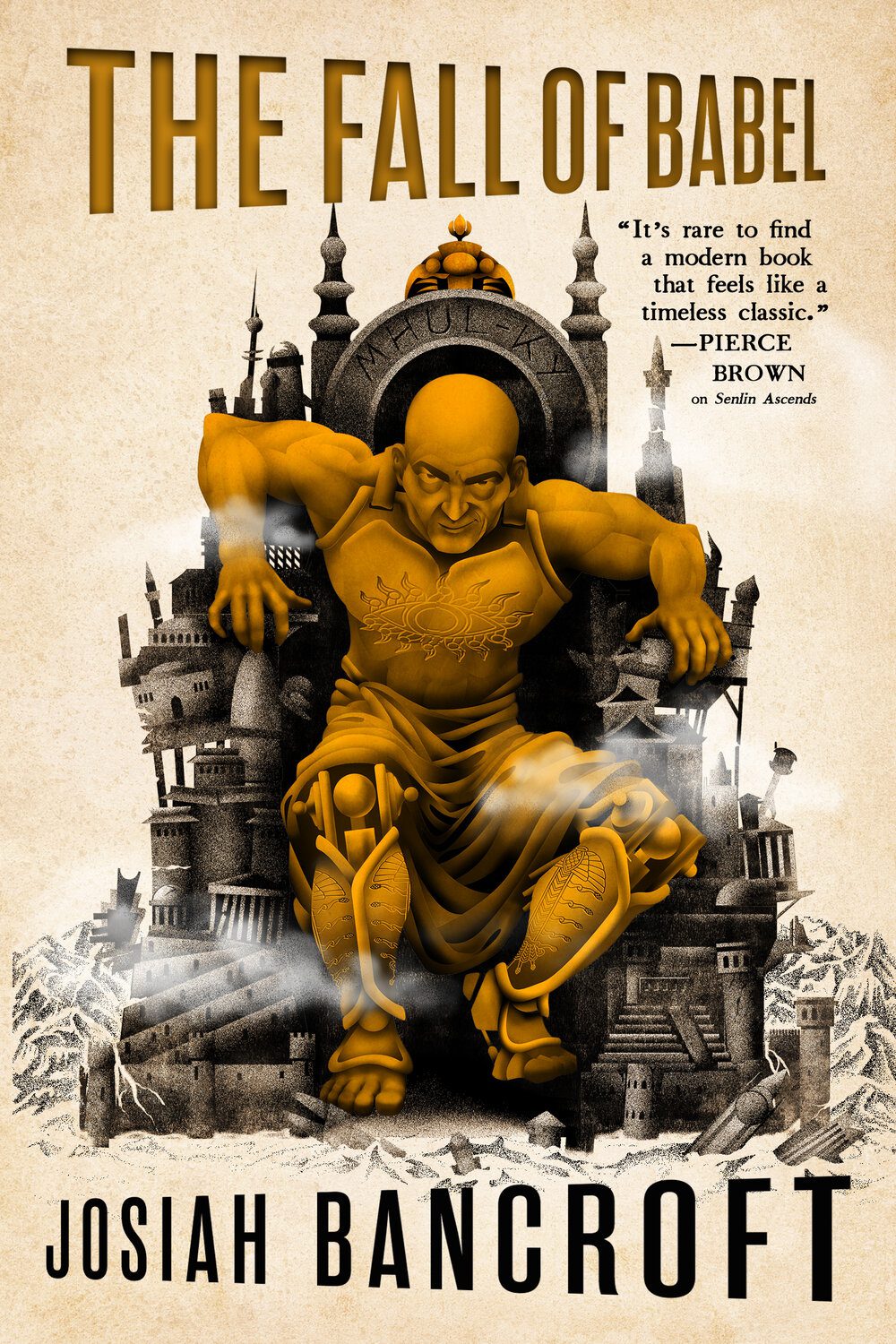 Rating: 9.75/10
Synopsis
The incredible final book in the phenomenon fantasy series described as "future classics" follows one man's dangerous journey through a labyrinthine world and the mysteries he uncovers along the way (Los Angeles Times).

As Marat's siege engine bores through the Tower, erupting inside ringdoms and leaving chaos in its wake, Senlin can do nothing but observe the mayhem from inside the belly of the beast. Caught in a charade, Senlin desperately tries to sabotage the rampaging Hod King, even as Marat's objective grows increasingly clear. The leader of the zealots is bound for the Sphinx's lair and the unimaginable power it contains.

In the city under glass at the Tower's summit, Adam discovers a utopia where everyone inexplicably knows the details of his past. As Adam unravels the mystery of his fame, he soon discovers the crowning ringdom conceals a much darker secret.

Aboard the State of Art, Edith and her crew adjust to the reality that Voleta has awoken from death changed. She seems to share more in common with the Red Hand now than her former self. While Edith wars for the soul of the young woman, a greater crisis looms: They will have to face Marat on unequal footing and with Senlin caught in the crossfire.

And when the Bridge of Babel is finally opened, and the Brick Layer's true ambition revealed, neither they nor the Tower will ever be the same again.
---
Review
The Tower of Babel is rocked from top to bottom as Thomas Senlin and his merry band of misfits face off against their fiercest foes in a fight for the future.
The Fall of Babel was a magical experience. In a rare instance, I've come to the end of a series that I absolutely adore and was wholeheartedly satisfied with it. This book succeeds not only as a fantastic story in and of itself, but it also ties up a four-book series in a way that is both enjoyable and optimistic. (Most) loose ends were tied, character arcs fulfilled, many questions answered, but a couple of new ones were introduced that infused the finale with a wondrous sense of mystery. To be honest, I was caught off guard with how it all wrapped up, reeling from how amazingly cool things turned out that I needed to re-read it just to absorb everything that happened—and I loved it. I don't need a tidy ending, truth be told. But author Josiah Bancroft did a phenomenal job giving this series an ending befitting the majestic, enigmatic Tower of Babel.
Of course, much of this success comes from Bancroft's writing, which is absolutely on point. He delivers descriptive, sardonic prose alongside witty, subtle dialogue and character interactions with astounding consistency. Each character feels unique, coming into their own as they have throughout the series, but they also feel like they've truly grown. And this is what Bancroft nails by book four: the belief that the journey is far more important and illuminating than the destination. Thomas Senlin and co. are such well-realized characters as The Fall of Babel opens, but by the end it became clear (and crucial) how vital the relationships they've formed and developed over the course of their journeys have been.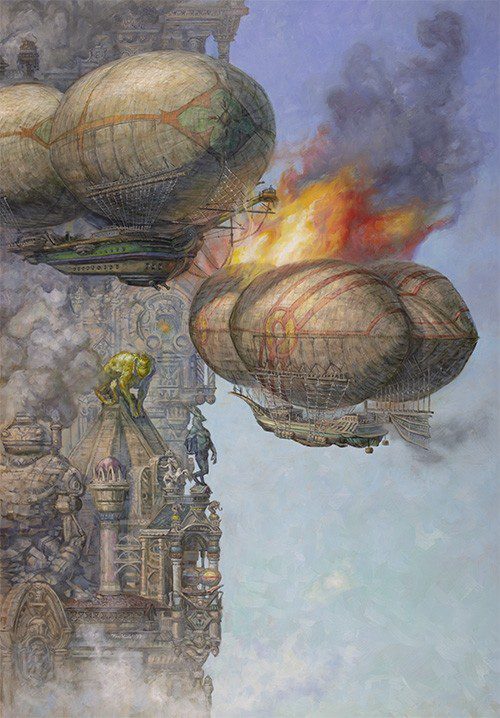 Tom is nothing without Marya as his muse, but he is also an honest reflection of the people he has met along the way; those he has befriended, romanced, confided in, lied to, screwed over. What is Thomas Senlin without Marya or Edith Winters, for example? Conversely, Edith and Voleta and Iren and Adam and The Sphinx and Byron (and all the incredible characters Bancroft has graced us with), where would they be and who would they be without the people whose paths they've crossed throughout their journeys? It's such a sincere reflection on how real people are in the real world. We change—all of us do. And Bancroft's decision to dedicate so much page time to characters beyond Tom is a testament to that (especially Marya). These characters inhabited the story as much as him, gave it life in equal measure, and in the end fueled their own paths as much as Tom's search for Marya.
Now, on that note, The Fall of Babel fixed one of my biggest issues with book three, The Hod King: it brought back Adam! He was glaringly absent from the third novel that I always had it in the back of my head, "What happened to him!?" But, Bancroft addresses it right off the bat with a hilarious, fourth-wall-breaking, in-world newspaper article—all I can say is well done, sir. Taking that in stride, the narrative launches into a well-paced three act structure, first focusing on Adam and his experiences at the top of the Tower, then Edith, Voleta and Iren, and finally with all the characters converging in the final act. Meanwhile, the book's three acts is interspersed with blocks of Tom's ascent through the Black Trail and his dealings with the devious villain Marat.
While this structure didn't always work out from a pacing standpoint, I was consistently happy with where I was and the character whose chapter I was reading. Each of them was so damned well written that I was content to divulge in their oddities and minutiae, rarely ever feeling like it dragged on too long. And thankfully, once their storylines came together in Act Three, the pace was pitch perfect and ripped along with a delicate balancing act of continued character development and great story reveals. This was especially tantalizing and rewarding in regards to The Sphinx (so many damn mysteries!), as well as The Brick Layer and the history of the Tower itself (so many more mysteries!).
This last bit was especially important, as the story of The Brick Layer (he who originally built the Tower) is directly intertwined with eeeverything The Sphinx has done until now, thus influencing the entire series, but also the very existence of the Tower and the reason it was constructed in the first place. But a lot of that is revealed toward the ending of the book, so I won't spoil anything there. Suffice to say, it was crazy, awesome, enchanting, hilarious and Bancroft handled it all with a deft touch. Plus, things get very existential in a way that works oh so well with his satirical approach.
A couple final notes: I adore the Tower of Babel as a setting. This gargantuan structure is like a living, breathing entity and I was enthralled every time a new ringdom (each level/ring of the tower is its own unique kingdom/society) was mentioned, described or visited. The richness of detail that Bancroft goes into with the ringdoms is fantastic, as though each of them requires their own set of worldbuilding and rules. But piecing together which ringdoms do what, and having some of that information revealed throughout this book, it was obvious how complex and full of life the Tower is. Hell, Bancroft even goes into detail about a specific ringdom that is essentially the Tower's shit processing plant. Kudos to him for that, and I am going to miss my fictional visits to this Tower of Insanity.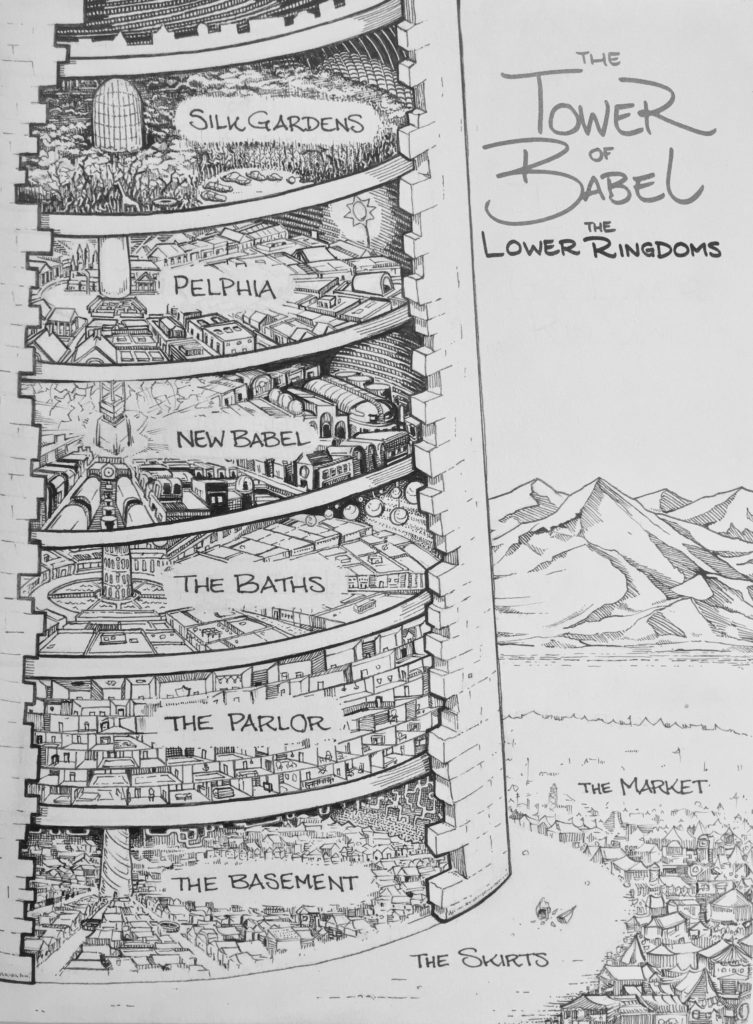 Finally, there's the villain, Luc Marat. With everything that happened in Arm of the Sphinx and The Hod King, it was obvious things were going to heat up in a big way—and they sure as hell did! Marat is a worthy antagonist, someone who works as a moral and ethical foil for Tom, The Sphinx, The Brick Layer and many of the fundamental players in this series. Marat represents the worst that the Tower can create, a poisoning of the moral well, and as a result he dishes out some brutal acts, spurs amazing action scenes and fights, and even puts on a classic "muahaha" villain hat as he rants, lays out his plans blatantly and has aggressive tantrums to comic effect. It was also the interactions between him and Tom that helped frame the latter's true character, solidifying Tom as a genuinely likeable person, despite all the terrible stuff he has done in order to find his wife.
And that's why this series worked so well: the bountiful complexity of its characters was slowly woven together through conversations, actions, body language and description. Paired with the hedonistic Tower of Babel, there was ample room for them to explore the depths of their psyches and personalities as they strove towards their ultimate goals. Did Tom eventually find Marya? What became of Edith, or Iren, or The Sphinx? Are the Voleta and Adam brother-and-sister-dream-team reunited? Did they all save the Tower of Babel from the wrathful Luc Marat!? Well, you'll have to read the books to find all that out.
But for now, it all comes to a spectacular close. Years ago, Senlin Ascends introduced a bumbling schoolteacher known as Thomas Senlin to the mystery and magic of the Tower of Babel, and by the closing page of The Fall of Babel he is world-wearied traveler, a con artist, a thief, a pirate—even a murderer. Journeys change us, shaping us in ways we don't expect. The people we meet, how we react in situations of stress, what we do when faced with moral conundrums; everything in life adds layers to the complexity that is us as individuals. And so, you may ask, is this a series worth investing in? Just know that this journey, from start to finish, is a stunning one to behold, and Josiah Bancroft's The Books of Babel is hands down one of my favorite fantasy series of all time.
Will you take the plunge into the infamous Tower of Babel? Enter at your own peril, 'cause if you do, if you succumb to the allure and the spectacle, you'll never be the same person as you were before.
Thank you to Orbit Books for sending me an eARC of this book for review. Click here to find out more about Josiah and his work, and click here for my one-one-one interview with the author.