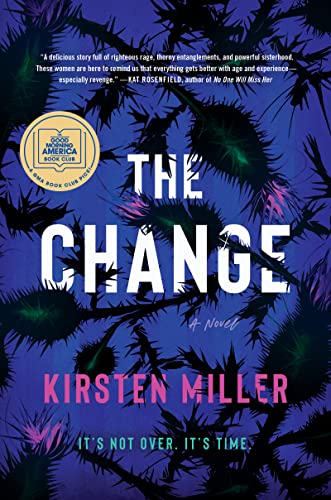 Rating: 10/10
Synopsis:
In the Long Island oceanfront community of Mattauk, three different women discover that midlife changes bring a whole new type of empowerment…
After Nessa James's husband dies and her twin daughters leave for college, she's left all alone in a trim white house not far from the ocean. In the quiet of her late forties, the former nurse begins to hear voices. It doesn't take long for Nessa to realize that the voices calling out to her belong to the dead—a gift she's inherited from her grandmother, which comes with special responsibilities.
On the cusp of 50, suave advertising director Harriett Osborne has just witnessed the implosion of her lucrative career and her marriage. She hasn't left her house in months, and from the outside, it appears as if she and her garden have both gone to seed. But Harriet's life is far from over—in fact, she's undergone a stunning and very welcome metamorphosis.
Ambitious former executive Jo Levison has spent thirty long years at war with her body. The free-floating rage and hot flashes that arrive with the beginning of menopause feel like the very last straw—until she realizes she has the ability to channel them, and finally comes into her power.
Guided by voices only Nessa can hear, the trio of women discover a teenage girl whose body was abandoned beside a remote beach. The police have written the victim off as a drug-addicted sex worker, but the women refuse to buy into the official narrative. Their investigation into the girl's murder leads to more bodies, and to the town's most exclusive and isolated enclave, a world of stupendous wealth where the rules don't apply. With their newfound powers, Jo, Nessa, and Harriet will take matters into their own hands…
Review:
"Somebody's been killing girls."
Powerful. What a powerful, terrible, beautiful, frightening, empowering novel. That is what it's like being a woman, at times, and this novel captures it perfectly. The Change is a contemporary novel with fantasy elements, but I firmly believe my friends who don't like fantasy novels will LOVE this book. Especially my menstruating friends; this book has taken menstruation and menopause and turned them into superpowers for these women. Rage turned into super strength, a woman's intuition turned into a supernatural ability to see the dead, the metamorphosis of menopause turned into innate power. Beautifully, thoughtfully done, Kirsten Miller. This doesn't mean that other people can't enjoy this novel, they absolutely can. It's just that a topic that people usually view as taboo (for some ridiculous reason) is made to be the driving force of this novel. It is just the starting point, and then the book is completely taken to new heights from there. As I read it, it was done with a subtle hand. I didn't go into the book knowing what the basis was, and I was in awe at the genius when realization overcame me.
"The epiphany came as the blood flowed freely down her legs. She should never have tried to fight it. How many years—how much energy—had she lost trying to control something that could not be controlled? How long had she feared being outed as female? How much frustration had she endured, inhabiting a world that wasn't designed for her kind? How long had she prayed to be seen and accepted as more than a body? How hard had she tried to fix things that simply refused to be fixed? So much fury had built up inside Jo."
These powers lead Jo, Nessa, and Harriet to each other… and to dead girls. This story takes in an "Epstein island" type of turn. They discover that there is a community where a bunch of rich men live, where women are disappearing from. When the police prove to be little help, the women use their powers to investigate and the road it leads them down is a crazy one.
"Every variety of girl was represented. Rich girls, poor girls, good girls, badasses. It was the makings of a formidable army. She would teach them everything. She would make them invincible. This was the generation that would finally turn the tables. Maybe when their own daughters were born, they wouldn't need to spend their days fighting fear."
Though there are very sad themes in this novel surrounding the mistreatment of women from a young age, there's also so much empowerment. I loved the above quote and moment in this novel; it reminded me of the first time I watched Buffy Summers train a league of slayers. An absolutely iconic moment in my memory that has stayed with me, and I think this book will do the same. I also loved that the author turned mundane moments in our lives into something mystical and omnipotent. Cooking, fitness, gardening, and more.
"Think of it as a recipe for the last thing you'll ever need to bake," Harriett told her. "But the truth is, Ms. Rocca—and I suspect deep down, you know this—every recipe is a spell. And all cooks are witches."
I could quote this whole book but I'd love for you to read it for yourself! The Change is relevant and so easily devoured. It is a mystery, a thriller, a fantasy novel, and a declaration of love for the innate power of women all wrapped in one. There's so much more to this novel than I could ever put into words. Thanks to William Morrow on Netgalley for providing me with a review copy!