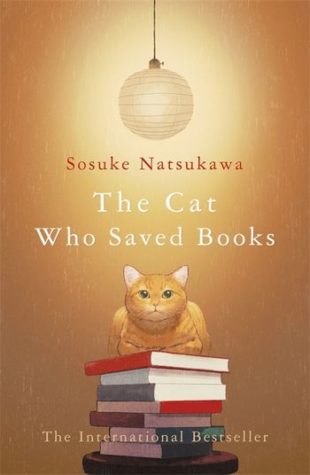 Rating: 8/10
Synopsis
The #1 Japanese bestseller—a celebration of books, cats, and the people who love them, infused with the heartwarming spirit of The Guest Cat and The Travelling Cat Chronicles.

Bookish high school student Rintaro Natsuki is about to close the secondhand bookstore he inherited from his beloved bookworm grandfather. Then, a talking cat named Tiger appears with an unusual request. The feline asks for—or rather, demands—the teenager's help in saving books with him. The world is full of lonely books left unread and unloved, and Tiger and Rintaro must liberate them from their neglectful owners.

Their mission sends this odd couple on an amazing journey, where they enter different mazes to set books free. Through their travels, Tiger and Rintaro meet a man who leaves his books to perish on a bookshelf, an unwitting book torturer who cuts the pages of books into snippets to help people speed read, and a publishing drone who only wants to create bestsellers. Their adventures culminate in one final, unforgettable challenge—the last maze that awaits leads Rintaro down a realm only the bravest dare enter . . .

An enthralling tale of books, first love, fantasy, and an unusual friendship with a talking cat, The Cat Who Saved Books is a story for those for whom books are so much more than words on paper. 
Review
Thank you to Picador for sending me a copy for review.
The Cat Who Saved Books is a truly enchanting tale of a boy who loses his Grandfather and his journey with a talking cat to save books. Translated from the original Japanese by Louse Heal Kawai it flows wonderfully as it draws you through the story.
This is one of those stories that clearly has messages built into it, and each labyrinth represents something that Rintaro should learn. The talking cat, who is called Tiger, deftly leads this young student through these trials and with a mixture of aloofness and charm keeps the young man going. Tiger perfectly encapsulates a typical cat personality without reducing it to stereotypical cat behaviours. The cat is treated with respect both by the characters and the author.
This is a great story for book lovers as it examines the extreme behaviours of some bookish folk, and gives almost philosophical reasoning behind why these extreme behaviours may or may not be good. It will probably even make you love books more than you already do! This can absolutely be read as a purely philosophical book to be learnt from, but also, it can be read as a charming tale of friendship and books.
The perfect gift for yourself or the book lover in your life. Save for the moment you need to be reminded of your love of books, a reading slump or when you just need something to make you smile.