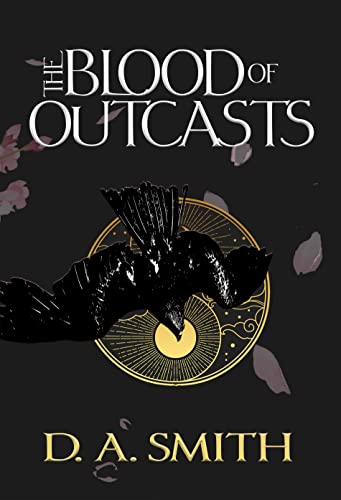 Rating: 7.5/10
Synopsis
What if spilling your own blood was the only way to save yourself?
Masako escapes the Lord Council with only her life intact, her clan shattered and master dead in wake of disaster she wrought. It is her cursed blood that cries out, and a godsborne that answers.
By the power in her blood, and a promise made with it, she's given a second chance. With it, she must unite the outer clans, move past old rivalries and worse, or face annihilation at the hands of a foreign sect of sorcerers, the Taosii, and their silent invasion.
Only, Masako was executed, she's meant to be dead. Demonic rumours and a destructive past sow doubt in her campaign before it is begun.
Review
The Blood of Outcasts is author D.A. Smith's first published full-length novel and the premier book in The Bane Sword Trilogy. It is a dark and gritty story about the price paid for loyalty and honor – plus there are cool weapons, samurai fights, monsters, and a little bit of magic.

I enjoyed letting the shadows of this book envelope me and drag me into the darkest corners of the world Smith has created. Masako's journey is extremely emotional and intense, and I like the fact that she is extremely flawed. I disagreed with many of her decisions, but I think that is the entire point of a character like this: when her back is against the wall Masako will do anything to keep her quest moving forward, no matter how brutal. And, brutal it is at times, but I say that in a good way. The battle scenes were interesting, individual fights were fascinating. I like the different weapons and uses for them, plus the occasional appearance of magic and a few monster-type beings.

I can always tell when an author has developed a world really well in their mind. There are little tells, things here and that are almost like inside jokes. Peculiarities of language, quirks of culture, and the smallest details that are not fully fleshed out to the reader. It is easy to see when reading this book that Smith has cultivated every angle to its fullest, and I think there are positive and negative aspects of that. Knowing your world so well contributes favorable to the overall story, giving it a more authentic feel. It can also sometimes make the reader feel left out at certain times when it feels like more explanation is necessary. In my opinion this book would have benefited from more explanation at times without hurting the pacing or optimal length.

Speaking of pacing, I thought it was really on point. The narrative ebbed and flowed well, there mini conflicts that kept my interest while advancing on the main plot. Smith nailed this aspect of the book.

In regards to conflict, one other area of improvement to me is that I think the reader can use more reminders of what the end game of the story is. As a reader, I get deep in when I am reading – I am talking block out the world status. I really look forward to that, especially when the writing is good (which is the case here), and I sometimes need a reiteration of the main conflict and goal of the narrative to keep it fresh in my mind. I found myself having to flip back to previous chapters to remind myself at times, and that tells me that it was talked about often enough.

Overall, I enjoyed reading The Blood of Outcasts. There are many good aspects of the book that it is so easy to get lost in, and I think fans of samurai-type stories will appreciate it. Just make sure not to cross Masako so you come out whole on the other side.