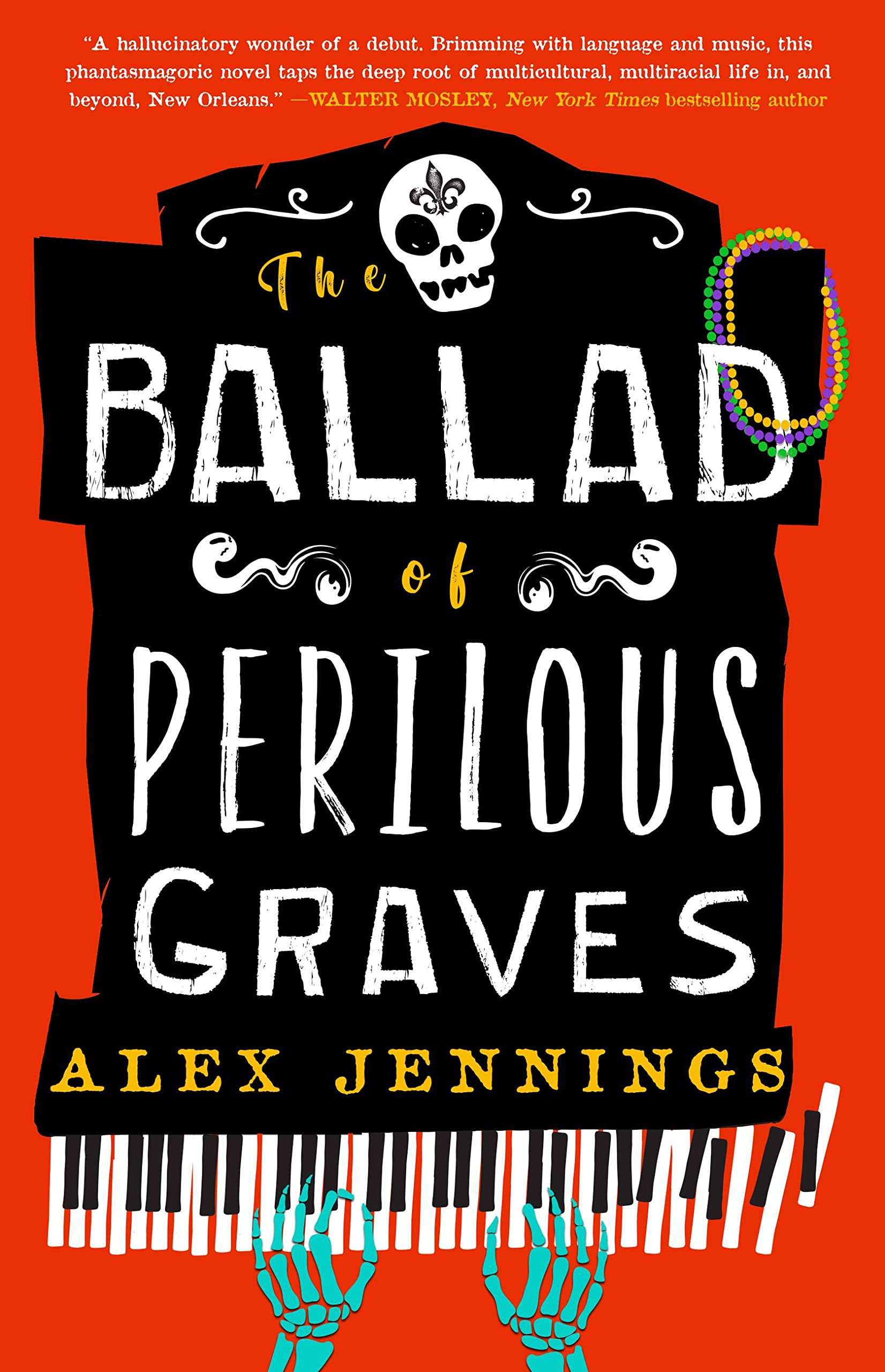 Rating: 8/10
Synopsis
Music is magic in this vibrant and imaginative debut novel set in a fantastical version of New Orleans where a battle for the city's soul brews between two young mages, a vengeful wraith, and one powerful song.
Nola is a city full of wonders. A place of sky trolleys and dead cabs, where haints dance the night away and Wise Women help keep the order. To those from Away, Nola might seem strange. To Perilous Graves, it's simply home.
In a world of everyday miracles, Perry might not have a talent for magic, but he does know Nola's rhythm as intimately as his own heartbeat. So when the city's Great Magician starts appearing in odd places and essential songs are forgotten, Perry realizes trouble is afoot.
Nine songs of power have escaped from the piano that maintains the city's beat, and without them, Nola will fail. Unwilling to watch his home be destroyed, Perry will sacrifice everything to save it. But a storm is brewing, and the Haint of All Haints is awake. Nola's time might be coming to an end.
---
Thank you to Orbit Books for sending me an ARC of this book for review consideration. This does not influence my thoughts or opinions.
---
Review
New Orleans comes alive with magic and music as a trio of youngsters take control of their destinies.
The Ballad of Perilous Graves is one of those books that has left me a bit conflicted. On one hand, the worldbuilding is so damn rich, the characters are fun and the incorporation of music into Jennings' magical realization of New Orleans is impressive. On the other, the writing style is tricky to grasp, the pacing is inconsistent and action scenes are downright confusing. That said, there is so much rich imagination and passion in this novel, that New Orleans (or Nola) will surely get you dancin'.
Set in post-Katrina New Orleans and a magical alternate version of New Orleans called Nola, this novel is intriguing from the get-go. The worlds themselves are vibrant, full of charming characters and lush descriptions of places and jazz music. (As a lover of jazz, this got my mind spinning with memory-fueled soundtracks.) The dualism between the real and the magic was also a great foundation for this novel, as it establishes clear rules that are later meant to be broken—to satisfying effect.
There is also an interesting play on memory as space here, as Jennings uses his own personal history with New Orleans and its culture to comment on the city's history. The love for New Orleans seeps off every page, and that give the setting an extra oomph. On top of that, Nola works as a strong counter. Beyond locations that appear in altered form between the two cities, Nola reflects the forgotten history of New Orleans in a way that gives power to those who were and have been suppressed across time.
Speaking of power: the use of music as a form of magic was so freakin' cool! I adore fresh, unique magic systems, and the way music plays across the story as both a power for good and evil was stellar. Bands and musicians that are integral to New Orleans' music culture make appearances or get mentioned, their music living on and transcending the simply auditory to become weapons of unimaginable power—both in the mind and in the world around.
So, who is capable of wielding that power? Enter Jennings' main protagonists, Perilous Graves, his younger sister Brendy and a Pippy Longstocking-esque girl named Peaches, who lives across the street. Perry is young, as are many of the POVs, and it's often hard to relate to younger characters (at least for me). Thankfully, each of them has a strong, distinct relatable personality, and each of them has a path and goal that is unique to them.
Adding to that, music and magic and the role they play in the grand stakes of each character's story give things a more approachable feel. As the world of Nola is threatened, each of these kids tackles obstacle after obstacle in hopes that they can defeat a rising threat—using the magic of music! The villains also take advantage of the power of music, and there are some interesting twists and turns on the antagonist front.
There is also a POV on the New Orleans side of things, an older character named Casey. He is a former street artist who has slipped into a life of complacency and boredom, and, honestly, I didn't care much for his storyline for much of the novel. There are interesting facets to Casey: his history with New Orleans, or his gender transition from female to male. For the most part, though, there wasn't a hook to grab me during his chapters, except his relationship with his cousin, which turns into a cool development of art as magic.
That said, there is more about Perilous Graves that doesn't quite click—or muddles the execution of this awesome world. First, the pacing. The back-and-forth between New Orleans and Nola is initially a bit confusing, and there are often chapters that linger way too long in one of those worlds. Plus, the jargon and writing style can be tricky, utilizing hard to understand Louisiana slang and speech patterns in dialogue and description.
Action scenes are also a jumble, with the sense of space or the flow of action not quite clicking. And then there's the ending, which (I won't spoil anything, promise) was good but not great. After such a great build up with the characters, I was hoping for a stronger finale.
Overall, The Ballad of Perilous Graves is a solid, slightly mixed debut from Alex Jennings. The world explodes with vivid imagery, and he pulls off an incredible feat by bringing music to life on the page! Despite some messy execution, this book has an excellent setting, engaging characters, rich New Orleans history and a form of magic that any music lover would die for—strong foundations that keep the rhythm flowing.
Click here to find out more about Alex and his work, and click here to check out my one-on-one interview with the author.