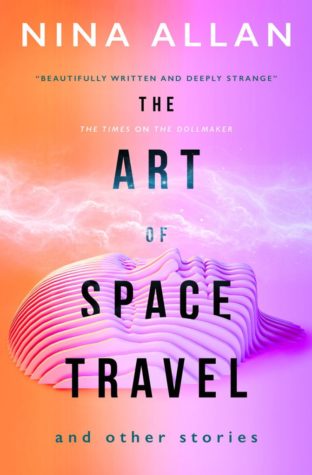 Rating: 5.0/10
Synopsis
A mind-bending short-story collection from award-winning science fiction author Nina Allan.
A collection of short stories from the award-winning author of The Rift and The Dollmaker, Nina Allan. This compilation brings together rarely seen tales spanning the vast breadth of Allan's writing career for the first time. It also includes a brand-new introduction and one never-before-published story. Locus has described Nina as 'a subversive writer… playing with both the familiar protocols of genre and with the nature of the reading experience itself.' This is a stunning collection from one of the most astute and innovative voices writing today.
Review
I received a copy of this book in exchange for an honest review.
For some unknown reason when I picked this up I thought I was getting a collection of Sci-Fi stories, perhaps due to the title and the cover. However, this is a lot more a collection of character-driven stories that explore memory, loss and human connection. So, while there are some talks of space travel and sci-fi elements, these aren't your typical sci-fi short stories.
In the authors note at the very beginning Nina Allan talks about her journey as a writer, and about the stories that are within the book. She lets you know that the first three are very early stories, and that she has mostly left the stories untouched, except for some minor edits and clean up. The first three stories are definitely different to the rest, they show huge potential and give you a lot less answers than the rest of the stories. They're ones that leave you wondering just what was going on, and to be honest it wasn't my favourite. However, where they really shone was to show just how much Allan's writing has grown and developed over the years.
There's definitely cross-overs between stories, even if they aren't obviously signalled or confirmed. People with a better attention to detail than me will surely pick up on much more than I did, and be able to make connections that I will have missed. I'm sure this is a collection that can be read again and again to see all of these things.
Some of my favourite stories are to do with space travel, but seen from Earth and those left behind rather than those who are flying off into the stars. It explores the ideas of those left behind, of supporting someone as they make the choice to leave forever and to be a pioneer. These stories really piqued my interest, and they were the ones where I think I saw connections between them.
These stories don't give you answers, they don't come with plots that connect the dots. Sometimes they just end and I wasn't entirely sure what the 'point' of them was, but this is me. I know I'm not the best at making connections unless they're obvious. So please take this with a pinch of salt.
If this sounds like something you will enjoy pick it up. Nina Allan is clearly a wonderful writer and the strength in this collection is seeing her grow and develop over the years.