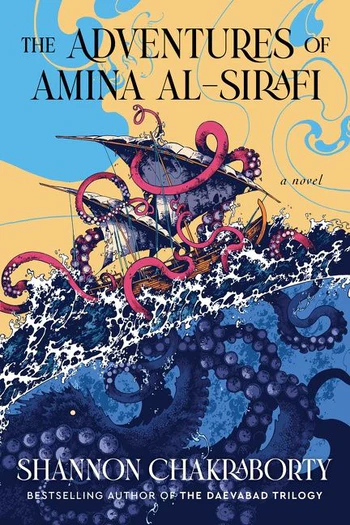 Rating: 9/10
Synopsis:
Amina al-Sirafi should be content. After a storied and scandalous career as one of the Indian Ocean's most notorious pirates, she's survived backstabbing rogues, vengeful merchant princes, several husbands, and one actual demon to retire peacefully with her family to a life of piety, motherhood, and absolutely nothing that hints of the supernatural.
But when she's tracked down by the obscenely wealthy mother of a former crewman, she's offered a job no bandit could refuse: retrieve her comrade's kidnapped daughter for a kingly sum. The chance to have one last adventure with her crew, do right by an old friend, and win a fortune that will secure her family's future forever? It seems like such an obvious choice that it must be God's will.
Yet the deeper Amina dives, the more it becomes alarmingly clear there's more to this job, and the girl's disappearance, than she was led to believe. For there's always risk in wanting to become a legend, to seize one last chance at glory, to savor just a bit more power…and the price might be your very soul.
Review:
I was very fortunate to receive a finished copy and audiobook of The Adventures of Amina Al-Sirafi by Shannon Chakraborty. If you're familiar with The Daevabad Trilogy, you'll find the same passioned writing with sharpened skills. This book feels even more polished and the character of the legendary Amina al-Sirafi feels entirely unique. We often seen authors dive into a pattern of making their main characters across different books have the same attributes and voice, but Chakraborty does not fall prey to that. The whole vibe of this novel is very different from Daevabad for me.
Amina is a character that contains multitudes. She is a beloved and attentive mother, a great friend, a respected captain, a feared opponent, and an all-around fierce woman. She is such a vibrant character and I absolutely loved following her. She's a modern, progressive woman who still holds certain practices of her culture close. She's capable of despicable things while also keeping some moralistic values.
I enjoyed the way the book was set up, with interludes from historians, plus back and forth conversation between Amina and her scribe. When I listened to the audiobook, the exchanges with the scribe and Amina always made me laugh. The narrators do a great performance and really capture it as conversational interruption from the main story. Amina and the scribe always sound fondly exasperated with one another. Lameece Issaq and Amin El Gamal are outstanding voice actors. I never felt bored while listening to them and my attention never strayed
The humor continues throughout much of the novel. Even when it gets serious, there are threads of humor that would make me laugh out loud and smile to myself. The book wraps up quite nicely but always sets us up to look forward to the second installment. I'm already looking forward to it!
Thanks to Harper Voyager and Harper Audio for the review copies in exchange for an honest review.