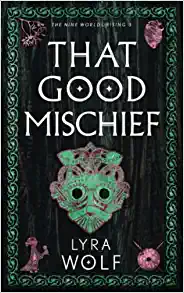 Rating: 9.0/10
Synopsis
It wasn't supposed to be like this.
It was supposed to be Loki the trickster god's happily ever after with Sigyn. They had gone full Midgardian, settling down in California, with Loki doing what he does best—mischief.
When Sigyn collapses, Loki senses a grave darkness growing within her, and he knows only one god who may be able to stop Surtr before this sinister force possesses her completely.
Once again he finds himself forced to ask Odin for his help…which always carries with it some kind of price. However, Odin is the least of Loki's problems, especially when buried secrets start surfacing because of brothers, both dead and alive. Blackmail is a nasty business.
Loki worries that his happily ever after with Sigyn could have an unhappy end.
Lies are unraveling, the truth is spinning, and consequences are flying faster than Loki can run and he may lose Sigyn forever—either to the darkness, or to his own lies.
Review
That Good Mischief is author Lyra Wolf's latest release and book 3 in The Nine World's Rising series. I previously reviewed the first 2 books in the series and became a big fan. If you are into stories about Loki, Odin, and Norse mythology, these books are must reads.
Yes. I saw this going over like a cow in a catapult. Best to avoid the truth entirely.
I love that quote, because it is quintessential Loki. Just about every depiction of the Norse God portrays him as the ultimate Trickster and liar extraordinaire. Willing and able to do anything to get his way. And let me tell you, get his way he does. Partying, drinking, fornicating – you name it, he finds a way to get it. What I love about That Good Mischief is that Wolf has decided to show the readers a more benevolent side of Loki. He loves Sigyn and would do anything to save her, including never-before-seen selfless acts and sacrifices! Loki has got it bad and is willing to do whatever it takes to make it work. Sigyn being in grave danger is the perfect scenario to bring out the altruism hiding deep inside Loki, especially considering it is linked to his own past actions.
"Complicated? Misunderstood? Tell me all about that good mischief he does. Please, I have heard it all before."

As dramatic as that sounds, it is only the tip of the iceberg when it comes to the narrative. The real suspense is derived when Loki is forced to face his past in order to have a chance at saving Sigyn. His relationship with Odin, decisions and actions from his past are all up for grabs – oh! And let's not forget that one time he almost started Ragnarok and destroyed the world. Reading about Loki trying to navigate through the past, present, and future all at once is delightful.

I think the aspect of this book I am most impressed with is how well the author knows the characters. I imagine this is pretty complicated, because these are not completely made up fantasy characters, but they are also not factual people from real life. Most (if not all) of the characters in the book are based on Norse mythology, and there are many different versions of them in the lore. I am pleased with the way Wolf took the information that is known about the personalities of these otherworldly characters and formed them into finished products based on the author's interpretation. It is easy to see Wolf has spent a lot of time with these characters, knows them inside and out, and those relationships come through in the writing.
"How long… do you plan… to tease me?"
"Until you beg."
I would not be doing this book justice if I did not mention the adept way in which the author inserts romance into the narrative. Not only are these heart-pounding scenes spicy and descriptive, but the execution is absolutely flawless. Wolf does a great job of building suspense in these intimate sequences, keeping the reader (and characters!) on edge for pages. Hat tip to the author for fitting these scenes perfectly into the storyline, adding intimacy while creating balance to the overall narrative.

That Good Mischief is another excellent addition to The Nine Worlds Rising series. Continuing where The Order of Chaos left off, it presents a natural progression to the storyline as well as Loki's character. I thoroughly enjoyed this book, and recommend fans of fantasy, and especially Norse fantasy, to read this series.