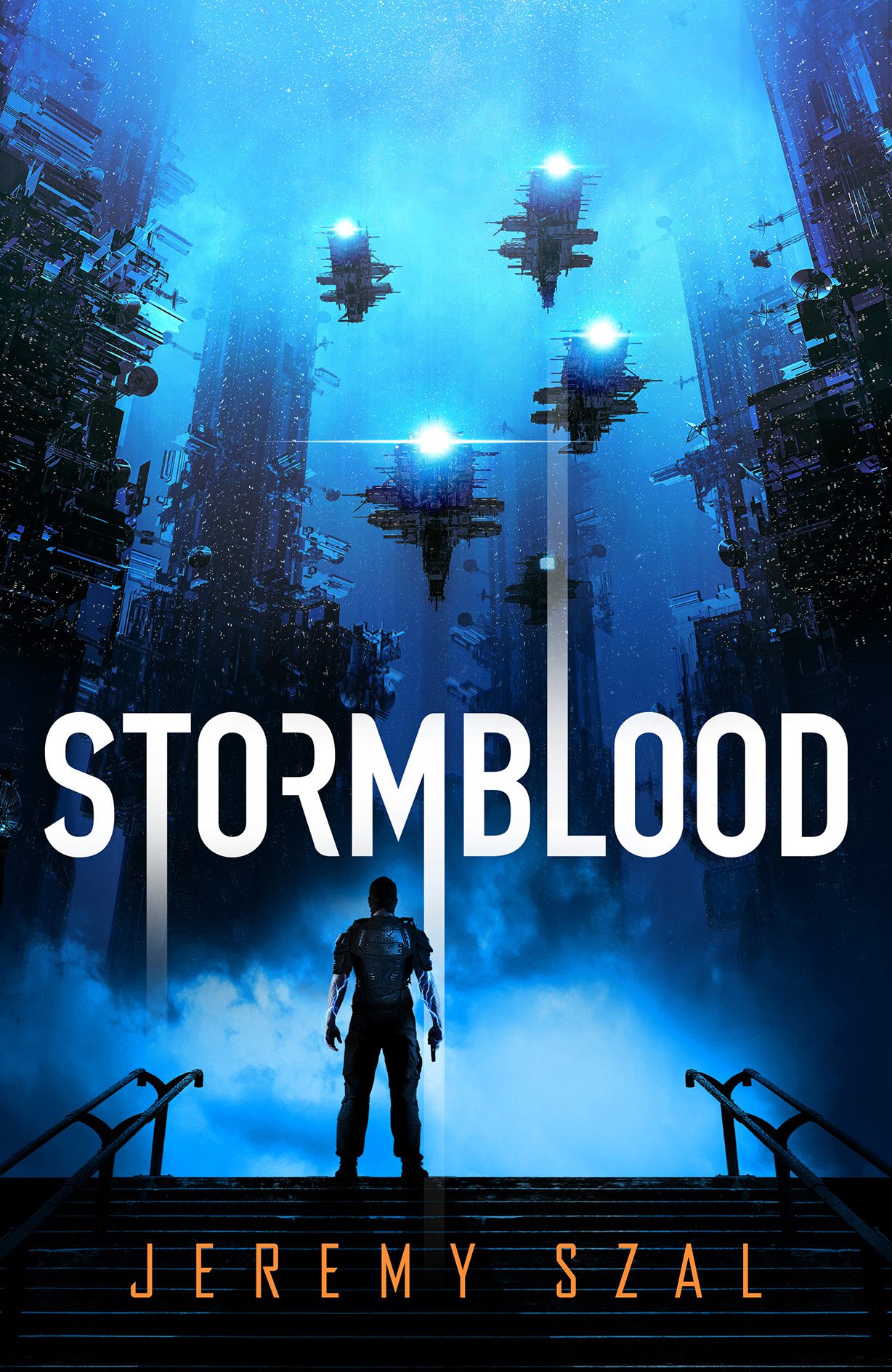 Rating: 8.5/10
Synopsis
Vakov Fukasawa is a Reaper; a human augmented with Stormtech. The Stormtech turns the Reapers into feared warriors of the bloody war between Harmony and the Harvesters – capable of untold amounts of violence and destruction. Unfortunately for the reapers themselves, Stormtech also causes them to become addicted to adrenaline.
With the war over, Reapers like Vakov now battle their addiction in a society that views them with distrust. When reapers and the Stormtech-addicted skinnies start to rampage and die after black market Stormtech hits the streets, Vakov and Harmony must find out the cause before every reaper on Compass goes haywire. Worse still, somehow mixed up in all this is Vakov's estranged brother, Artyom.
Review
Jeremy Szal has spoiled us here with a – quite literally – kick-ass sci fi trilogy. I feel pretty bad that I'm late to the party with this one but I'm certainly catching up as I've just finished the second book too!
Szal's first entry into The Common sees Fukasawa and best friend Grim going from the heist that's gone very wrong to dealing with a serious drug problem on the colossal asteroid township, Compass.
Stormblood drop kicks you in the pants, off a ledge into a vat of sci fi soup. I'm a big fan of my sci fi swimming in neon and this book delivers hard. Szal's giant asteroid setting is an intricate maze that feels teeming with potential. Underworld dealings soon see Vakov falling foul of the Jackal, a sadistic, moustache-twirlingly good kingpin villain. Luckily for Vak and Grimm, the ruling hand of Harmony plucks them from the Jackal's jaws and deposits them right on the trail of whatever has been causing the Stormtech-imbued Reapers (like Vak) and Skinnies (Stormtech addicts) to spontaneously erupt into violence.
Neon Tetra Sci Fi?
Unsurprisingly, Vakov's supercharged Stormtech sees a book dripping with action. It's Crank smashed into Mass Effect and blasted with the guts of a neon tetra. Here's a fun exercise you can try with Stormblood: flick to a random part of the book, close your eyes and then jab your finger on the page. There's a high chance that your finger has landed on either Vak kicking some serious ass or being in the process of getting his ass seriously kicked.
Szal's action sequences are brutal. Most feel like the hallway fight scene in Netflix's Daredevil [you're welcome] but, you know, all shiny and blue. In many ways it is as addictive to read as it is for Vak to experience. His body craves adrenaline and violence. Szal does well to show the constant battle that Vak fights every second of his waking moments to remain in control of his own body, something the other Reapers and Skinnies can't handle. It makes sure that Vak as a character is flawed and vulnerable, that being a big guy who can fight the entire asteroid would give anything to not be the way he is. It shows in his fragile relationships with his friends. Ultimately, his strength has a price and it's a tough one to pay.
Too Human
Stormblood scarcely lets up for its entire read time. I can see people who aren't keen on action and violence not finding a cozy time with this title. But Stormblood isn't just a flashy beat-em-up, it has a heart and strong story. Grim is a much needed break away from all of the brutality. Grimvak is a milestone for sci-fi buddies – I loved to read about the two of them bar-hopping and Grim refusing to accept he can't out-drink the alien DNA-modified super soldier whose body metabolises alcohol so quickly it has no effect.
Vak's hatred of Harmony, who created Reapers like him to win a bloody intergalactic conflict, tries his best to live out the enemy of my enemy is my friend. It lets in Katherine Kowalski, his Harmony intel contact who buddy cops her way into his Stormtechy heart.
And then we have the tetchy relationship between brothers Vak and Artyom. Flashbacks to their upbringing on New Vladivostok reveal a shared abusive household and the brothers often versus New Vladdy. Vak tries his best to reach Artyom, who is involved in the sale of tainted Stormtech to addicts on Compass but old scars never seem to heal. Artyom can be frustrating at times but it only shows how the Stormtech has stripped Vak of his humanity and his family. As with many a sci-fi title before it, Stormblood does its best to ask what really is humanity anyway?
Storm[Tech]in'
Stormblood hits all the right notes in this ultraviolent, ultraviolet sci-fi thunderpunch. At times the violence (chiefly the torture scene) may be a bit much for some but it's an engaging and adrenaline-fuelled read all the same. I'm all in for this trilogy and you should be too.