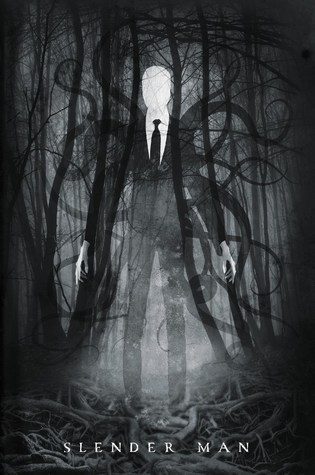 Genre: Horror
Publisher: Harper Voyager (October 23rd, 2018)
Paperback: 336 pages
3.5+/5 Stars
First off, I want to thank the publisher and author (who shall remain nameless) for an advanced reading copy of Slender Man in exchange for an honest review. Receiving this ARC does not influence my thoughts or opinions on the novel.
Are you familiar with Slender Man? This fictional supernatural character originated online as a creepypasta internet meme and just continued to grow from there (books, video games, movies, etc.) Stories of this modern bogeyman typically feature him stalking, even abducting, people, particularly kids. But it isn't all fun and games as some readers of his fiction have been connected to violent acts, like for instance, the near-fatal stabbing of a 12-year old girl in Wisconsin.
But enough about Slender Man's roots.
This book is about a young man named Matt Barker; I say about, but it is more of a first-hand account through his many journal entries, audio recordings, police interrogations, newspaper articles, and online chat sessions. His friend, Lauren Bailey, has disappeared, which has set the rumor mill amok throughout their school and pushes Matt to find answers. Through these multiple story fragments, the realization that Matt is dealing with a supernatural being hits home quickly and the only choice he has is to go after Slender Man head-on.
I rather liked that this was written as an epistolary novel, which makes for quick and easy read. It truly brings our modern culture into focus, with use of text messages, phone apps, and reddit to bring multiple points of view into the story without having to give each individual character a thorough story arc. In other words, it gives just enough life to secondary characters to make it believable. To be honest, I'm sort of glad those secondary characters didn't get a ton of the spotlight as most of this felt like Gossip Girl in a horror setting (and yes, my wife watches Gossip Girl so I'm aware of what it is). Rich teens, richer parents, and gossip being spread like butter on toast. All that being said, Matt's audio recordings had me eating every bit of this book. The author does a phenomenal job inserting raw emotion/fear into each and every minute of the recordings, perfectly capturing the emotional, and physical, toll SM has on Matt.
Those that are looking for a novel that is all about Slender Man won't find it here. Those that are looking for a tie-in novel with the movie(s) are also sadly mistaken. But if you want a novel that will chill you right down to the marrow, leaving you gasping for breathe, its perfect.
Though it was quite a slow-burn, slogging a bit in the beginning until all of the supernatural elements culminate into a super creepy, goosebump-inducing ending, it makes for a fantastic Halloween read. It probably isn't enough to have you keeping the lights on at night, but it'll make you think twice about camping out in the woods.
Pre-order your copy today from one of these fine retailers!
Amazon | Barnes & Noble | Google Play | Kobo