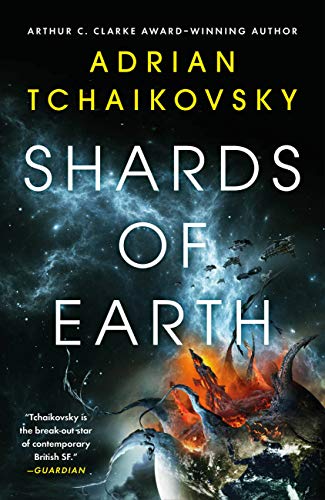 Rating: 9/10
Synopsis
The war is over.
Its heroes forgotten.
Until one chance discovery . . .
Idris has neither aged nor slept since they remade his mind in the war. And one of humanity's heroes now scrapes by on a freelance salvage vessel, to avoid the attention of greater powers.
Eighty years ago, Earth was destroyed by an alien enemy. Many escaped, but millions more died. So mankind created enhanced humans ­such as Idris – who could communicate mind-to-mind with our aggressors. Then these 'Architects' simply disappeared and Idris and his kind became obsolete.
Now, Idris and his crew have something strange, abandoned in space. It's clearly the work of the Architects – but are they really returning? And if so, why? Hunted by gangsters, cults and governments, Idris and his crew race across the galaxy as they search for answers. For they now possess something of incalculable value, and many would kill to obtain it.

Review
I'm a big Adrian Tchaikovsky fan. Children of Time is a modern classic and stands as my favorite sci-fi novel of all time while Cage of Souls is a vastly underrated and incredible novel. Tchaikovsky's works are always incredibly innovative and creative. From Elder Race (a fun novella which mixes fantasy and sci-fi) to his Shadows of the Apt series (a fantasy book with insect type races which I need to read more of) there's always some interesting worldbuilding and fascinating ideas going on – and Shards of the Earth is no exception.
This book is space opera at its finest, fully brimming with ideas and a world that was thrilling to read with characters to become invested in.
The set up for the book takes some time but I'll try and be concise. Shards of Earth takes place several years after the Architect War – a time where mysterious moon sized aliens appeared out of space to reshape matter into their own strange form of art. Their main targets for their art? Planets with life – including Earth which is now destroyed. After humans communicated with an Architect, the aliens disappeared back to wherever they came from. Idris, a genetically modified human who made first contact with the Architects is a survivor from the war. Now, years later, Idris and the crew he travels with finds proof that the Architects may finally be coming back.
And that's just scratching the surface of what is going on in this book. Other elements include, a crab-like race of aliens who love to barter, insectoid robots who have defected from their human creators, a peaceful alien cult run by clams and much more. Each planet we visit is varied and interesting with their own history and culture. I could spend paragraph after paragraph describing all the ideas and worldbuilding that's going on here. (also, as a side note, there's a very helpful glossary and timeline in the back of the book) All this to say, the world is a joy to learn about as we continue to meet new and exciting characters and clever ideas.
However, if I had one complaint with Tchaikovsky generally, it would be his characterization. While his books may be full of incredible ideas that have stuck with me, I've never cared too much of any of his protagonists. This doesn't always bother me, for example in Children of Time it works super well as we track the rise of a civilization, but I feel that Doors of Eden was a bit held back by my lack of interest in the main characters. Here however, I finally clicked with the motley crew of spacers.
In addition to Idris, we have Parthenon warrior Solace (from a race of women genetically grown for combat) taking up the other majority of POV time. She's been sent to recruit Idris to the Parthenon since they knew each other during the war. Her relationship to the crew is fascinating as she struggles to balance her loyalties. We also have captain Rolo, a human with a strong love for his crew, a Hiver (the insect type robots) who controls miniature robots at his command, a crab-like alien name Kit and a several others. The comradery built between the crew felt natural and by the time the end rolled around, I was hit with all the right emotions – particularly with the relationship between Idris and Solace.
There are a few minor nitpicks I have with the book however. There's a lot of seeming coincidences that occur throughout the story and a few story elements towards the end that didn't quite work for me. Plus, one of the minor POVs seemed only included to move the plot along instead of a more natural fit. These were pretty minor overall however.
If it isn't clear by now, there's a lot going on in Shards of Earth. However, every time I felt like I might be lost or confused by who that character was (or what race they were) Tchaikovsky had a reminder built right into the text. This led me to always know what was going on and if I was confused, a sentence or two later would clear it all up (and the glossary is there if you're still lost). That's the sign of a great writer.
The book is well paced and consistently engaging throughout as we try to unravel the mysteries behind the Architects and much more. All this to say, please go read Shards of Earth. If you're a space opera or sci-fi fan, it's a must read – and if not, you may even find something to still enjoy.
Special thanks to the publisher for a copy of this book for review!