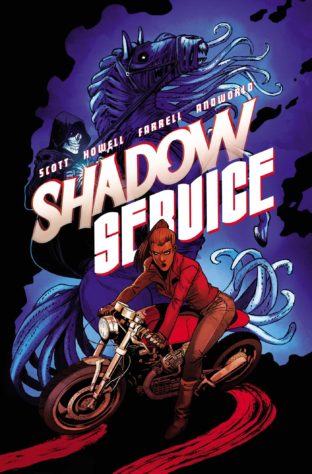 Rating: 7/10
Synopsis for Vol. 1:
Worried your partner is cheating? Need a missing person found? Gina Meyers is the Private Investigator for you. Sure, she's a witch who worries that her powers make her more of a monster than the crooks she's trying to catch, but it's not like London's criminal underworld is literally going to hell… is it? Spy craft meets black magic in the shadowy world of MI666.
Review:
Thank you to Black Crow PR for giving me a copy of the book in exchange for an honest review.
Shadow Service Vol. 1 & 2 is by Cavan Scott, Corin Howell (Illustrator), Trionna Farrell (Color Artist).
I read Volume 1 and 2 before writing this review, so while there won't be any spoilers I am writing this review about both volumes.
Shadow Service completely surprised me, I knew I was going to enjoy it but I went in mostly blind and was very surprised by where this series went! It starts out following a witch who is a PI and very quickly terrifying creatures start to appear.
This sets the tone for the series as it barrels through the story, as graphic novels always do, throwing new characters at us and more horror-like creatures along the way. There are some truly beautiful spreads inside of huge angelic/demonic beings that really capture the atmosphere of the graphic novels.
Volume 1 is a lot more about meeting MI666 and learning a little bit more about their work and what their main aim is. You don't get much backstory of any character until Volume 2, which is where I feel the story starts to get stronger. It starts to take a deep dive into the pasts of all our MI666 agents and it starts to draw you into the world more.
Shadow Service is dark and intriguing. Mix the occult with horror and some gorgeous spreads and you get Shadow Service. This is a worthy addition to any graphic novel lovers shelf.