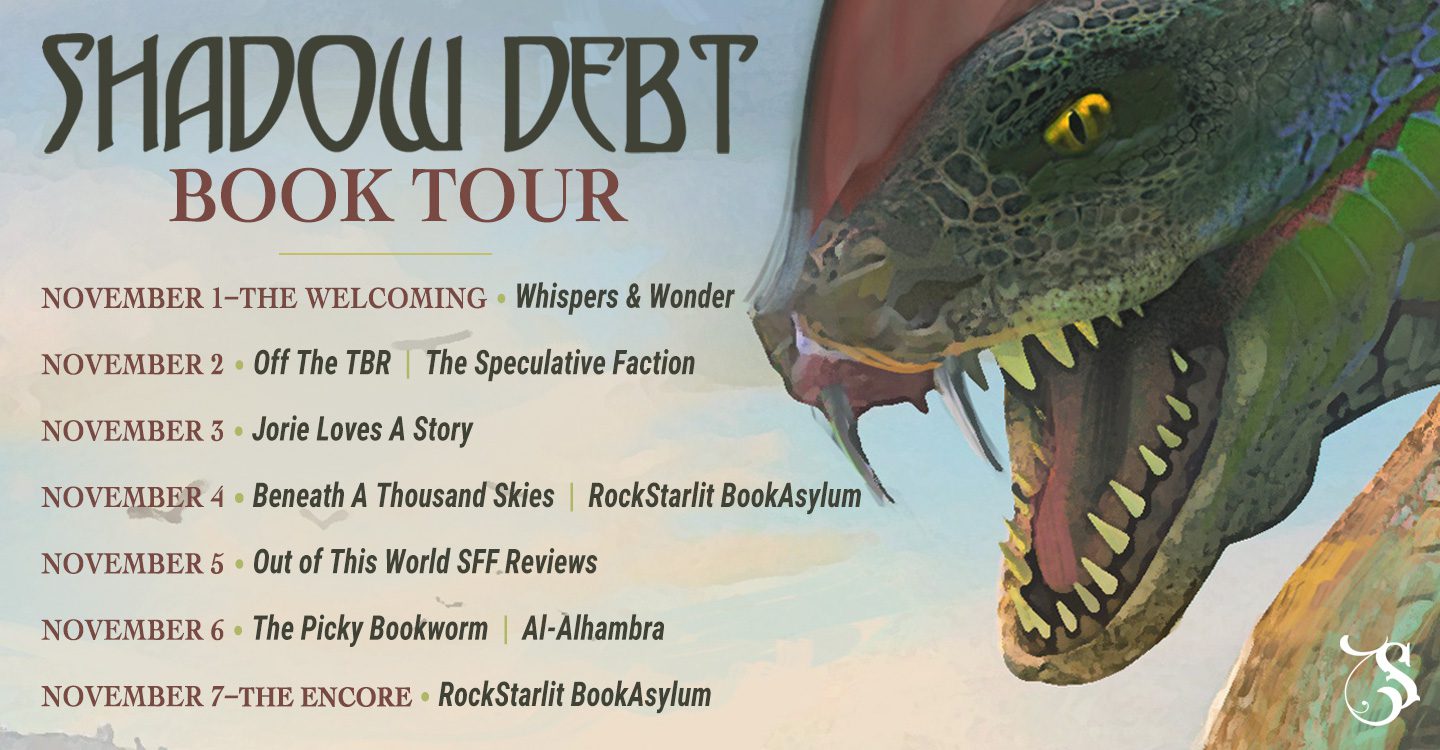 Abebooks
Amazon
Book Depository
Goodreads
Rating: 10/10
Synopsis:
Glynn Sorley is sheriff of Keat's Field, a tiny settlement in an otherwise lawless frontier. With the discovery of diamonds, her town is flooded with fortune-hunters looking to strike it rich. It's also a target for competing colonial powers, savage goblin tribes, and outlaws.
A rustler on the run from the law stumbles across his father's mysterious legacy – a weapon of immense magical power. He uses it to ravage across the territory as the notorious outlaw Gentleman Jim.
But the weapon's power comes at a terrible cost, and Keat's Field may just have to pay the price…
This third Tale of the Verin Empire returns us to the world of Gedlund and The Great Restoration. It explores a frontier trapped between competing nations, where goblins reign and a lone sheriff fights to keep the peace.
Drawing inspiration from L'Amour's Comstock Lode, Tolkien's Lord of the Rings, and our own late 19th century, Shadow Debt continues William Ray's bold, critically acclaimed reinvention of classic fantasy in a world of memorable characters and unique perspectives, and features sketches from acclaimed illustrator Tom Parker.
Review:
This novel is the equivalent of what if you mixed goblins, elves and high fantasy in a wild west setting. Its a setting that everyone will love. Its a setting that's well constructed. It's an immersive world that you will find yourself gripped into. It is a standalone book, but it feels immersive enough that you will find yourself enchanted in the deep canyons of this book. Gentlemen Jim's the tragic villain in this story. He truly is. He goes through a deeper and darker story far more than you can ever imagine.
And his buddy, Mike? Truly either a loyal friend or a despicable human being. You will find out more in this novel as you read about him. You'll go into taverns and inns, fight cowboys and become engaged in fistfights far too often. Jim's gang are a notorious gang of ruthless people, that in a way, want to earn their fame and fortune. I think the system itself is rigged, corrupt and doesn't allow anyone to prosper. In a way, the wild west setting emulates the golden age of piracy. William uses this to great effect: He builds a world where, when times are desparate, crime will rise because people have nowhere else to turn into.
I love the trains in this novel. Just riding on a train seems so nice. I bet William played a lot of Red Dead Redemption 2, but he also gathered a lot of inspiration from movies and books. I wasn't too sold on Sorley's character, as I feel I needed to see more of her in the novel. I would have wanted to have seen more of the goblins in this novel. And that Goblin Shaman was right! He was right. This book is well written, easy to read, and not hard to grasp either. Also, Ned is the true hero of this story. He truly is.
I just enjoyed it a lot. 10/10 from me!