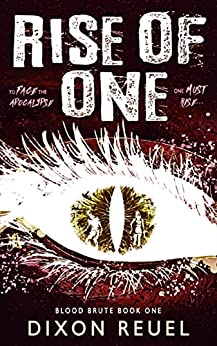 Rating: 6.5/10
Synopsis
I'm a vampire in a secluded, hidden coven.
A zombie apocalypse has ravaged humanity.
We only have one human to feed on inside our walls.
If he dies, we die. If every human turns into a zombie, we die. If we don't leave our shielded home and find human survivors, we'll die.
If none of those things happen, we'll be eventually found by our ancient enemies, the scythe-wielding Warwolves.
So, yeah. We're screwed.
Review
Rise of One, the first book in a six book series (book six is releasing on June 1st), is a post-apocalyptic, paranormal, dark urban fantasy, that was much different from what I expected it to be. Instead of a high octane, gore-filled, monster fest of vampires vs zombies, I was pleasantly surprised to find myself drawn into a claustrophobic slow-burn story, that kept me turning the pages.
The first thing I noticed and really appreciated about this story, is its understated eerie atmosphere. I found it wistfully mournful and elegiac in tone, which I personally enjoy in post-apocalyptic fiction – think The Road by Cormac McCarthy or A Boy and His Dog at the End of the Word by C.A. Fletcher.
The majority of post-apocalyptic fiction centres on humanity, so it is refreshing to find a story that focuses on a vampire coven – or a family of sorts. I found this take on vampire lore very intriguing, with a coven of four – three vampires and one human. The human, who provides sustenance for the vampires, is cared for and revered as their main source of survival. There is also a subtle romance between Rise and Cypriot, the human, which is an important part of Rise's character development.
That said, the story is more character driven than anything else. The intimate relationships between the coven are explored, mainly through Rise. Rise's inward reflections, fears, and paranoia, are explored to good effect. Haunted by dreams of regret and grief he tries to make decisions that help the group, which ultimately do not end well.
A lot of time is spent on the minutiae of the household – their days, their conversations and thoughts. This adds to the claustrophobic feel that builds slowly throughout, especially as tensions rise through events that happen suddenly and sometimes without warning. These moments of action and violence are brief, and the story returns to its slower pace, focussing on the characters' reactions and the impact on their relationships. Other characters, from outside of the coven, are also introduced to the group dynamic, which adds more depth to the characters and their environment. But the author still keeps these interactions intimate and at close quarters, which maintains the tension.
Only a couple of things didn't work so well for me. The dialogue, at times, was a little clunky. Of course, I accept that this is a debut novel so would never expect perfection, and my opinion is personal and subjective, but it did tend to interrupt my flow at times.
Also, as I've mentioned, the brief and sudden action can be quite jarring as the overall pace of the piece is slower, but this is merely an observation and didn't really impact my overall enjoyment.
What I appreciated most about this book is its setting and atmosphere. Set in the English countryside, where the walking dead have all but eradicated humanity, there are a lot of unanswered questions and mystery, particularly the group known as the Warwolves. I'm certain we will discover more about them in subsequent books, as they likely become the main antagonists of the series.
Rise of One is a supernatural slow-burn, focussing on a vampire/human coven's strained relationships through survival of the apocalypse – the tension is palpable, carrying an underlying suspenseful vibe throughout.
I would say that this book is borderline YA, but has more adult themes that I personally feel makes it suited to a more mature audience.
The Walking Dead meets True Blood, with hints of Mad Max. A hypnotic post-apocalyptic survival story, of found family, with a satisfying ending that left me wanting more. Despite some minor issues, that I would expect from a debut novel, the author has created an intriguing story that has great potential to further explore the world, and the history and future of its characters. I have already picked up the second book in the series and look forward to seeing what happens next.