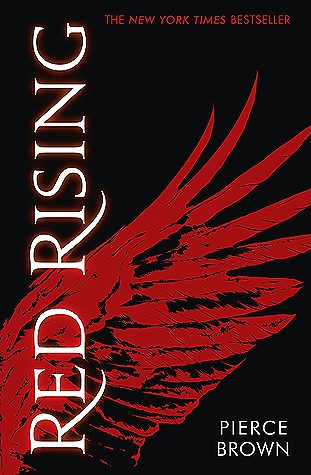 Rating: 9.86/10
synopsis:
Darrow is a Red, a member of the lowest caste in the color-coded society of the future. Like his fellow Reds, he works all day, believing that he and his people are making the surface of Mars livable for future generations.
Yet he spends his life willingly, knowing that his blood and sweat will one day result in a better world for his children.
But Darrow and his kind have been betrayed. Soon he discovers that humanity already reached the surface generations ago. Vast cities and sprawling parks spread across the planet. Darrow—and Reds like him—are nothing more than slaves to a decadent ruling class.
Inspired by a longing for justice, and driven by the memory of lost love, Darrow sacrifices everything to infiltrate the legendary Institute, a proving ground for the dominant Gold caste, where the next generation of humanity's overlords struggle for power. He will be forced to compete for his life and the very future of civilization against the best and most brutal of Society's ruling class. There, he will stop at nothing to bring down his enemies… even if it means he has to become one of them to do so.
Review:
I started this book with a feeling of excitement since I have owned it for quite some time. I felt confused when I started reading the first few chapters. This is not new for me and it usually happens to me with whatever I read. As I continued, things finally started to come together. Straight off the bat, the first 50 pages were brutal. I never expected so much to happen in 50 pages I mean, WOW!. I went through so many emotions. The author did a great job setting up the story this way.
First thing first, I think the author did a fantastic job in creating these amazing characters. All of the characters go through moments of development, you either love them or hate them. Darrow is a great MC. He experiences so much emotional damage in such a short period of time but can still keep it together. Don't underestimate Darrow though, he's vengeful but has the ability to control it (as best he can). He learns from his mistakes (and he makes plenty of them). He is a very likable character that you just want to keep rooting for every step of the way. Sevro is another character I really enjoyed. Sevro comes at you a little intense in the beginning but he definitely grows on you. I didn't expect to like him as much as I do. He is absolutely hilarious and truly needed for the story. Almost everything Sevro says is hilariously quotable. Cassius is another character that I grew to like up until late events. He is arrogant and conceited. Lets just say he's not a good person all together (a lot of these characters are not good people) but he has his reasons. This story has a massive list of characters; Julian, Antonia, Pax, Mustang, Titus, Tactus, and the list just keeps on going.
The world building is phenomenal. You can really picture the surface of Mars through Darrow's descriptions. you can also sense a lot of what he's feeling through his experiences and weather changes. I really like when a book gives me a atmospheric feel. You also get a crisp description of the future and technological advancement that has progressed throughout the years. The author mentions Historical figures and events from the past which make the story believable. A lot of Greek mythology is mentioned as well if that is something that you like. It is great to see that history has an importance to the author even if its not in the best of light. Pierce Brown puts a lot of attention to detail without dumping it on you.
The politics in this story are strong without being overly complex. The world they live in is driven by politics and power. The High families only care about the power their name gives them not much for the well being of their children. It is dark times in this future.
I don't think I've ever read a book with so many plot twists. Man were they great though. PB does a great job keeping the reader engaged. I am very emotionally attached to the story. A lot of things happen where I either wanted to cry or throw something. It was the perfect blend of everything.
Overall, I think it's a fantastic sci-fi novel. You get a sprinkle of everything. There is war, violence and graphic content but it is easy to bare if you're sensitive to that sort of stuff. I don't think this book is for the faint of heart. The characters go through a lot and there are trigger warnings for rape and murder. If these topics don't bother you then I think you should give it a go. I am looking forward to reading the rest of the series.
Happy reading!