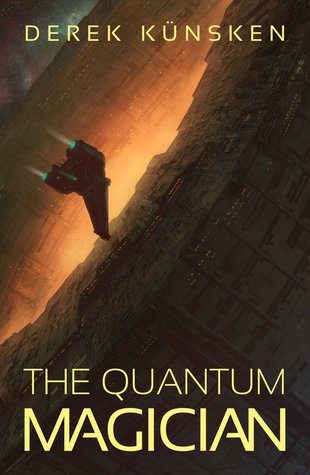 Rating: 8.0/10
Synopsis
Belisarius is a quantum man, an engineered Homo quantus who fled the powerful insight of dangerously addictive quantum senses. He found a precarious balance as a con man, but when a client offers him untold wealth to move a squadron of warships across an enemy wormhole, he must embrace his birthright to even try. In fact, the job is so big that he'll need a crew built from all the new sub-branches of humanity. If he succeeds, he might trigger an interstellar war, but success might also point the way to the next step of Homo quantus evolution.
Review
Ocean's 11 in space!

The book follows the exploits of Bel (isarius), a Homo quantus (genetically engineered human quantum computers who crave knowledge about the fundamentals of space/time). Due to a 'flaw' in his engineering, he chose to abandon his people and lives as a con-man in outer edges of space. He gets an offer to move ships across a wormhole where both of its ends are protected by a species called the Puppets. To do his he recruits a team of genius people with diverse talents, each having their own agenda. What happens next makes for the plot of the book.

First off, the prose. It's simply captivating. You get drawn into a futuristic universe inhabited with humans and other alien races which feels absolutely real. Though they don't form part of the main plot, the worldbuilding is perfectly balanced providing just enough details to bring it to life and doesn't venture into lair of tedious infodumps. This balance helps, not just understanding the characters themselves better, but also entertains as fascinating backdrop into future genetics.

There is a LOT of hard sci-fi. Mechanics of wormholes, quantum states, space/time travel etc is peppered all though the book. But DON'T be fazed. Though very entertaining, understanding isn't absolutely necessary and its fine if you glossed them over (while getting impressed by the fancy sounding words) like I did. It just adds to the charm of the book. I have no idea of the science is grounded or not, and I just don't care either way!

The ragtag bunch of characters are well etched and come into their own fairly quickly. Money, knowledge, redemption, fame…each one has their own drivers to participate in this mission and the interplay is just brilliant. Bel's deft maneuvering to keep the crew in line all the while fooling enemies is juggling act par brilliance and rightly earns him the eponymous title of Magician. Even the side characters have a depth to them despite appearing only for a few paragraphs carve themselves a niche in the world vividly.

Not just the plot, but the themes of genetic manipulation and how it affects people, the concept of freedom and right to choose plays an important facet to the story. Be it the outrageously repulsive relationship between the Puppets and Numen or the manipulation of Homo quantus, the themes come forth starkly and the ethical and moral dilemma surrounding those are fantastic food for thought!

I felt for the characters. I might have despised them, but I understood them and felt for their inability to act against the way they are engineered. Gut-wrenching at times, exhilarating at times, this book tugged my heart the right way!

As you can see, I was seriously impressed by the book and looking to dive into book 2 soon.

.

Note: The Quantum War (Book 3) is out in October 2021, so all the more reason to dive into this!