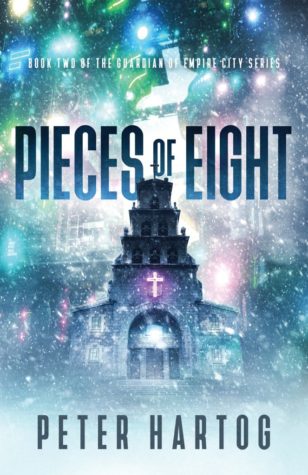 Rating: 8.0/10
Synopsis
How do you stop a killer who's already dead?
Some secrets never die. When the mutilated corpse of an ex-con is found in the bowels of an old church, haunting Biblical verses scrawled at the crime scene speak of divine retribution, and a killer hellbent on revenge. For Special Crimes detective Tom "Doc" Holliday doesn't need his fickle clairvoyance to see that a murder like this is only the beginning.
With few leads and fewer suspects, Holliday and his quirky team of paranormal specialists embark upon an investigation that will lead them down a dark and twisted path, and test the bonds of family and friendship. From the frozen streets of Little Odessa to the diabolical wealth of Park Avenue, Holliday will need more than his Insight to hunt down an unstoppable killer.
But when Holliday suspects the killer might not be what it seems, he'll have to unravel a twisted web of greed and lies to save an innocent soul, or lose his own, and watch his world die.
Welcome back to Empire City!
Review
I read Bloodlines earlier this year as part of a blog tour with Storytellers on Tour and absolutely loved it. I was also lucky enough to work with the author again when I helped do a cover reveal for the sequel, Pieces of Eight. I really love this cover and the books look great side by side. The cover reveal also had a short Q&A and if you'd like to check that out, you can do so here. So, to say that I was excited to finally read Pieces of Eight would be massive understatement!
"Remember when you didn't believe in vampires, Holliday?" Deacon countered with a sly grin.
Pieces of Eight picks up a couple of months after the events of Bloodlines and sees our intrepid group of supernatural detectives investigating the brutal murder of an ex-convict. Seeing as how I have the actual worst memory in existence, I was very happy that the events of the first book were recounted over the course of the first couple of pages, with our main character Tom "Doc" Holliday ruminating on his time working in the Special Crimes Unit. I must say that I really like the voice that Holliday is written in. It's so unique! He's this cynical hardboiled detective straight out of a dime noir novel, yet at the same time he has a PhD in literature (hence the Doc moniker) and often quotes Shakespeare. Although Detective Holliday is the singular POV, the rest of the cast is fully fleshed out and wonderfully colorful. The gang's back together, with Deacon, Besim, and Leyla bringing their individual strengths to the investigation and, unlike so many other stories told from a first person POV, they all have their time to shine and their backstories are further fleshed out, along with Holliday's. One of the things Hartog excels at is his characterization and I think the best compliment I can give him is to say that I want to continue walking with these characters for years to come.
Empire City itself is such a cool setting and the worldbuilding was such that it feels like a living, breathing city. I was glad to see more of the enclave explored, with Holliday and the group venturing out of the city proper and into the surrounding countryside. And, although they never leave Empire City, we get to learn some more about a few of the other enclaves, like Deacon's Confederate States of Birmingham. Bloodlines featured cyborgs and genetically engineered vampires and Pieces of Eight did not disappoint by adding kobolds and other supernatural creatures into the mix. There's such a neat blend of sci-fi, detective noir, thriller, and fantastical elements that anything seems possible and could be believable. I think the fact that there is so much that I am curious and want to know more about is a testament to just how interesting of a world that Hartog has created. I feel like its a given that the series will always take place within Empire City and I couldn't be happier exploring more of the enclave and its denizens.
We became Theseus, racing from the admin building and into the regimented maze of stacks, hunted by the dreaded Minotaur. Except this monster carried guns instead of horns. Death came calling regardless of the method, and we needed to be quick and quiet if we were getting out of here alive.
Pieces of Eight is a great sequel, as it perfectly builds on everything from the first book. The enemy is that much more closer to home, with the first victim being found in the church that Holliday attended as a child. The stakes, both personal and otherwise, are that much higher and I was kept on the edge of my seat as the revelations flew past and Doc and crew went deeper into the investigation. So absorbed was I in the story, the near 400 pages flew by like nothing. There were only a few things that brought down my rating of Pieces of Eight and they're mainly nitpicky things. The most egregious thing came at the end and led to the final confrontation falling a bit flat for me. It's not that the ending was bad in any way! In fact, I may have shed a tear or two. But, the way the main conflict was resolved felt a little too much like Doc was using a loophole that was maybe a little too convenient. Even so, it's a small gripe that didn't really affect my overall enjoyment.
Pieces of Eight was a nearly perfect sequel to Bloodlines and I am so excited to see what the Guardian of Empire City must confront next. Hartog's character work is so well done that choosing a favorite character is almost impossible. While parts of the ending fell a little flat for me, my overall enjoyment of the book was not affected. The Guardian of Empire City series has become one of my favorites and I can't wait for the next entry.
"Eight to die for their crimes. Eight to suffer as he has suffered. Eight meaningless, hopeless, soulless pieces upon the Board, then none. You cannot stop me, Guardian. Nothing can."
---