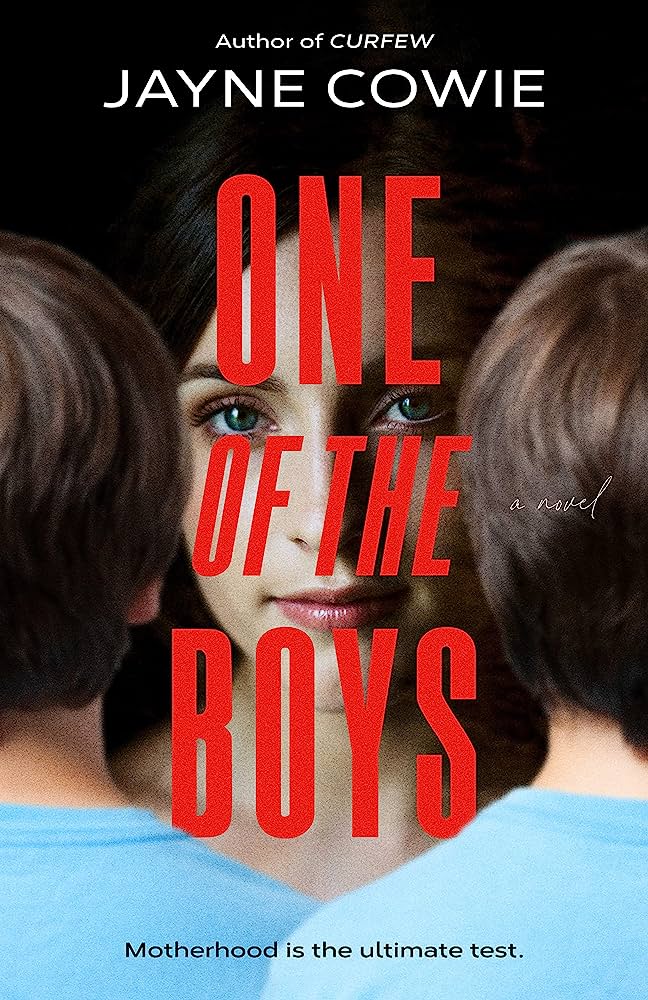 Rating: 8.75/10
Synopsis:
If you could test your son for a gene that predicts violence, would you do it? From the author of Curfew comes a suspenseful, heart-wrenching novel about the consequences of your answer.
Antonia and Bea are sisters, and doting mothers to their sons. But that is where their similarities end.
Antonia had her son tested to make sure he didn't possess the "violent" M gene.
Bea refuses to let her son take the test. She believes his life should not be determined by a positive or negative result.
These women will go to any length to protect their sons.
But one of them is hiding a monster.
And there will be fatal consequences for everybody…
Review:
Jayne Cowie's One of the Boys is a genre-bending novel that marks itself as one of the most unique books I've read this year. Cowie's imaginings can boast itself as part thriller, part domestic drama, and part dystopian. 
While reading the synopsis of One of the Boys, I was positive that I would naturally have my boys tested for the gene for a predisposition to violence if I could. It's no secret that historically and statistically, men as a whole are more violent than women. If I could protect others by having them tested, why wouldn't I? After all, I was one of the women who did all genetic testing when pregnant just so I could be prepared.
Oh, but Cowie doesn't let us off easy. By a quarter of the way through the novel, I wasn't so sure. Around half way through the novel, I was convinced that I wouldn't do the test. By the end, I was once again teetering towards testing, but not certain by any means. There are consequences to labeling someone and there's also consequences to not taking responsibility. 
We see some really excellently written character-building here. There were points that I loved and hated both Bea and Antonia. We are taken through waves of understanding and layers are revealed. The characters contain multitudes and this is only amplified by the stress of this dystopian world.
There's some major revelations that I saw coming almost immediately, simply because they would make sense in the scope of where the story was headed. Yet even knowing where the story was going, I was riveted. The tension built throughout the book and I couldn't wait to pick it back up again. It was anxiety-inducing not knowing how these characters were going to end up, if justice would be served or not.
Jayne Cowie ties up this novel nicely but she doesn't let her characters off the hook. Boys will not "just be boys" in her world, and I love her for it. I think one of the ways she shows her expertise in writing is the fact that she takes us through all mindsets. She put me in shoes that I never thought would fit, so to speak. One of the Boys is thought-provoking, chilling, and a very humbling experience.
Tomorrow, I will follow up with an author interview! Thanks to the team at Berkley for setting this up and sending me an early e-galley for review.