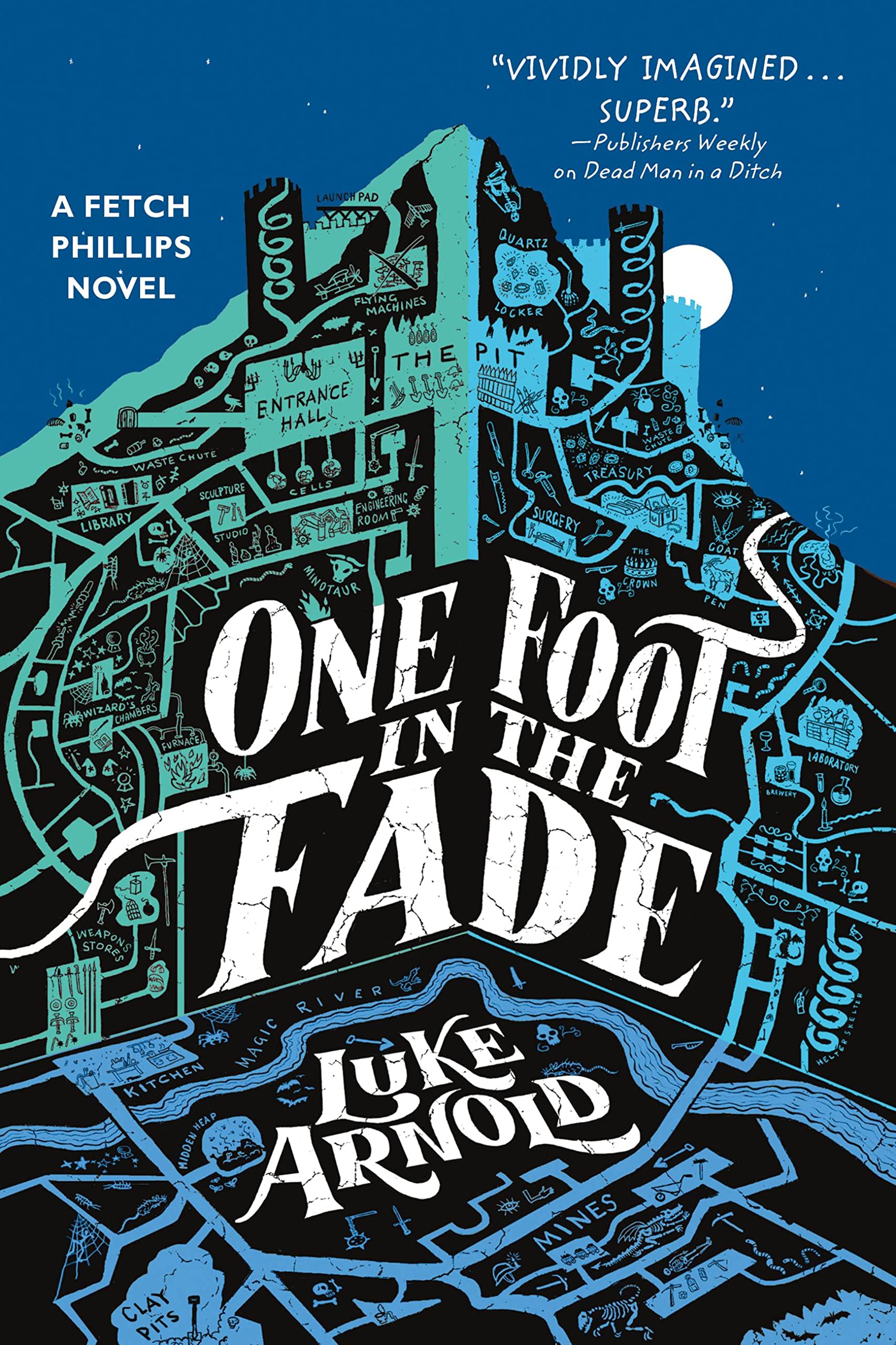 Rating: 9/10
Synopsis
Welcome back to the streets of Sunder City, a darkly imagined world perfect for readers of Ben Aaronovitch and Jim Butcher.

In a city that lost its magic, an angel falls in a downtown street. His wings are feathered, whole—undeniably magical—the man clearly flew, because he left one hell of a mess when he plummeted into the sidewalk.

But what sent him up? What brought him down? And will the answers help Fetch bring the magic back for good?

Working alongside necromancers, genies, and shadowy secret societies, through the wildest forests and dingiest dive bars, this case will leave its mark on Fetch's body, his soul, and the fate of the world.
---
Thank you to Orbit Books for sending me an ARC of this book for review consideration. This does not influence my thoughts or opinions.
---
Review
Delve deeper into the psyche of Fetch Phillips as he dons the mask of a hero, fighting to bring true magic back to Sunder City.
Detective and noir fiction is one of those sweet spots for me as a reader. Those times when I'm not reading fantasy or science fiction, I love basking in the mystery and dark explorations of books by Raymond Chandler, Dashiell Hammett and the like. There's something raw about those works, their characters and their worlds, that pulls me in every time.
That's why my discovery of the urban fantasy detective genre five or six years ago quite literally blew my mind (it's a mash-up made in heaven!). I have since devoured countless great genre-blending gems, and Luke Arnold's The Fetch Phillips Archives stands high among them. Now, three books in with One Foot in the Fade, I can safely say this is a series that has cemented itself as some of the best urban fantasy detective literature out there.
Starting with book one, The Last Smile in Sunder City, The Fetch Phillips Archives oozes personality. The world is stylish, full of magical creatures and dark mysteries, and the humor is on point. Plus, right from the get-go, it's clear Fetch is a protagonist that plays to the strengths of the detective and noir genres. He's brash and impulsive. He knows Sunder City like the back of his hand, and he also uses that hand to hit hard. But he's also internally vulnerable, and he has a fascinating backstory that reveals how broken he is. I empathize with this goonish schmuck 'cause he has a heart of gold and a desire to do good for his city.
It's clear, too, that Arnold wants to pay homage to the noir greats that came before. But what's impressive is how he consciously uses a bounty of tropes from the genre (the gruff protagonist, the damsel-in-distress, for example), yet always finds a way to give them a modern twist that is both satisfying and true to this series' characters and the world they inhabit.
Speaking of which, the setting of Sunder City is just fantastic. The history of a once-fantastical world brimming with magic, only to have that magic ripped away and magical creatures losing the abilities that defined them, that is engaging stuff. Now, Sunder City is a shit-hole in many ways, with humans and magic-less creatures living together in a rough hierarchy that reaches from destitute poverty up to absurdly wealthy. Despite that, there is warmth and generosity and connection within the rapidly industrializing city.
That is exactly why Sunder City is such a fitting setting for Fetch Phillips: it acts as an external foil for his internal struggles, giving him the perfect playground through which to deal with his weighty problems (especially how he played a hand in the world's loss of magic). He has immense guilt, but he tries to make up for it by giving back to Sunder City—which is more often than not a pretty unforgiving place. But given the city is a morally ambiguous place, that fits so well with the moral ambiguity of Fetch himself.
So, how does One Foot in the Fade stack up? It's a tricky thing to be stuck in the middle of an ongoing series, but Arnold handles it well. He uses the book's predecessors, The Last Smile in Sunder City and Dead Man in a Ditch, as good launching pads to dig deeper into Fetch's head, broadening the scope of his desire to make good on his past mistakes. He has a genuine craving to bring magic back into the world, which is a fascinating contrast to the commercialization and industrialization of Sunder City brought on by the events of Dead Man in a Ditch.
A greedy, human-run corporation starts to eat up the town's small businesses and derelict buildings, plops down gargantuan factories and "influences" the city's government. At the same time, they are providing light and warmth for citizens that have been without that assurance since magic went bust. So, where does a guy like Fetch fit into that? One Foot in the Fade is essentially his desire to force his personal absolution on the world, but at what cost? This is the through line of the book that I absolutely adore, as Fetch tries again and again to play the hero and bring magic back, but does the world around him want to reclaim the past like he does?
At one point, Fetch even gathers a crew for a heist—which takes up a sizable chunk of the book—in order to get outta Sunder City and steal something that might offer a viable chance of magical rejuvenation. It's a road trip-style detour that I was curious about at first, then wary of, as it felt a bit meandering at times. But looking back on it, that adventure away from Sunder City feels like a perfect foil for Fetch's desires in this book. He wants to be the hero, the adventurer, the one who gets the prize and saves the day. That wouldn't be possible in Sunder City, and so by leaving to visit other parts of this world he's given the opportunity to satiate his fanciful imagination—on top of giving us as readers a better sense of this world. Coming full circle, though, Fetch's imagination is hit with a big fucking reality brick of "Hey, it's not all about you, buddy." With that character progression alone, I would have been totally satisfied with One Foot in the Fade, but there is so much to love about this book—its atmosphere, humor and heart, the balance between quiet emotional moments and tense action, and more.
Contrasting that though, there are some hiccups along the way. The inciting incident sets up the rhythm of a detective story with a big villain, but it's not that. This book has a shapeshifting nature to it that sometimes works (road trip says hello), and at other points not so much. It's more that there is an overall lack of genre cohesion, and my expectations as a reader were confused as to what I could anticipate. This resulted in iffy pacing and a few characters not getting the page time I wanted. But, amidst all that, there was some wonderful character development for Fetch personally, as well as relationship-building with those around him. Since Fetch is the central character in these stories, it felt nice for this down-on-his-luck, wannabee detective to make some friends for once (despite shit hitting the fan towards the end, of course.)
While One Foot in the Fade doesn't quite hit the highs of Dead Man in a Ditch, it solidifies itself as a strong continuation for this series. The Fetch Phillips Archives is a great example of a writer honing his craft, and it's so obvious that Arnold is having fun with the stories he's telling. Jokes are cracked in sardonic fashion, emotions ebb and flow, and at the core of it all Fetch Phillips is a character worth investing in. His arc through books one, two and three is natural, relatable and authentic too. Sure, Fetch can be a piece of shit sometimes, but as a fan, he is my piece of shit. To tag along for the adventure as he unravels his unwieldy mind, tries to bring back magic, solves some mysteries and gets into some brawls, I'm happy as can be.