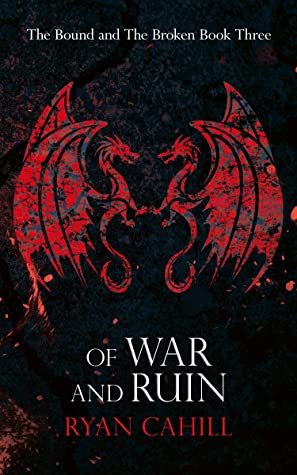 Rating: 10/10
Synopsis
Solian ata'yar. Dauv ata'yar. Nur temen vie'ryn valana.
Live as one. Die as one. For those we've lost.
The city of Kingspass burns, and Calen Bryer's world has been shaken to its core. With Valerys at his side, Calen must battle his demons and push forward. There are people who need him, people who need what he must become, and he will not let them stand alone.
In Loria, Ella struggles to understand the ancient power that flows through her veins. The world is changing around her and she is changing with it. Her journey has only just begun.
Thousands of miles away, beneath the mountains of Lodhar, assassins move in the dark as the kingdoms of the Dwarven Freehold ready themselves for war. Not everything is as it seems. Dahlen Virandr and Belina Louna have no choice but to unravel the mysteries of the mountain before everything crumbles around them.
Meanwhile, in Al'Nasla, Rist Havel learns the true cost of becoming an Imperial Battlemage. He will question every truth he has ever been told. He has never been a fighter, never been the one people look to, but he will fight for those he loves no matter what it takes.
With the Uraks ravaging the towns and villages of the North, Alina and Dayne Ateres prepare their people for war. They have been beneath a Lorian boot for too long. Valtara will be free. The wyvern of House Ateres will fly again, by blade and by blood.
As the continent of Epheria descends into war and chaos, Kallinvar struggles to come to terms with an immense loss. Despite the hole in his heart, he has no choice but to stand and fight. The Shadow is coming, and the Knights of Achyron are the only ones powerful enough to hold back the tide.
Unbeknownst to all, another force is rising – a force long thought tamed.
The balance of power is about to shift, and Epheria will never be the same.
​​​​​​​The Blood Moon is rising.
Review
Of War and Ruin by Ryan Cahill is the third book in The Bound and the Broken series and quite possibly my favourite yet. The book most definitely doesn't suffer from the usual middle book syndrome and instead takes the series to a whole new level. At over 1400 pages, it makes for a whopper of a book, that I could probably use as a murder weapon, but i'll settle with it being just a masterpiece. Somehow Cahill just keeps on delivering and whatever magic he's weaving is clearly having an effect on me and many others. The guy has made it his mission to weave an incredible story, for the likes of us mortals, which I'm confident will go down as one to be remembered.
Of War and Ruin continues on with the events from Of Darkness and Light, which set up many of the events and consequences in Of War and Ruin, while also focusing much more on the actions and decisions the character made in the previous book. I felt there there was much more of an epic open world feel with all the POV's and events throughout this book. There's a definite and satisfying sense of impending doom throughout this book that lurks in the background while the main action between the Lorian Empire and resistance takes place. The book throws the reader into the eye of the storm from the beginning and doesn't let go until the end. The plot is peppered with many heart-warming and emotional moments that made the plot feel much more three dimensional. I loved how no character truly felt good or bad, with both sides thinking they are in the right. There's really something that can be said for a story where everything isn't black and white, where morals are constantly questioned and you are unsure of what the character will do.
There are quite a few POV in this one, with Calen still being my favourite, or even more so here. This was mostly due to the plot being driven much more by his POV and also due to his character development, journey and relationship with other characters. Dann was also a highlight due to him being such a like-able and relatable character, that showed what it might feel like to be thrown into such dangerous times as the most normal person. The last character that really stood out for me was Ella, Calen's sister, who has a highly intriguing character development, that makes her not only a key player, but also a complete and utter badass. I'm really looking forward to seeing what is in store for her in future books, potentially even more so than Calen! There are of course many other absolutely fantastic characters, but i'd need a three page essay to drone on about them all in detail. Instead I say "find out for yourself!"
The writing definitely shone the most in this one. Despite some long winded sections that could have been slightly cut down, the writing drove the plot forward at an action movie pace and really showed how far Cahill has come since beginning the series. There were of course some cheesy moments, but these were mixed in with some genuinely funny and uplifting moments, filled with mini life lessons.
Let's be honest, if you've read books 1 and 2 then you're convinced enough already. If for some reason you aren't, then I hope this review reminds you to put down your current book, pick up Of War and Ruin and get stuck into it already!